Bellagio F1 Grandstand Worker Died by Accidentally Sawing His Own Neck
Posted on: October 6, 2023, 01:57h.
Last updated on: October 7, 2023, 12:46h.
The police report reveals a grizzly new detail in the cause of death of Tizoc Antonio. The 27-year-old ironworker died on Sept. 23, while building a grandstand in front of the Bellagio for the upcoming Formula 1 Las Vegas Grand Prix.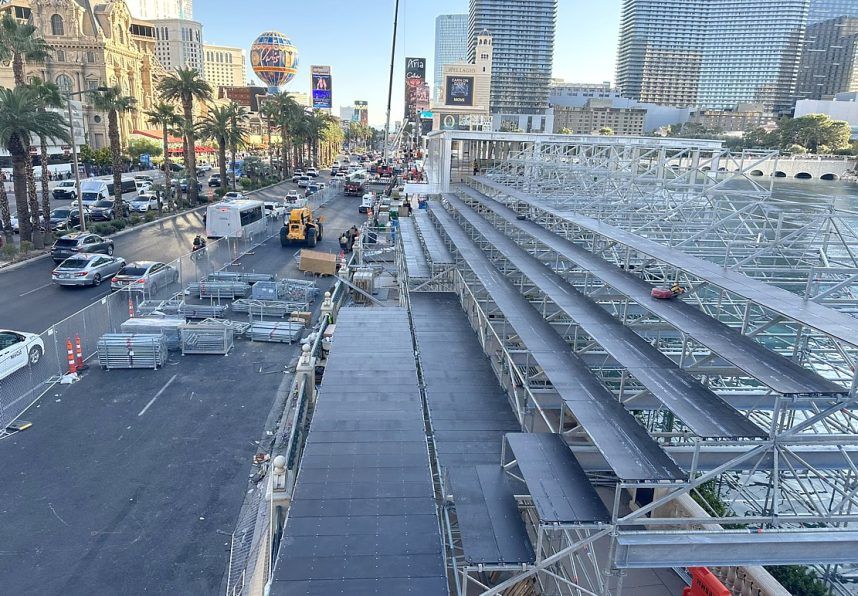 According to the report obtained by KLAS-TV, Antonio was using an electric circular saw to cut through wood at ground level on the north side of the Bellagio fountains. When he accidentally hit metal, the razor-sharp saw flew out of his hands and into his neck.
Las Vegas police say that several witnesses tried applying pressure to the deep laceration, which bled profusely, but the bleeding couldn't be stopped, and Antonio lost consciousness. At that time, no pulse could be found, and Antonio's colleagues attempted chest compressions until an ambulance came.
Antonio arrived at University Medical Center Hospital at 6:02 a.m. in critical condition. He was pronounced dead at 12:24 p.m.
Investigation Continue
While OSHA (the Occupational Safety and Health Administration) continues looking into the incident, police said their investigation concluded that it was an accident with no signs of foul play or negligence.
Antonio was only hours into his first day on the job. However, the Ironworkers Local 433 member had previously worked on several Las Vegas projects — including the Sphere and Durango Casino & Resort.
Previously, Casino.org reported that Antonio died from a "major laceration to the neck," but the specific details were not known.
Most Read