Echo Beats Packer To The Punch In Brisbane Casino Bid
Posted on: July 20, 2015, 03:13h.
Last updated on: July 20, 2015, 03:14h.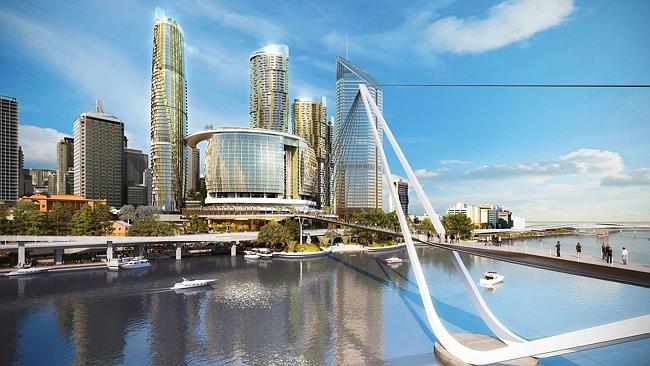 Echo Entertainment has won the bid to build a casino resort in Brisbane, Australia's third biggest city; a resort that the Queensland state government hopes will "put Queensland on the map" and, in scale, rival the casinos of Macau.
The AU $2 billion (US $91.4 billion) Echo proposal, which trumped a bid from James Packer's Crown Resorts, would create Australia's biggest casino development, stretching 10 blocks across the north bank of the Brisbane River, in the Queens Wharf area of the city.
The resort will boast five new hotels, three of which will be rated six stars, with the equivalent of "12 football fields" of public space, and will also include an underground shopping mall, a "riverfront moonlight cinema," a theatre, three residential towers, a "skydeck" filled with 50 restaurants and bars, and a sweeping bridge offering access to the city's South Bank.
"This project will be transformational for Brisbane," said State Development Minister Anthony Lynham.
Public Space
Queensland Premier Annastacia Palaszczuk highlighted the economic benefits of the project.
This development will change Brisbane's CBD," said Palaszczuk, whose own government buildings will be knocked down to make way for the resort. "But the construction means thousands of jobs; some 3,000 jobs during construction, and 8,000 ongoing jobs."
Crown's competing proposal was no slack effort; a AU $4 billion resort that promised a rooftop the size of the nearby Gabba football stadium, plus public gardens and pools, as well as its own version of the bridge to South Brisbane, complete with waterfall feature.
But ultimately, Palaszczuk said the Echo proposal stood out due to the large amount of public space it would create, as well as the financial commitment Echo had made to the project.
"The consortium was able to demonstrate to government that they are ready to proceed," she said. "We needed to have that financial security, but also we want to minimize any risk."
More to Lose
Echo had more to lose had the bidding process had not gone its way, having pledged to relocate its financial headquarters from Sydney to Brisbane.
The company already operates Brisbane's Treasury Casino, the city's sole casino and a property that will now be torn down to make way for the new resort.
Queensland's decision to award the license to Echo is essentially an extension of its 10-year casino monopoly in the city.
Crown, meanwhile, has even bigger fish to fry, as Packer remains focused on the Asian markets and is prepared to make huge bets on the region being the future of his casino empire.
Construction on the Echo is due to begin in 2017 and is expected to take between six and 10 years.