MGM Resorts Frontrunner for Western Massachusetts Casino Project
Posted on: May 1, 2013, 05:16h.
Last updated on: May 1, 2013, 02:17h.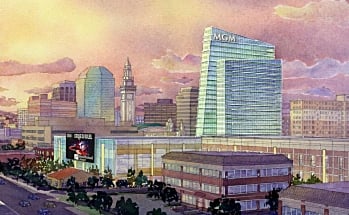 It's a kind of Miss America pageant for Massachusetts casinos, and it's now down to the finalist round; MGM Resorts International is waiting tearfully with its Springfield, Massachusetts sash on, hoping her name will be called to represent the western part of the state as its only casino project.
The announcement came recently that MGM beat out runner-up Penn National Gaming with their proposal to Springfied Mayor Domenic Sarno, with a project plan to build an $800 million hotel-casino on a 10-acre site that remains a mess from 2011 tornado damage.
"Today is a great day for both MGM Resorts and the city of Springfield," MGM Resorts President Bill Hornbuckle said in a statement (while adjusting his virtual tiara.). "We have worked very hard to prove our project worthy of this opportunity. It has been an extraordinary journey thus far, and we look forward to the next phase."
Finalists Proceed to Next Round
There can only be one winner in this beauty pageant, and before MGM can even move on to the final round, it will need approval from the Springfield City Council and the city's voting public. Once it passes that hurdle, it can then move to try to outsmile, out-dazzle, and outdo both a potential West Springfield Hard Rock International project, and a Palmer Mohegan Sun casino-hotel. Oh, the nail-biting!
The winner won't be announced until 2014, so we'll be right down to the cuticle by then.  Massachusett's state gambling commission will have to decide whether the blonde, brunette, or redhead will take home the crown for western Mass.; two other regional resorts are allowed as well in other parts of the state.
MGM the Favorite
At least one gaming analyst is laying odds on MGM to take home the crown and the bouquet of roses; Steven Wieczynski, a gaming analyst for Stifel Nicolaus Capital Markets, says MGM's global brand recognition, as well as the massive project plans, make them the frontrunner.
"While certainly not a game changer for a company that generated 2012 [cash flow] of roughly $2 billion, [this] selection serves to make us incrementally more positive on the MGM story," Wieczynski said. "Ultimately, we believe the project should be able to generate [cash flow] in the range of $120 million to $160 million, representing a return on MGM's initial investment of 15 percent to 20 percent."
Here she comes, Miss Massachusetts.