Early Reviews Mixed for "The Gambler"
Posted on: December 23, 2014, 09:36h.
Last updated on: December 23, 2014, 09:37h.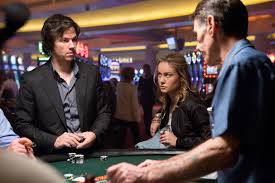 The Gambler, a new movie starring Mark Wahlberg, is receiving mixed reviews from critics as it prepares for its Christmas release later this week.
The film is a remake of a 1974 film by the same name written by James Toback and starring James Caan, while the new version was written by William Monahan and directed by Rupert Wyatt.
In the movie, Wahlberg plays a college professor named Jim Bennett who finds himself falling further and further into trouble with loan sharks (played by actors like Alvin Ing, Michael K. Williams, and John Goodman), the world of underground gambling, and his family, all while trying to downplay his attraction to a promising student (Brie Larson).
Wahlberg's Performance A Focus for Critics
Early reviews of the film have begun to trickle out, and so far, reaction is mixed.
There are few critics who think the film is a disaster, but Wahlberg's portrayal of a gambler falling deeper and deeper into desperation hasn't sat well with everyone who has seen the film.
Jocelyn Noveck of the Associated Press found that the film didn't quite live up to the 1974 classic, and that it "largely wastes an excellent cast."
"At the center is Wahlberg, a talented and appealing actor who is either miscast or misguided here," Noveck wrote. "We never once understand the three most important things about him: why he's drawn to teaching, why he's drawn to gambling, and why he's so pitifully prone to self-destruction."
"Understatement is one of Mark Wahlberg's greatest assets. But that admirable trait winds up working against him," writes Elizabeth Weitzman of the New York Daily News. "Wahlberg does well as the rational professor, but never gets to the irrational heart of the addict…the truth is, this is a role that cries out for the unrestrained id of, say, Robert Downey, Jr."
Writing for the Chicago Tribune, Roger Moore said that while Wahlberg's performance was good, it was almost too calm, failing to reflect the desperation one would expect from his character.
"We never see him sweat," Moore wrote. "So it's an impressive performance, not a moving one."
Soundtrack, Atmosphere of Film Among Positives
That's not to say that reviewers didn't find things to like abut the film. The soundtrack and atmosphere have garnered plenty of praise, as have much of the supporting cast.
"The cold remove of Roberta's mansion, the smoky seduction of underground gambling dens, the charged communal laughter of his college lecture hall…all hit hard," Weitzman wrote. "John Goodman and Michael Kenneth Williams are so funny and scary…that each of their characters could carry a movie of his own."
For the A.V. Club's A.A. Dowd, this latest version of The Gambler played more like a "crime comedy" than a tale of addiction.
"Blackjack is more of a noose than a needle for this self-destructive blowhard, and if that sounds less dramatic than the tale of a man who just can't walk away from the table, it is significantly funnier," Dowd wrote.
Overall, however, critics seem to like the film, even if they're not praising it as a classic.
Among the first 20 professional reviews listed, Rotten Tomatoes regards 65 percent of them as positive, enough to proclaim it as "fresh." Over at Metacritic, the average score is a 57: considered mixed, but slightly above average, with only a review by Rex Reed being considered truly negative.