E-Sports to Grow into $1.9 Billion Industry by 2018
Posted on: November 1, 2015, 12:54h.
Last updated on: October 30, 2015, 07:59h.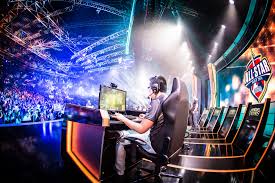 E-sports, or competitive video gaming, is set to skyrocket in the coming years and should be worth $1.9 billion by 2018, according to predictions by analysts SuperData.
Competitive gaming began to grow into a spectator sport in late 2000s and early 2010s, particularly in Korea, but its recent phenomenal growth is attributed to the western mainstream brands and advertisers that have invested in the market this year.
SuperData says it expects the industry to be worth some $748 million by the end of 2015, with e-sports betting and fantasy sites contributing $55 million of that figure.
Sponsorships currently make up about 77 percent of all e-sports revenues.
According to the firm, investors injected $150 million of capital into the new platforms betting and fantasy platforms over the past year, but these sites had fallen short of expectations.
E-sports fans remain more comfortable wagering virtual gaming content over cash, causing "real-money sites to gain traction slower than anticipated," the SuperData concluded.
Becoming Mainstream
"E-sports are becoming more mainstream and that has attracted traditional media channels like TBS and ESPN," said Stephanie Llamas, director of research and consumer insights at SuperData.
"So far, fans have had to seek out platforms to watch tournaments and players, but now people can stumble upon eSports while flipping through channels. Even old-fashioned brands are taking notice and there is a growing interest in advertising to the coveted millennial male demographic on a medium they know well."
Only this week it was announced that Sony is about to enter the e-sports market with its very own global league, the PlayStation Plus League, while Russian oligarch Alisher Usmanov will pour $100 million into Russia's largest eSports club, Virtus.pro.
Usmanov, who is a part-owner of Facebook and Arsenal Football Club, is hoping to cement Russia as a leader in the growing market.Tthe money will be used to create new arenas and tournaments.
Skill-based Casino Games
Meanwhile, land-based casino regulators are taking notice of the unstoppable rise of e-sports.
Eager to attract the millennials who eschew traditional gambling games in favor of video gaming, both Nevada and New Jersey have launched initiatives to create a new kind of gaming machine on the casino floor, one that offers elements of gambling and skill-based video gaming.
Both states amended their laws this year to permit the new hybrid machines and their accompanying "variable payouts." Gaming laws generally stipulate that payout odds must be the same for all players in order to be fair, but variable payouts will offer better odds for proficient players.