Downtown Las Vegas Outpaces Rest of Nevada Gaming Markets
Posted on: January 12, 2017, 06:00h.
Last updated on: April 29, 2017, 09:01h.
Downtown Las Vegas led the way during the 2016 fiscal year in terms of overall revenue percentage gain.
Thanks largely to the Fremont Street Experience, the bustling entertainment and gaming hub home to the Golden Nugget, D Las Vegas, Downtown Grand and others, the market jumped 6.1 percent during fiscal year 2016 compared to 2015.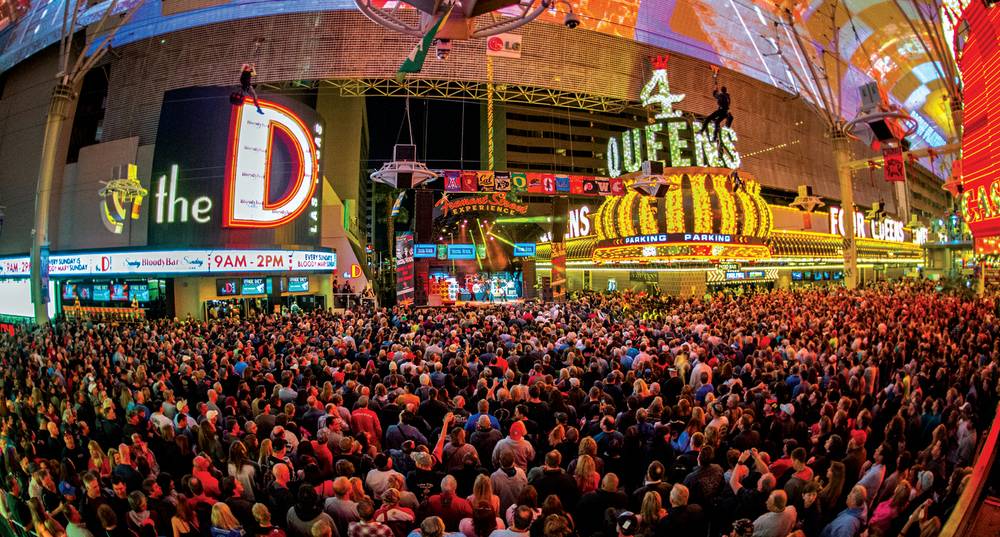 The financial period ended on June 30, 2016.
The year-end data was reveled this week by the Nevada Gaming Control Board in its annual Gaming Abstract report. The study only considers resorts that grossed at least $1 million in casino revenue.
Income generated from gaming, hotel rooms, food, beverage, and other attractions totaled more than $1.1 billion in downtown Las Vegas. Revenue from gaming totaled $549.5 million, a 3.9 percent increase on the previous year.
"Operators have been successful in redeveloping properties," Nevada Gaming Control Board analyst Michael Lawton told the Las Vegas Review-Journal. "The Downtown Project has brought in additional bodies to the area and successful flight programs developed by operators have been very good for the market."
The Downtown Project is a privately funded, for-profit organization that has been working to revitalize the area north of the famed Las Vegas Strip. The main drag declared $5.8 billion in gaming, a miniscule 0.2 percent gain.
Casinos Win Big
Though the downtown Las Vegas area led the way in terms of percentage revenue gains in 2016, the fiscal year was a bountiful success statewide.
Over $10.76 billion was bet on the gaming floors studied, a 1.3 percent bump on 2015. There were 273 casinos in Nevada that grossed at least $1 million in gaming, with Clark County accounting for 159 of those venues.
Along with a slight increase in gaming, money spent on hospitality blossomed. In total, the state's resorts collected $25.2 billion, which resulted in net income of nearly $979 million. That represents a colossal increase on 2015 when resorts experienced a net loss of $661.8 million.
Recession Rebound
Aside from the positive abstract fiscal year summary, casinos are well on their way to posting a strong year for the 12 months in 2016.
Through November, total gaming win statewide is at $11.28 billion. With still a month to go, that marks Nevada's best casino year since it pulled in $11.59 billion in 2008.
With just over $315 million to go, that number will of course be surpassed when the state releases December earnings. During the final month in 2015, Nevada casinos pulled in $982 million.
That means Nevada casinos will mark their best gaming year since 2007 when the state posted $12.8 billion ahead of the Great Recession in the United States.
Once thought to be recession proof, the casino industry is certainly no longer immune to economic downturns. In 2009, just 24 months after the state experienced its best casino year in its history, total win come in at $10.4 billion.
A report in the Journal of Gambling Studies published in 2012 found that pari-mutuel wagering is hardest hit during a financial crisis, while lottery sales weather difficult times the best of any game of chance.
Nevada's gaming abstract might hint that the US economy is rebounding, or at the very least, disposable income is growing.