Downtown Grand Opens in Las Vegas with Steve Wynn Betting Large
Posted on: October 29, 2013, 05:30h.
Last updated on: October 11, 2022, 04:18h.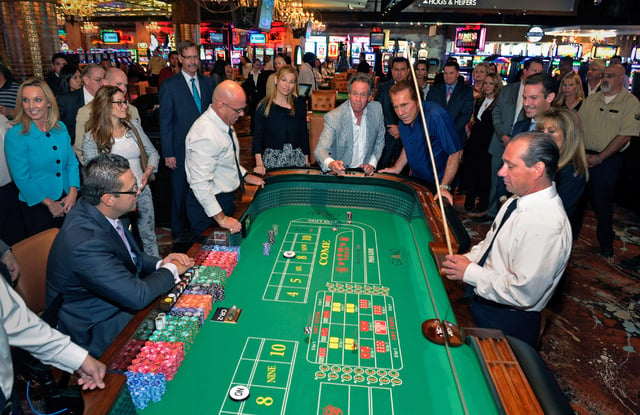 Imagine being the craps dealer when gambling impresario and legend Steve Wynn is leaning over your table: not as a boss, but as a player. That was one dealer's nerve-wracking job when the Downtown Grand, the latest new property to open up as part of Las Vegas' ongoing and substantial downtown redevelopment efforts, officially opened its doors this weekend to gamblers, hotel guests and looky loos.
Old Ties Bring Wynn to Craps Tables
Why on earth would Steve Wynn be slumming it downtown these days, and at a competitor's property, you ask? Turns out that Wynn and the Grand's owner Seth Schorr go way, way back in the casino business, and Wynn was just being a really nice guy showing up at the opening.
The story is that Wynn and Schorr's father Marc worked together back in the day when downtown was first being recreated via Wynn's Golden Nugget there; legend has it that the younger Schorr was given the honorary title of "vice president of kids' marketing" for the Nugget at the tender age of nine years old. Don't let the Nevada Gaming Commission hear about that one.
In honor of their many years of growing pains together, Wynn threw out the first $200 craps bet at the new Grand. It's unclear if he actually purchased, or was given, his initial $5,000 buy-in at the new casino, but it was matched by his old buddy Marc's and in a "here's how you do it" to any gamblers who might have been watching, they both blew through their chips inside of 15 minutes. Here's how you do it to make the house money, that is, of course.
"There is so much going on here," Wynn said. "It's really interesting. We are getting back to our roots when Fremont Street was available to (guests) of any income level."
Is that a polite way of saying "what a dump," à la Bette Davis?
It probably isn't quite on the level of the Strip's toney Wynn or Encore resorts (both owned by Wynn Resorts), but it is a step in a new direction for both downtown Las Vegas and gaming properties in general.
"We took a different approach," the younger Schorr noted. "Guests don't have to walk through the casino to get to a restaurant. There are indoor and outdoor spaces. There is even outdoor gaming."
Not sure how the latter will work in Las Vegas' scorching 110-degree summer heat that can last from July through September, but hey, it's a novel idea, anyway.
New Casino Design in Play
Schorr added that he came up with the design to get away from traditional Strip casinos, where guests must walk through the casino to get to anything, even restrooms. In contrast, the Downtown Grand makes it easy for guests to come and go and encourages them to check out Fremont Street in all its glory. There are even multiple ways to get in and out of the casino, not just a front and possibly side entrance, like a big Strip property would have.
Located at the corners of Stewart and Ogden avenues, the new property is considered an anchor for Downtown3rd, an entertainment district that encompasses restaurants and bars, as well as other casinos like the D, the Mob Museum, and proximity to the swank Smith Center for the Performing Arts.
With two hotel towers – one 18 stories and one 25 stories – the Downtown Grand features brick and granite building façades around various storefronts, and even a novel sports betting window for passersby, run by sportsbook giant William Hill.
The new hotel casino was built on the site of the former Lady Luck, which had closed in 2006 and was snapped up by Schorr's CIM Group in 2007. CIM also has plans to work with the city on a new 100,000-square-foot shopping and convention complex next to the Mob Museum, which recently received unanimous approval from the Las Vegas City Council to move forward.
An official opening ribbon cutting ceremony for the Downtown Grand is slated for November 12; no word on whether Wynn will help hold the scissors for his old pal.