President Donald Trump Speaks at Republican Jewish Coalition, Appeals to Las Vegas Billionaire GOP Megadonor Sheldon Adelson
Posted on: April 8, 2019, 09:02h.
Last updated on: April 8, 2019, 11:12h.
President Donald Trump was in Las Vegas over the weekend to speak at the Republican Jewish Coalition (RJC), tout his pro-Israel policies, and meet privately with GOP megadonor Sheldon Adelson and the casino billionaire's wife Miriam.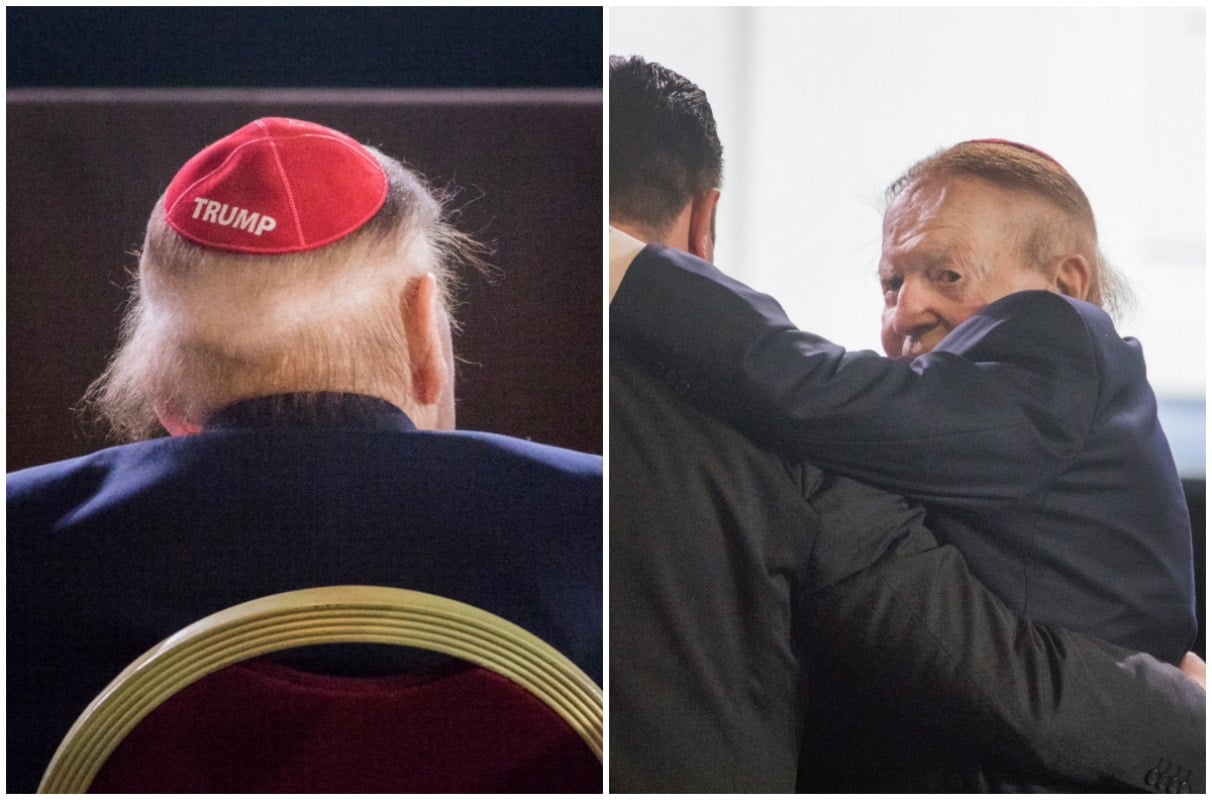 The RJC – a group that seeks to improve relationships between the American Jewish community and Republican lawmakers – held its Spring Leadership meeting over the weekend at Adelson's Venetian and Palazzo casino resorts. On Saturday, Trump didn't hold back on highlighting all the things he believes he's done for Jewish US citizens.
Trump's most notable achievement – at least in his eyes – is relocating the US Embassy from Tel Aviv to Jerusalem in May 2018 and recognizing the holy city as Israel's true capital. The president also noted his recent recognition of Israeli sovereignty over the disputed Golan Heights.
"We got you something that you wanted," Trump said. "Unlike other presidents, I keep my promises."
Jewish Americans traditionally vote Democrat. According to the Jewish Virtual Library website, Trump received just 24 percent of the Jewish vote in 2016, with Democrat Hillary Clinton receiving 71 percent support. No Republican presidential candidate has received 40 percent of the Jewish vote since Dwight Eisenhower in 1956.
Online political betting exchange PredictIt has Trump the 2020 frontrunner at 40 cents a share. Former VP Joe Biden and Sen. Bernie Sanders (Vermont) are next at 14 cents.
All About Adelsons
Adelson – the Las Vegas Sands founder who is worth an estimated $38.1 billion by Forbes, is in poor health and battling non-Hodgkin's lymphoma at the age of 85. But the casino tycoon who dumped $82.58 million into the 2016 election cycle, and $123.5 million during last year's midterms, nearly all of which went to conservative candidates, could again play a vital role in 2020.
Fellow billionaire Michael Bloomberg has said he'll spend up to $500 million to make sure Trump isn't reelected. On Saturday, the president pleaded with RJC attendees to back his administration and elect him to another four years.
He used the Adelsons – the two most popular people in the auditorium – to gain support.
That is the most important thing that's ever happened in their life," Trump said of Sheldon and Miriam's enthusiasm for relocating the US Embassy to Jerusalem. "They love Israel."
"I know that the Republican Jewish Coalition will help lead our party to another historic victory," Trump declared. "We need more Republicans. Let's go, so we can win everything."
Democrats Respond
The Jewish Democratic Council of America (JDCA) said despite Trump and the Adelsons' wishes, the majority of the religious community remains on the left side of the political aisle.
"Trump's presidency has only solidified the fact that the Democratic Party has been – and will remain – the political home of the American Jewish electorate," JDCA Executive Director Halie Soifer stated. "This is because Trump's policies and rhetoric are antithetical to Jewish values, and because anti-Semitism has increased to unprecedented levels due to Trump's divisive words, policies, and willful blindness."
A recent poll of Wall Street insiders finds that seven out of 10 financial experts believe Trump will win reelection in November 2020.