Donald Trump Backpedals on Border Wall Clash With Pope Francis
Posted on: February 19, 2016, 04:00h.
Last updated on: February 19, 2016, 04:04h.
Donald Trump was in the middle of an unprecedented political battle on Thursday with a man historically thought to be off-limits for diplomatic bickering: the Pope. However, Trump toned down his rhetorical attacks on his criticism of Pope Francis' "who is a Christian" comments on Thursday night during CNN's town hall in South Carolina.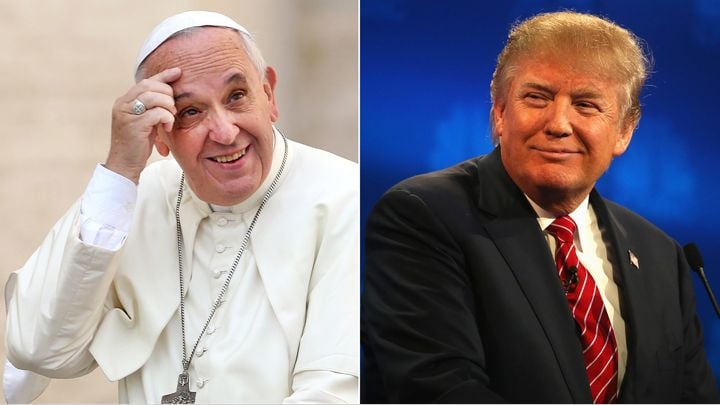 "The Pope is a wonderful guy," Trump told CNN and town hall host Anderson Cooper. "I think he said something much softer than it was originally reported by the media."
On Thursday, the leader of the Catholic Church said as he traveled home from Mexico that "a person who thinks only about building walls, wherever they may be, and not building bridges, is not Christian."
Trump has repeatedly said he plans to erect a wall between Mexico and the United States, and that the former will pay for its construction.
Those in attendance thinking the outspoken frontrunner might unleash a verbal attack on the Pope as he's so frequently done with his Republican 2016 opponents were surprised to see a softer side of the Donald.
"I think he heard one side of the story, which was probably by the Mexican government. I think he was very much misinterpreted, and I also think he was given misinformation," Trump declared of the Pontiff's words.
Know When to Walk Away
 To Trump's credit, he is quite good at identifying a battle not worth fighting.
Arguing against the Pope in the public eye is certainly a stretch to be considered sound political strategy. That holds true even for Trump, a billionaire whose entire 2016 race for the White House seems to go against all traditional campaign common sense.
It's not the first time Trump has abandoned a cause that was in no position to provide him benefit.
Around 2007, Trump left Atlantic City in what was a very smart decision in hindsight. His Trump Entertainment Resorts went bankrupt three years later in 2009.
"I had the good sense to leave Atlantic City … every company virtually in Atlantic City went bankrupt," Trump said during the Fox News Republican debate in August. "I've gotten a lot of credit in the financial pages, seven years ago I left Atlantic City before it totally cratered, and I made a lot of money in Atlantic City and I'm very proud of it."
Too Much Competition
 While competition in the 2016 GOP race is seemingly aiding Trump's continued success as opponents Florida Senator Marco Rubio, Texas Senator Ted Cruz, and Ohio Governor John Kasich are thought to be fighting over much of the same demographic, when it comes to casinos, oversaturation isn't a good thing.
During a 2014 interview with Bloomberg Business, Trump credited not only poor political policies for Atlantic City's demise, but also gambling legalization in neighboring states.
"Atlantic City is a very sad situation. There's too much pressure from Pennsylvania, Maryland, and ultimately everybody's going to do badly because they're looking at casinos as a panacea."
Of course, Trump is a decisive figure who seems to have as many antagonists as supporters. Cape Breton, a Canadian island, has launched a campaign welcoming Americans to relocate to the 4,000-square-mile area should Trump assume the Oval Office on January 20, 2017.