Jose Canseco Loses a Finger, While Daniel Colman Wags One at Hellmuth
Posted on: November 17, 2014, 07:49h.
Last updated on: November 17, 2014, 08:05h.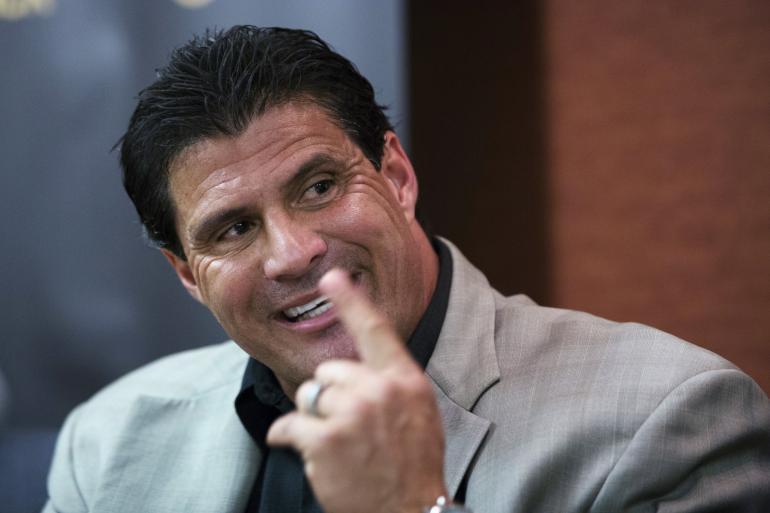 Jose Canseco was the central figure in a weekend for the poker world that was filled with fingers: some lost, some pointed at prominent names in the poker community. In Canseco's case, he seems to have lost the same finger for the second time in about a month, something that few people (with any luck) will ever get to experience.
In late October, Canseco was in the news for accidentally shooting himself in the hand. According to Canseco, the incident happened while he was cleaning his gun in his kitchen. He ended up shooting his finger, which then had to be surgically reattached. It appears some surgeons are more skilled than others at digital fixes, though.
Finger Comes Off During Poker Tournament
According to a tweet sent out by Canseco on Friday, however, the finger became detached again while he was playing in a poker tournament Thursday evening.
"I was playing in a poker tournament last night and my finger fell of," Canseco tweeted. "Someone took a video of it."
Thankfully, Canseco didn't post that video, though there was at least one supposed image of his finger before it fell off. As gruesome as the incident may sound, however, Canseco said that this outcome may have been inevitable from the time he shot himself.
"My finger should have been amputated from the beginning," Canseco tweeted. "It was very loose with no bone to connect it. It was also smelling really bad."
There was no word on whether or not Canseco won the hand to make up for losing the finger. Previously, Canseco's fingers were best-known for gripping bats during his 17-year major league career as a professional baseball player, during which he hit 462 home runs.
Colman Gives Hellmuth the Verbal Finger
Meanwhile, One Drop winner Daniel Colman was pointing a finger, still firmly attached, of his own at 13-time World Series of Poker bracelet winner Phil Hellmuth. Colman made some harsh comments about Hellmuth in a thread about the latter's recent appearance on a podcast hosted by Rounders writer Brian Koppelman.
"Its embarrassing that we have to share our profession with whores like this guy," Colman wrote. "After I win one drop, he immediately comes on stage to shake my hand in front of a camera and congratulate me. As if he's the gatekeeper to the poker world and welcoming me inside.
"It is truly pathetic that a 40 year old would behave the way he does at the table, not to mention how spineless he is, just willing to take any sponsorship regardless of the company's integrity," the $22 million winner waxed on. "Really makes me sad to think there's a chance some people may look up to this charlatan. People of his attitude and character are a cancer to this world."
Hellmuth was apparently surprised and hurt by the comments, and responded briefly to them on Twitter.
"Ouch, I was just attacked big time on a terrific poker forum," Hellmuth tweeted. "It was personal and it hurts, but I am proud of the man I am!"
For his part, Colman later admitted that his choice of language was a bit too harsh, and chose to back off the tone of his post, even if he stood behind the message.
"I admit to being too harsh in my initial post. Phil didn't deserve that hateful of a message," Colman later wrote. "That being said, I still stand by the main gist of my post. Phil's behavior in poker is atrocious, and I don't think it belongs in this game."
Pot, meet kettle.