Does Sheldon Adelson Want to Build a Casino in North Korea?
Posted on: July 9, 2018, 10:30h.
Last updated on: July 9, 2018, 02:41h.
A speech by Sheldon Adelson in Israel last month has led certain elements of the press to speculate on whether he has decided on North Korea as the destination of a future luxury integrated resort.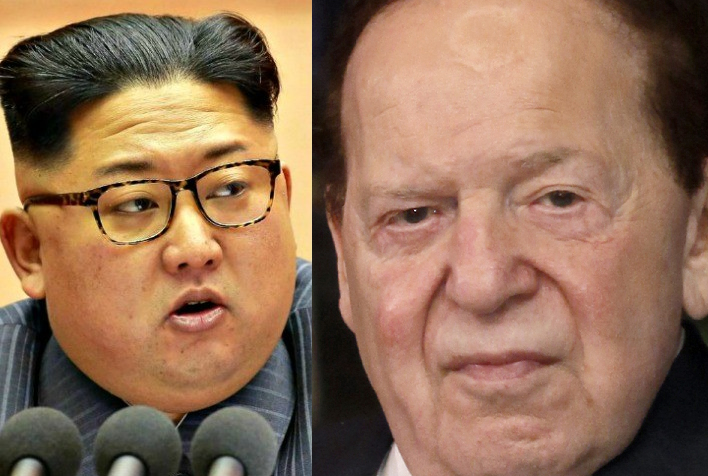 Speaking last month in Jerusalem at a fundraising event for Birthright — an organization that sponsors free trips to Israel for young adults of Jewish heritage — the LVS casino mogul urged President Trump to continue talks with the hermit kingdom so that he could open up business there. At least, that's what he appears to have said.
"I wasn't born here [in Israel], I wasn't raised here, I didn't serve in the army here," he told attendees. "I did serve in the United States Army. I'm a veteran of the Korean war. Actually, I hope Trump gets North and South Korea to finish the war. I feel as though I might be called back up. I fight enough. I don't want to go back to Korea to fight. I want to go back to Korea to open up my business."
Kim's Casino Dream
It may not be as crazy as it immediately sounds. In June, it was widely reported that North Korea's top aide, Kim Yong Chol, had asked Trump for American investment to help build a casino resort in the east-coast port city of Wonsan.
Last year, Trump signed an executive order authorizing US authorities to freeze assets of any companies and individuals trading with the rogue state.
The redevelopment of the Wonsan-Kalma coastal tourist area is one North Korean leader Kim Jong Un's pet projects. Kim is believed to have spent much of his childhood in the area and in his most recent New Year's address laid out plans for improving infrastructure, building a new airport and new city center, with five-star hotels, an exhibition complex and international finance center.
Kim's dream for Wonsan is that it will become an international tourist hotspot that will alleviate North Korea's sanction-strained coffers, but would Adelson, whose market shrewdness turned him into the wealthiest man in gaming — and one of the richest in the world — buy into Kim's dream?
Is Adelson for Real?
He may be a big Trump backer, but it seems unlikely.
"We're not even sure if a large-scale casino makes any economic sense in North Korea," JP Morgan analyst DS Kim (no relation) said recently.
LVS is known for its sprawling high-end destination resorts situated in tourist hotspots or cities with large populations. North Korea's large border with China would appeal to Adelson, who was quick to see the boundless potential of Macau. But a country that detains visitors for crimes such as stealing a propaganda poster and leaving a bible in a nightclub is unlikely to attract the kind of numbers to make his eyes light up.
Adelson was clearly extemporizing during this the relevant part of his speech and it looks like a moment of flippancy has been seized at face value and amplified. It seems more plausible that the LVS chairman and CEO was lamenting that North Korea's geographical position makes it a prime spot for an integrated resort, but that the geopolitical landscape makes it impossible.