Deutsche Telekom Enters Sports Betting Market With Tipp3 Takeover
Posted on: February 27, 2015, 12:24h.
Last updated on: February 27, 2015, 12:24h.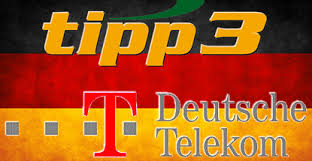 Germany's Deutsche Telekom (DTAG), one of the world's largest telecommunications companies, is entering the country's sports betting market following its 64 percent acquisition of Deutsche Sportwetten (DSW) and its subsidiary brand Tipp3.
The telecom giant didn't disclose financial details of the purchase, but did tell news sources that it plans to launch its betting platform within three months.
Tipp3's former majority owner Austrian Sportwetten will retain a minority share and continue operating in Austria.
While online casinos remain illegal in Germany, sports betting became an accepted practice beginning in 2014, two years following the passage of the Interstate Gambling Treaty.
DTAG was one of 20 companies selected last September to receive a federal sports betting license, though the process of approving applications has been long and tedious on the part of the Hesse Ministry of the Interior & Sports (HMDIS). The numerous challenges, particularly the ministry's stringent operator requirements, has put the approval process at a standstill for the majority of licensee hopefuls, with some now taking legal action.
DTAG plans to bypass the seemingly never-ending authorization process by debuting its wagering site utilizing its newly obtained Tipp3 license already approved by Austria.
Safe Bet for Success
Best known for its ownership of T-Mobile, Deutsche Telekom provides more Germans with their Internet, telephone, and television service than any other company. Although originally formed as a state-owned monopoly by the German government in 1996, the federal stake is now around 32 percent, with the rest owned by shareholders.
In 2013, its most recent year-end financial release, DTAG had revenues of €60.1 billion ($68 billion) and an operating income of €5.7 billion ($6.4 billion), but the company is still looking for more.
Eager to enter the sports betting industry ever since Germany approved the practice, DTAG believes it can acquire a substantial share of the market through the mobile capabilities and Internet framework the corporation already has in place. Customers throughout the country will soon be able to place euros on fútbol, skiing, rugby, hockey, Formula 1 racing, and more.
With 80 million citizens living on relatively high yearly incomes, it's no wonder DTAG feels the market is ripe, and one that must be taken advantage of quickly.
Furious Federal Government?
The actions on behalf of DTAG might concern some shareholders due its maneuvering around the legal system. However, it appears company executives aren't as worried. According to sources with knowledge of the situation, Deutsche Telekom doesn't believe its current license application with the Hesse
Ministry will be affected by entering the market under an Austria license. The company points to the inaction of HMDIS regarding other rogue betting firms that have been operating illegally since the 2012 treaty was first enacted.
Another likely reason for DTAG's confidence in moving forward without a government sports betting license is due to the fact Germany has a large financial interest in the company.
Sports betting will certainly represent only a speck of the conglomerate's total revenues, but making an example using its own enterprise doesn't appear to be good business or strategy for parliament leaders.
Most Read