Las Vegas Hospitality Workers Set Nov. 10 Strike Deadline Amidst Contract Dispute
Posted on: November 3, 2023, 08:20h.
Last updated on: November 9, 2023, 12:13h.
Tens of thousands of Culinary Union and Bartenders Union members are ready to stop working next week if they don't have a contract in place.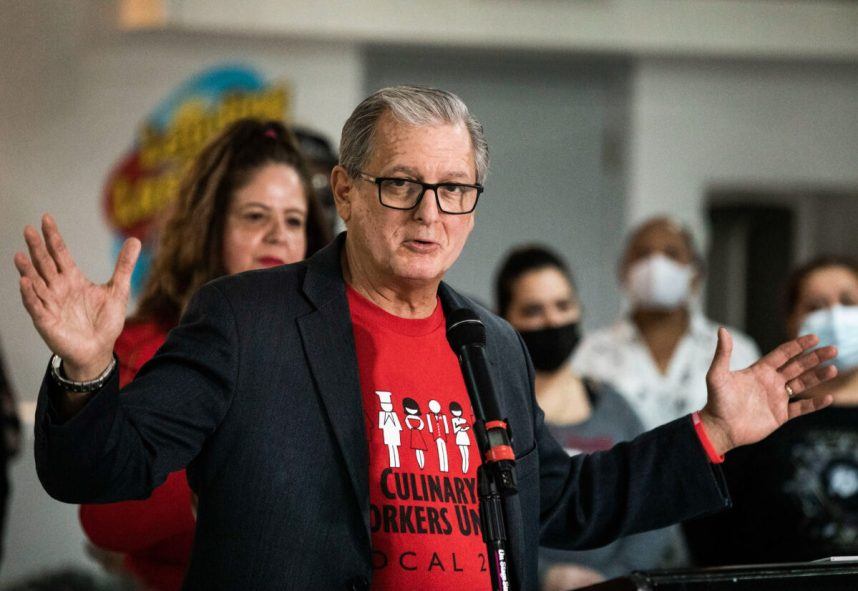 The unions announced on Thursday that their new firm deadline for calling a strike at Las Vegas hotels and gaming properties is Nov. 10.
Some 35,000 Las Vegas hospitality workers have been working without a contract since September. Last month, 95% of the workers authorized a strike.
The 18 properties at risk for a strike are run by MGM Resorts International, Caesars Entertainment, and Wynn Resorts.
The deadline is just a few days before the highly anticipated Formula 1 Las Vegas Grand Prix. The race is scheduled to take place between Nov. 16 and 19. The event is expected to attract about 100,000 visitors, according to the Las Vegas Review-Journal.
The Culinary Union represents 60,000 hospitality workers in Nevada. It represents housekeepers, cocktail and food servers, porters, bellmen, cooks, bartenders, as well as laundry and kitchen workers.
Negotiations between workers and management began in April. But no agreement has been reached. Among the unresolved issues are salary, job security, and worker safety. The unions are arguing for a five-year contract.
Union Members Speak Out
"Economically, the companies have made some movement, but we are millions of dollars apart," Ted Pappageorge, Culinary Union Secretary-Treasurer, was quoted by Reuters.
"It's time for these companies to sit down and negotiate," Pappageorge told the Review-Journal. "If they're not willing to do that, then we're going to ask customers to take their money and spend elsewhere. We have a huge network and ability to communicate with workers across the country and we will do that."
He said the union is prepared for a strike and to set up picket lines at numerous casinos. That includes picket signs, portable bathrooms, tables, chairs, bullhorns, lumber for picket sign sticks, generators, sunscreen, banners, canopies, and water.
I am ready to strike because we have to hold the line on what we believe is important. Wages, job security, and protection language — including for upcoming technology, are what we need in this contract," James Tanner, a bartender at Caesars Entertainment's Paris Casino and a union member, said.
Last month, some 75 Culinary Union members and officials were arrested after they blocked traffic on Las Vegas Boulevard. It was part of an effort to highlight their current labor dispute with casinos.
Caesars Reveals Generous Offers
On Tuesday, Caesars Entertainment CEO Thomas Reeg said during an earnings call that the company is "in dialogue constantly with the union." Closed-door meetings were expected to be held throughout the week.
When we reach an agreement on the contract, it's going to be the largest increase that our employees have seen in the four decades since we started interacting with the Culinary Union," he added.
The Culinary and Bartenders Union had a citywide strike in Las Vegas in 1984. Other strikes were held more recently.
Across the country, in Detroit, casino workers are now in their third week of a strike. It began on Oct. 17 and impacts three casinos.