Las Vegas Culinary and Bartenders Union Votes to Authorize Strike 
Posted on: September 27, 2023, 09:14h.
Last updated on: October 27, 2023, 12:47h.
Las Vegas restaurant and hotel workers are one step closer to going on strike following an overwhelming vote by their union's members this week.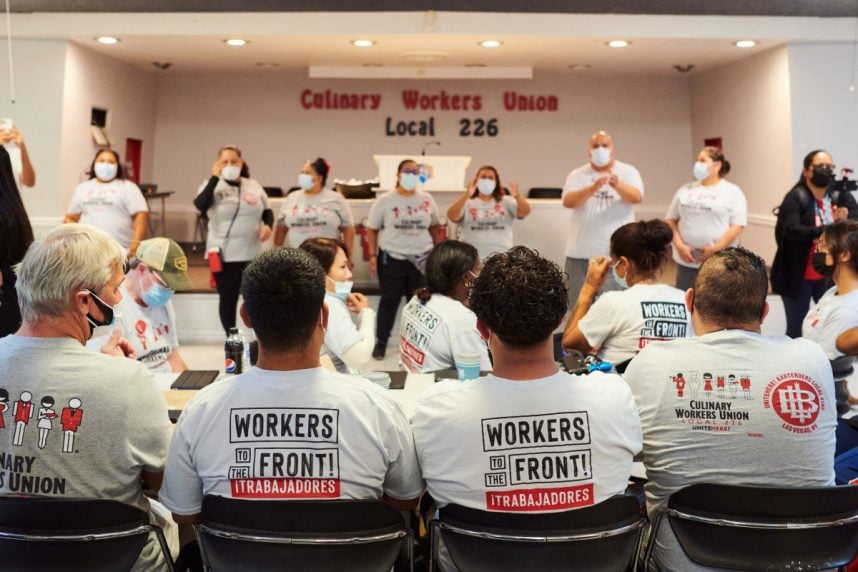 The Culinary and Bartenders Union said 95% of its workers voted to authorize a strike if contract negotiations with the casino operators go south. As of Wednesday, workers remained on the job. But the strike authorization vote is likely to increase the unions' leverage in the talks.
Today, Culinary and Bartenders Union members have sent the strongest message possible to the casino industry to settle a fair contract as soon as possible. We have negotiations scheduled next week with MGM Resorts, Caesars Entertainment, and Wynn/Encore Resorts, and it's up to the three largest employers in Las Vegas to step up and do the right thing," said Ted Pappageorge, secretary-treasurer for the Culinary Union.
"If these gaming companies don't come to an agreement, the workers have spoken and we will be ready to do whatever it takes – up to and including a strike," Pappageorge added. "Workers brought every single one of these companies through the pandemic and into a great recovery, and workers deserve a fair share. Companies are doing extremely well and we are demanding that workers aren't left behind."
Better Pay, Security Sought
The unions represent hotel and restaurant workers, bartenders, and other nongaming staff at the major resorts along the Las Vegas Strip. Their contracts with MGM, Caesars, and Wynn expired in June but have been extended through September.
"We are the glue that keeps these hotels together, and we should be paid what we deserve," Deanna Virgil, a longtime employee at Wynn Las Vegas, told The Associated Press after casting her vote Tuesday morning.
If union members walk off the job, it would cripple the Las Vegas economy at a key moment in the city's post-pandemic recovery. The city is expected to receive thousands of visitors in November when it plays host to a Formula 1 event, and it will be the site of the Super Bowl in February.
Union members say they're continuing to negotiate in good faith and hope to reach an agreement with the casinos without a strike. The unions are asking for better pay and working conditions, as well as additional safety protections for employees, among other desires.
In a statement reported by several news outlets, MGM Resorts said it has successfully negotiated with the unions for decades and was hopeful the talks would be fruitful. "We continue to have productive meetings with the union and believe both parties are committed to negotiating a contract that is good for everyone," MGM said.
Wynn and Caesars declined to comment, according to the New York Times.
Labor Growing Elsewhere
The union's previous five-year contract expired in 2018, and a strike was also authorized at the time. A deal ultimately was reached before any walkout.
This year's negotiations come at a time of rising influence for the labor movement in various sectors of the economy. President Joe Biden visited striking autoworkers on the picket line in Michigan on Tuesday, and the Writers Guild earlier this week reached a tentative deal with the Hollywood entertainment studios following their own months-long strike.
Meanwhile, the would-be developers of a proposed casino in Richmond, Va., this week said they would build the project with union labor if they win approval for the project in November.
Most Read