Detroit City Council Backs Striking Casino Workers
Posted on: October 24, 2023, 03:22h.
Last updated on: October 25, 2023, 12:16h.
Municipal leaders in Detroit are voicing support for the 3,700 workers who have gone on strike from the city's three casinos.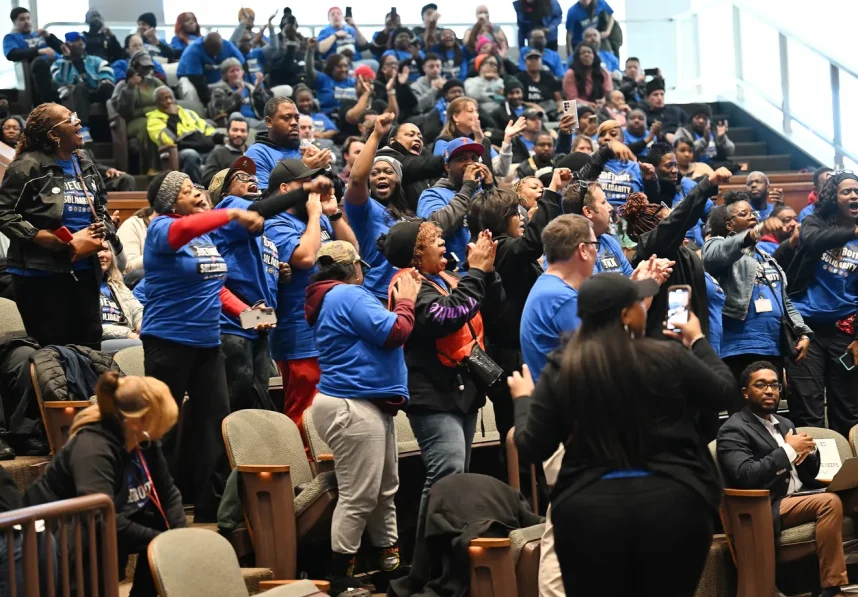 The Detroit City Council on Tuesday unanimously voted for a resolution declaring it "stands in solidarity with striking Detroit casino workers," and endorsed their calls for better pay and working conditions.
The Detroit City Council supports working people across every sector of our economy and recognizes that working people deserve respect, adequate workplace protections, and the right to a living wage," the resolution declares.
Union members walked off the job at the MGM Grand, MotorCity Casino Hotel, and Hollywood Casino at Greektown on October 17, after failing to reach an agreement on a new contract with the casinos' owners.
The casinos remain open, but offerings have been limited. Workers on strike include cleaning staff, engineers, food and beverage servers, table game dealers, and valets
The ongoing strike comes as unionized hotel and restaurant workers in Las Vegas are considering their own strike, and plan to step up their public activism this week. The labor actions in the casino sector are a small piece of a nationwide resurgence of labor unions' bargaining power, exemplified by ongoing strikes of Hollywood actors and autoworkers at plants around the U.S.
Hundreds of Workers Press Council
More than 700 striking workers attended Tuesday's council meeting in Detroit to demonstrate their support for the resolution, the Detroit News reported.
The striking workers are represented by the Detroit Casino Council, which includes the United Auto Workers, Teamsters Local 1038, UNITE HERE Local 24, Operating Engineers Local 324, and the Michigan Regional Council of Carpenters.
Workers say they agreed to concessions in the three-year contract they signed with the casinos in 2020 in order to help them recover from the pandemic-related economic downturn. Workers saw only a 3% raise since then, while inflation in Detroit has outpaced that rate, and the casinos themselves have set new revenue records.
The unions and their supporters say casino owners have failed to provide adequate health care, job security, and retirement benefits. That's while cutting overall employment levels, leaving remaining workers to carry a heavier load.
"For them to be making the billion dollars they are making, how dare we not pay the workers what they have earned? What they sacrificed and broke bones for and sacrificed time with their kids for," Councilman Coleman A. Young II said to a roaring crowd at Tuesday's meeting, according to the Detroit News. "If you need any time to get involved and say solidarity forever, this is it."
Casinos Generate Millions for City
The inability of casinos and their workers to agree on a contract threatens to diminish a key funding source for the city of Detroit, both from taxes on gambling revenues paid by the casinos themselves, as well as from the income taxes not being paid by striking workers.
In-person gaming in Detroit is estimated to raise $158.5 million for the city during the fiscal year that began July 1, while online gaming will generate an estimated $89.8 million, according to the Detroit News.
"The City of Detroit is prepared to manage through short-term disruptions in revenue because the Mayor and City Council have worked together over the years to create a fiscal plan that is based on financial resiliency. We are hopeful that a fair agreement can be reached between the casinos and the casino workers' unions soon," the city's CFO's office said, according to the News.
Most Read