Democratic Senator Mark Warner of Virginia Joins Pro-RAWA Chorus
Posted on: July 12, 2017, 06:36h.
Last updated on: July 12, 2017, 06:42h.
Senator Mark Warner (D-VA) has written to US Attorney General Jeff Sessions, requesting that he review the DOJ's 2011 interpretation of the Wire Act. That's the legal opinion that the 1961 act applied only to sports betting, not the as-yet-to-exist realities of online poker and internet casinos to which it was applied prior to that reinterpretation.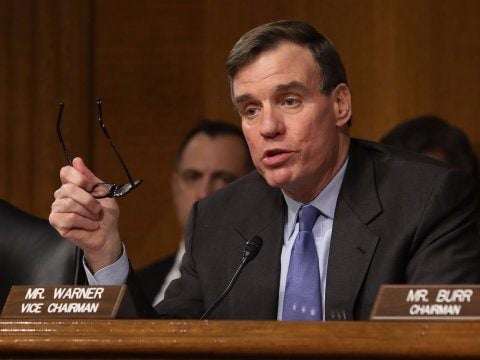 It's an opinion that paved the way for states to regulate these games within their borders, which so far, only Nevada, New Jersey, and Delaware have acted upon, although several others continue to battle out the specifics.
Sessions Out of the Picture
Apparently Warner hasn't been keeping up with the news lately, as it was only on July 3rd that Sessions was forced to recuse himself from that very issue after a conflict of interest emerged involving his own attorney, Charles Cooper.
Cooper was hired to represent his friend Sessions throughout the investigation into alleged Russian meddling in the presidential election, but also recently acted as a lobbyist for Sheldon Adelson's Coalition to Stop Online Gambling, wherein lies the potential for conflict.
The guy Warner should have sent the letter to, probably, is Curtin Gannon, the Principal Deputy Assistant Attorney General for the Office of Legal Counsel (OLC) for the Department of Justice, as it was an Obama-era OLC that issued the 2011 declaration that caused all the kerfuffle.
In that recent letter addressed to Sessions and reportedly seen by The Hill, Warner claimed online gambling sites "are especially fertile platforms for the facilitation of money laundering, collusion and other illegal activities."
Dem on Board
The addition of Warner's voice to the small political cry for a reinterpretation of the Wire Act is notable primarily because he's a Democrat. Online gaming antagonists have so far been almost exclusively Republicans, backed by Las Vegas Sands chairman and internet gambling foe Adelson.
Despite his different political persuasion, however, Warner has the familiar rhetoric of the pro-RAWA (Restoration of America's Wire Act) brigade down pat. Ironically, regulated gambling has been the one thing that's largely addressed all the concerns of those who rail against playing online and the possible dangers it presents.
Even with Warner adding a small bipartisan twist to RAWA's lackluster reception to date (despite Adelson throwing millions at its passage) American supporters of regulated online gambling probably shouldn't be overly concerned. But that doesn't mean they shouldn't pay attention.
The bill's supporters, including Pennsylvania Representative Charlie Dent (R), have turned to trying to insert the failed legislation through the back door by tagging it onto a larger must-pass appropriations bill, a tactic that worked, in another time and form, for the Unlawful Internet Gambling Enforcement Act (UIGEA) of 2006, which was similarly inserted into a Safe Port act and thus sailed through.
It was that act that made it illegal for any payment processor to accept or cash out online gambling transactions, a reality that took a tremendous push to turn around, even with specific states making internet play entirely legal.
Similar Guides On This Topic
Latest Casino Stocks:
Retrieving stocks data...
Retrieving stocks data...
Retrieving stocks data...
Retrieving stocks data...
Retrieving stocks data...