Congress and the Wire Act: How US Legislators Could Affect the Fate of Online Gaming
Posted on: January 18, 2019, 02:15h.
Last updated on: January 18, 2019, 02:15h.
Following the controversy generated this week by the Justice Department (DOJ) in revising its interpretation of the Wire Act, there is a chance — however remote — that the 116th Congress could decide to update the 57-year-old far-reaching law that threatens to limit (or even bring down) the American online gaming industry.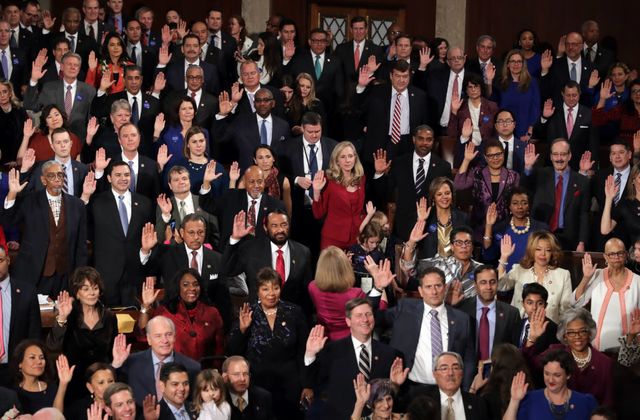 Many policy and legal experts say the law could be revised so it is more clear what it specifically covers, especially with the many advances in technology and changes to the US legal betting scene since the 1961 Wire Act was passed by the Kennedy Administration, largely as a reaction to what was then seen as the ominous forces of organized crime, specifically the Mafia.
Laurel Loomis Rimon — a former Justice Department supervisor who is now senior counsel at Washington, DC law firm O'Melveny & Myers — told Casino.org this week that Congress "can certainly revise the Wire Act to clarify the breadth of the act and whether it applies to non-sports gaming.
"It could also modernize the Wire Act's language to take into account online gaming and modern electronic transmissions," she added.
"I think it is likely that there will be a move in Congress to address the arguable ambiguity in the Wire Act with respect to the scope of gambling that is covered, given that there has also been the recent expansion of legalized sports betting, and there are many stakeholders eager to move into online gaming platforms, and many consumers excited about having more options and more convenience in betting," Rimon opined.
But she suspects there could be a "strong debate" over "consumer protection issues" related to topics like the "involvement of minors and addiction."
Defining Terms
Michelle Minton, a senior fellow at the Competitive Enterprise Institute who has written extensively about the act, told Casino.org, that one "simple" addition Congress could make which would end "much of the confusion" is to clarify terminology.
"Adding definitions for the terms used in the act would clarify to what types of gambling it applies, whether the Internet is included in the term 'wire communications,' and what types of transmissions are considered 'interstate,'" she explained.
"For example, UIGEA [the Unlawful Internet Gambling Enforcement Act of 2006] expressly determines interstate transmissions based on the state in which the transmission was initiated and where it was received. As currently written, one could interpret the Wire Act as classifying transmissions made and received in the same state as 'interstate' if the data, at any point, was routed outside of the state," she clarified.
Here is how Minton says she would re-write the act's first paragraph:
(a) Whoever being engaged in the business of betting or wagering knowingly uses a wire communication facility for the transmission in interstate or foreign commerce of sport-related bets or wagers, information assisting in the placing of such bets or wagers, communications which entitles the recipient to receive money or credit as a result of such bets or wagers or which entitles the recipient to receive money or credit as a result of information assisting in the placing of such bets or wagers, shall be fined under this title or imprisoned not more than two years, or both.
"This would make the second paragraph much more clear in its purpose to protect media reporting on sporting events and transmissions related to sports gambling when the activity is legal in the states where it occurs," Minton said.
When asked for his outlook, G. Robert Blakely — a law professor at Indiana's University of Notre Dame and an acknowledged scholar on 1970's Racketeer Influenced and Corrupt Organizations Act (RICO), noted that "the Wire Act is indeed old.
"It was enacted to parallel the mail fraud act," Blakely told Casino.org. "Congress has no general criminal power. Federal crimes are tied to federal powers. That is the mail (mail fraud) interstate communications (wire fraud) or interstate travel (travel act). They are three ways to get at fraud. Other statutes cover other frauds (securities fraud, SEC).
"They have never been aimed [at] organized crime in the of sense the mob only. They … apply to 'any person' who mails a letter, makes an interstate phone call, or travels across state lines pursuant to a 'scheme to defraud.' The phrase applies widely. Originally, it meant trying to cheat someone. It came also to include bribery, then kickbacks, etc. It is … open-ended. The acts have been a mainstay of federal law enforcement."
Stalemate Realities
But political realities could restrain what Congress — and the White House — could accomplish vis-a-vis the act.
"It is always a good idea for Congress to look and see what [the] DOJ does with any statute," Blakely told Casino.org. "But with this Congress and president, I am reluctant to say anything. They cannot agree to keep the store open," he said, referring to the current government shutdown.
"Talking about whether the store is selling the right kinds of things seems almost silly … but until we get the store open, it is fruitless talking about much else," he noted.
Beyond that, if Congress tried to update the act, one person who may have a lot of clout over the process is the current chairman of the Senate Judiciary Committee, Lindsey Graham (R-South Carolina). This week, he praised the DOJ's new opinion on the Wire Act, saying, in part, it "takes great strides to protect children and society's most vulnerable.  It will also be a blow to criminal elements that tried to take advantage of the failed Obama policy."
Earlier, Graham was a co-sponsor of a bill called the Restoration of America's Wire Act (RAWA). Casino.org has previously reported that the proposal "would effectively ban all forms of online gambling at a federal level, apart from horse racing betting and fantasy sports."
Casino magnate and Republican megadonor Sheldon Adelson — an outspoken proponent of the move to ban online gambling and a major RAWA supporter — has also donated to Graham's past political campaigns.
History of the Wire Act: RFK's Attack on Mob Crime
Originally, the enactment of the Wire Act was seen as part of the Kennedy Administration's many initiatives against organized crime. Much of it was led by then-Attorney General Robert Kennedy, brother to then-President John F. Kennedy.
"Bobby organized the most extensive campaign against organized crime in American history," Larry Tye, author of the new bestseller Bobby Kennedy: The Making of a Liberal Icon, told Casino.org. [He would probably be] "shocked, I think, about most everything the Trump Justice Department is doing," Tye added.