Daniel Negreanu Joins PETA in Calling on Harrah's Cherokee to Close Bear Zoo, But Animal Rights Group Has Its Own Ethical Issues
Posted on: November 4, 2015, 02:59h.
Last updated on: November 4, 2015, 03:08h.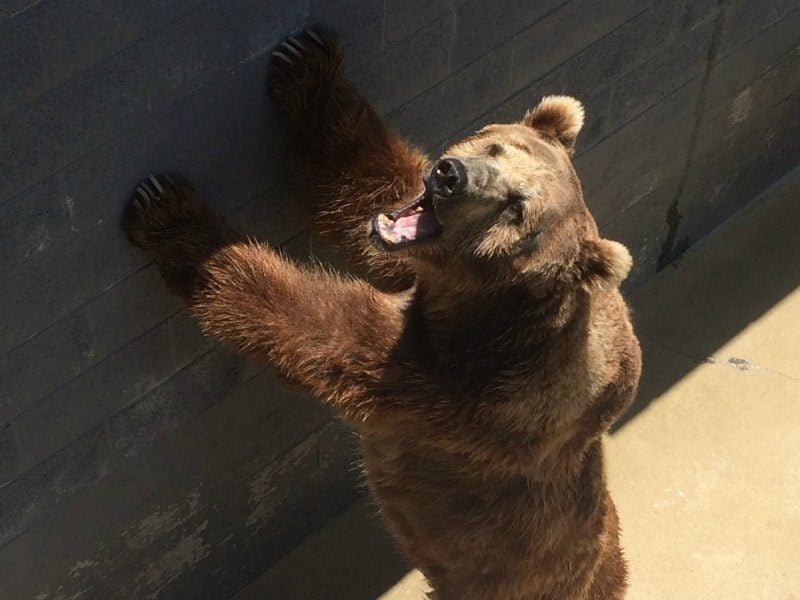 Daniel Negreanu, poker's best-known vegan, is the game's all-time money winner. He routinely lends his name and celebrity to charitable and gambling causes, including the expansion of online poker. But his latest efforts, while certainly for an admirable cause, have put him in tandem with an organization he is already aligned with that itself has come under much fire in the past decade for its own animal treatment practices.
That group, PETA, or People for the Ethical Treatment of Animals, has recruited Negreanu to publicly request that the Harrah's Cherokee Casino Resort in North Carolina close its Cherokee Bear Zoo (CBZ). He asks players to join PETA's petition calling on the Eastern Band of Cherokee Indians (EBCI) to close down what they say is a badly kept and inhumane facility for the bears.
"These bears are kept in horrendous conditions in barren concrete pits that prevent them from engaging in virtually any type of natural behavior," Negreanu writes in PETA's press release on the issue, which also includes an actual letter he sent to Senior VP and General Manager Brooks Robinson at Harrah's Cherokee Casino.
"Bears in the wild explore home ranges of up to thousands of miles and are active for up to 18 hours a day. Bears at the CBZ are confined … which they spend much of their time pacing back and forth.
"Harrah's influence could make all the difference for these bears who have been denied everything for so long. Please, help us to help them," Negreanu concludes.
Do As We Say?
A quick Google search of the bear zoo certainly seems to support PETA and Negreanu's allegations that it's no way to treat an animal whose instincts wish to be in the wild mountains and not a concrete prison. But while PETA is certainly one of the world's best-known (and most controversial) animal rights organizations, the nonprofit agency is not without its fair share of detractors as well, ironically for what many claim is its own mistreatment of animals in its care.
In 2009, the group came under fire for destroying 2,124 of the 2,216 animals that were handed to its American headquarters, or a staggering 96 percent. PETA insisted that homes could not be found for the pets.
PETA has also advocated against pit bills and believes the class of dogs are better off dead, claiming no homes can be found for the dogs. Pit bulls are not actually a dog breed, but in fact a term used to describe a number of breeds, including the American Pit Bull Terrier, American Staffordshire Terrier, and Staffordshire Bull Terrier.
But controversy aside, Negreanu certainly isn't alone in being a major star associated with PETA. The group known for its "I'd rather go naked than wear fur" campaign has received support from numerous A-list celebrities, including Paul McCartney, Ellen DeGeneres, Carrie Underwood, Justin Bieber, and Pamela Anderson.
Sovereign Nation
The first major casino in North Carolina, the Harrah's Cherokee opened back in 1997 following ten years of negotiations after the Indian Gaming Regulatory Act was passed in Congress in 1988.
Though many tribal members were against the casino back in the 90s, the resort has paid off for the sovereign nation. In 2013, the Eastern Band reported $500 million in gambling revenues, the industry so bountiful the Cherokee Indians opened its second Harrah's casino in Murphy, North Carolina, in 2015.
The tribe relies on incomes received from its casinos to fund its government, which is why Negreanu is right in suggesting Harrah's influence in asking the band to close the bear zoo would be significant.
Should the Caesars-owned gambling company threaten action, the Cherokees would theoretically have to concede as its contract grants Harrah's with the "exclusive right" to manage and operate the casino.
Most Read