Could an Asian Wynn Resorts Buyout Happen? Experts Say It's Possible, and Steve Wynn Can't Stop It
Posted on: February 9, 2018, 03:00h.
Last updated on: February 9, 2018, 02:37h.
It's been a whirlwind few weeks for Wynn Resorts and its recently dethroned ex-leader, Steve Wynn. But gaming industry analysts think the rollercoaster ride may not have ground to a halt just yet. They believe a company takeover is, in fact, likely, with potential suitors being large conglomerates in Asia, or even competitor MGM Resorts.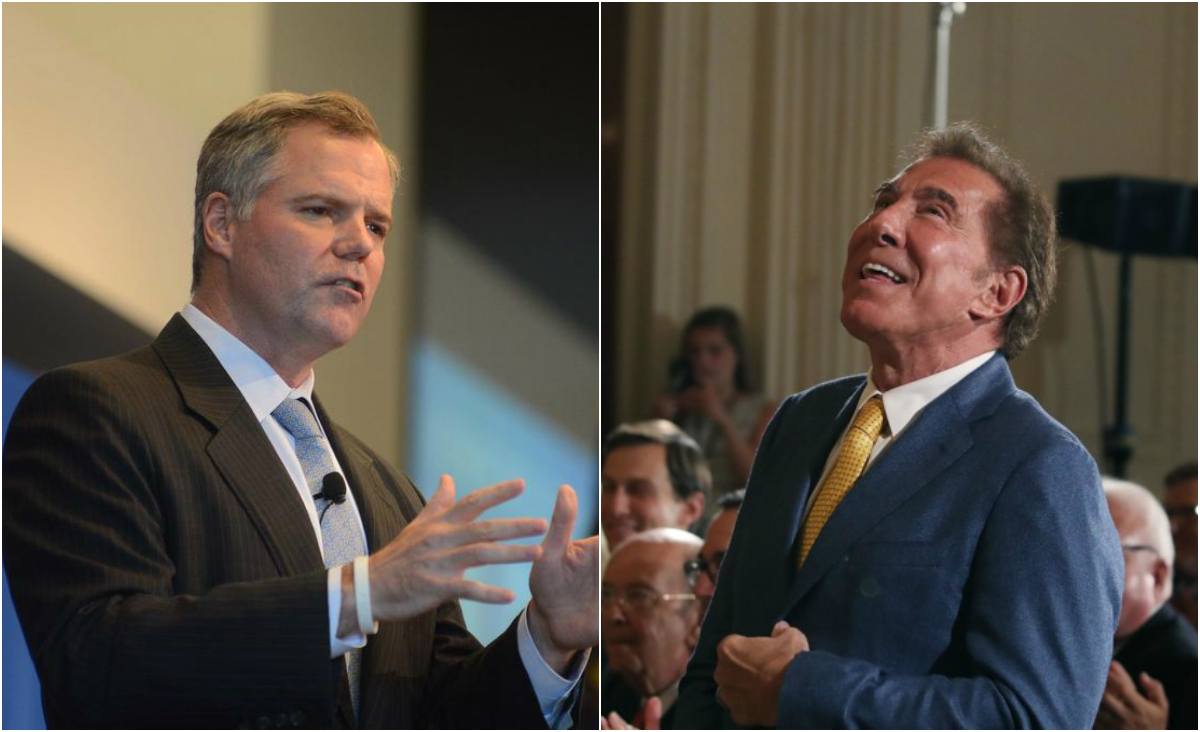 But if MGM is planning a coup, the company's CEO isn't spilling the beans. Jim Murren said recently that any acquisition of Wynn Resorts would be unlikely.
But that has nothing to do with Wynn's scathing sex scandal itself, Murren said, but rather the vast bankroll that would be required to complete such an acquisition. Speaking with Bloomberg on Friday, Murren said the value of Wynn Resorts leaves few qualified bidders.
"It's a very large organization. It would be difficult to believe [anyone] is going to have the financial wherewithal to make a serious bid, " Murren said, speaking from Tokyo.
That Was the Week That Was
Earlier this week, Wynn resigned from the company he founded in 2002. His stepdown came just under two weeks after the Wall Street Journal published a report with allegations of decades of internal sexual misconduct by the billionaire with female employees, ranging from cocktail waitresses to manicurists to masseuses. Wynn vehemently denied it all.
The account detailed various incidents of the alleged inappropriate conduct, with the most incriminatory being a 2005 report of a Wynn Las Vegas manicurist who said Wynn had pressured her into having sexual intercourse. The Las Vegas Review-Journal subsequently released a never-published story about a 1998 allegation involving a then 40-something Mirage cocktail waitress being forced to have sex with the tycoon, who said he wanted to experience having sex with a grandmother.
Wynn continues to deny the allegations, and says a "rush to judgment takes precedence over everything else, including the facts."
Jewel in the Crown
Murren's publicly expressed views notwithstanding, others look at Wynn Resorts as a rose waiting to be plucked, and say businesses with the bankroll to make it happen do exist, most likely in the Asian market sector.
 "Acquisition target? Absolutely," Matthew Ossolinski, chairman of gaming investment firm Ossolinski Holdings, told CNBC this week. "These are some of the most prestigious casino properties in all of Asia, and this would be a jewel in the crown for a large Asian conglomerate which would be happy to, I think, pay a premium to have this sort of prestigious trophy buy."
Wynn owns about 12 percent of the entire company, which means he does not possess the voting power to block a sale.
But according to stock guru Jim Cramer, minus its captain, Wynn Resorts is a loser.
"Without him, it's just another chain with no leader," Cramer declared last week. "Where do I come down? When there's this much indecision … I have to take a pass."
Despite a slight rebound for Wynn shares following the billionaire's resignation, Morgan Stanley downgraded the stock on Friday and urged investors to take their profits and run. Prior to the scandal, Wynn Resorts posted final quarter 2017 profits totaling $492 million, a 335 percent surge year-on-year.
Wynn Resorts has a market value of about $17 billion. But its valuation largely depends on Macau, the Chinese gaming enclave where the company makes 75 percent of its GGR.
The casino license that allows Wynn Macau and Wynn Palace to operate will expire in June of 2022. At that time, regulators will decide whether to renew the coveted permit.
Macau's gaming authority is investigating the sexual misconduct scandal to determine if punitive action is merited. The regulator is expected to renew the five other casino operator permits when they begin to expire in 2020.