Colorado/Nebraska Attracts More Bets Than Entire NFL Week 1 Slate
Posted on: September 8, 2023, 05:17h.
Last updated on: September 11, 2023, 12:43h.
The Colorado Buffaloes host the Nebraska Cornhuskers in Boulder on Saturday, and that single college football game is attracting more bets and money than an entire slate of Week 1 games in the NFL.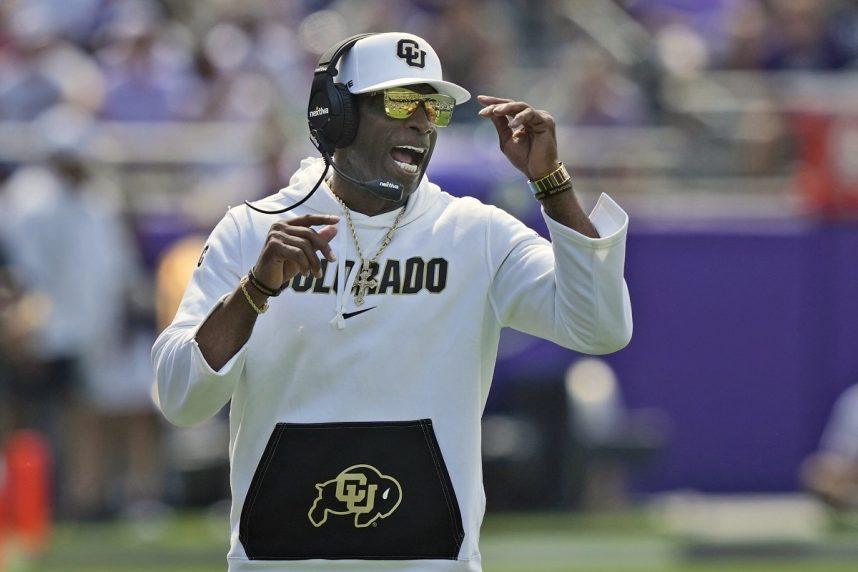 Credit Colorado head coach Deion Sanders, a.k.a Coach Prime and former NFL star, for the reason why bettors are jumping on the Colorado bandwagon. Colorado last posted a winning season in 2005. They fired head coach Karl Dorrell midway through last season after an 0-5 start. They made a controversial decision to hire Sanders, who found success with Jackson State. Sanders turned Jackson State into one of the top HBCU schools.
Several insiders thought the hiring of Sanders was a gimmick. But Colorado officials knew they hired the right man for the job when tickets went on sale. The school saw an upswing in season ticket requests, and they quickly sold out single game tickets. Sanders had yet to set foot on campus, and the Buffs were back to being the biggest show in town.
Colorado University is located in Boulder, which is 25 miles away from Denver. Colorado's sports-crazed residents love sports betting. It's been a good couple of years for pro teams in Denver. The Colorado Avalanche hoisted the Stanley Cup last summer in 2022. This past June, the Denver Nuggets won their first NBA championship.
Coach Prime and the Buffs Upset TCU
Colorado upset #17 TCU last Saturday as a +10 road underdog. Colorado won one game last season, yet they defeated a TCU team that reached the national championship game against Georgia.
Colorado rallied from behind to stun TCU, 45-42, in a thrilling shootout. It was their first win against a ranked team since 2002.
Quarterback Shedeur Sanders, the son of Colorado's head coach, set a school record with 510 passing yards and four touchdowns. Four players recorded at least 100 receiving yards, including Travis Hunter, who is a two-way star that plays cornerback and wide receiver for the Buffs.
"A lot of you didn't believe in us," said Shedeur Sanders. "It's crazy because you just got to understand our coach, Coach Prime, my dad, everywhere he went, he was a winner. Every game, every opportunity, he took advantage of."
After the TCU game, two stars from Colorado saw a huge uptick in their Heisman Trophy odds. Hunter and Shedeur Sanders were no longer long shots to win the Heisman. Hunter moved from 80-1 odds to 16-1. Sanders jumped from 100-1 odds to 22-1.
Last year's winner, USC quarterback Caleb Williams, is still the consensus favorite to win the Heisman Trophy in consecutive seasons at +450 odds.
Bettors Love Colorado in Week 2
Oddsmakers opened the Colorado/Nebraska game with the Buffs installed a -5 favorite at home in Boulder. Early bettors jumped on Nebraska, and oddsmakers quickly moved the line two points. By Sunday morning, the line settled in at -3 and bettors – both amateurs and pros – have been backing Colorado all week.
The line is currently Colorado -3 at DraftKings in Colorado. Casinos in Las Vegas like the South Point and Circa have Colorado at -2.5.
Oddsmakers at multiple sportsbooks have been blown away with the significant action the public has taken on the Colorado/Nebraska game. BetOnline was the first sportsbook to publicly admit the Colorado betting phenomena. Colorado/Nebraska was getting more attention than all 16 games in the opening week of the NFL season.
DraftKings, Caesars, and BetMGM also confirmed their tsunami of Colorado wagers to ESPN.
"Every time I've glanced at the college football ticker since Saturday, I have seen a line of Colorado bets," Joey Feazel for Caesars Sportsbook told ESPN. "The action has been crazy."
After Colorado upset TCU last week, PointsBet/Fanatics reported a massive surge in futures wagers on Colorado to win the national championship at 100-1. As expected, the Colorado/Nebraska games is also a popular wager.
"At PointsBet/Fanatics, more money had been bet on Colorado minus the points against the Cornhuskers than had been bet on 30 NFL teams," reported David Purdum from ESPN.
Colorado is currently +10000 odds to win the national championship, according to DraftKings. In Pac-12 futures, Colorado is +2200 odds to win their conference championship. They're the seventh-highest team on DraftKings.
Colorado/Nebraska Throwback to Big 8 Glory Days
Colorado hosted Nebraska in Boulder in 1898 for their first meeting, and Nebraska prevailed 23-10. The two universities met on the grid iron five times between 1902 and 1907, and Nebraska went 4-1.
Colorado and Nebraska began an annual rivalry in 1948, with the inception of the unofficial Big Seven conference. The Big Eight became official in 1957. For the better part of the 1980s and early 1990s, these two Big 8 rivals typically met on the last Saturday in October.
When the Big 8 rebranded as the Big 12 in the mid-1990s, the Colorado and Nebraska game was scheduled on the Friday after Thanksgiving. The rivalry game had become a "Black Friday" tradition that started in 1996 and continued through 2010.
Colorado and Nebraska stopped playing each other when they both departed from the Big 12 in 2011. Colorado headed west and joined the Pac-12, and Nebraska headed to the Midwest and joined the Big Ten. Their last meeting as conference rivals occurred in 2010 in Lincoln. Nebraska blew out Colorado, 45-17, in their last Big 12 conference matchup.
Old-school Big 12 fans and alumni were bummed out that the Colorado/Nebraska game is no longer on their conference schedule, so any time the two schools meet is considered a big deal.
The two schools rekindled the rivalry for two games in 2018 and 2019. Colorado came out on top in both games, including an overtime victory in Boulder in 2019.
Nebraska is 49-20-2 against Colorado over the years, but Colorado is 6-6 since 2001.
This will be the last season in the Pac-12 for Colorado. They agreed to leave the Pac-12 and rejoin the Big 12 next season.