Colorado Buffs CB/WR Travis Hunter Not Playing Against Oregon, Could Miss Three Games
Posted on: September 22, 2023, 12:24h.
Last updated on: September 22, 2023, 12:49h.
In Pac-12 college football action, Colorado two-way star Travis Hunter won't play for the Buffs on Saturday against the Oregon Ducks. That's because of a liver injury, which occurred last weekend on a late hit against Colorado State.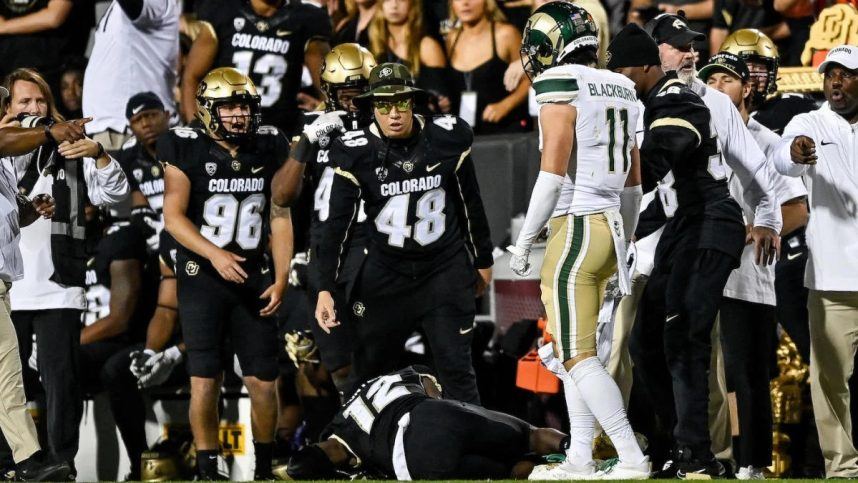 Hunter emerged as a Heisman Trophy candidate for his iron-man play with Colorado as a cornerback on defense and as a wide receiver on offense.
Before the season began, Hunter was a long shot on the Heisman Trophy awards board at +15000 odds. When Colorado upset TCU in the first game of the season, Hunter saw his Heisman Trophy odds shrink to +2500.
After Colorado dismantled Nebraska in the second game of the season, Hunter saw his Heisman odds shrink to +1500. Sportsbooks took Hunter off the awards board after his injury against Colorado State.
Shedeur Sanders, the starting quarterback and son of head coach Deion "Coach Prime" Sanders, saw his Heisman odds jump to +3500 after he torched TCU for a school-record 510 passing yards. He led Colorado to a comeback victory against Colorado State in overtime when he engineered a 98-yard touchdown drive to send the game into overtime. He's currently sixth on the Heisman board at +1800 odds.
Hunter Hospitalized with Liver Injury
Colorado and Colorado State met in an intrastate rivalry known as the Rocky Mountain Showdown, where the winner gets awarded the Centennial Cup. The two schools met for the first time in 1893 and there's no love lost between Colorado and Colorado State.
Colorado dominated the rivalry with a 68-22-2 record. They had won the previous five times before last week's matchup in Boulder.
Colorado State always had the little brother inferiority complex in the Rocky Mountain Showdown. But they weren't going to be intimidated, even though they were +24 underdogs.
Colorado State eventually lost in overtime, 43-35, and proved Colorado haters were right in their assessment that the Buffs were overrated. Then again, Colorado lost Hunter in the first quarter to a gnarly injury.
Colorado State safety Hunter Blackburn drilled Hunter on a passing play. The late hit was flagged by officials, and it took Hunter a while before he got up from the turf.
Hunter was whisked away to a local hospital where he underwent X-rays and other imaging. X-rays were negative, but Hunter was diagnosed with a lacerated liver. He didn't have to undergo surgery, but he was listed out for several weeks.
No one in the country that can fill Travis Hunter's shoes," added Sanders. "You've got to understand, he's a unique player. One of a kind. He's the best player on offense, the best player on defense. Thats just who he is — in the country, not just on his team."
In nine quarters as a defender and cornerback, Hunter recorded six solo tackles and one huge interception against TCU. As a wide receiver, Hunter caught 16 passes for 213 yards and averaged 13.3 yards per catch.
Blackburn Receives Death Threats
Colorado fans weren't shy about their disdain for Blackburn's cheap hit on Hunter. Fans bombarded Blackburn with vitriol, including death threats. Blackburn had to deactivate his social media accounts because of a tsunami of hate and threats of violence.
"That's absurd for people to be threatened," said coach Sanders. "I don't mind getting death threats. I get them every week. But a kid, it's not good. He does not deserve a death threat over a game. At the end of the day, this is a game. Someone must win, someone must lose. Everybody continues their life the next day. Very unfortunate."
Sanders said that he forgave Blackburn, and Hunter did the same.
Henry Blackburn is a good player who played a phenomenal game," added coach Sanders. "He made a tremendous hit on Travis on the sideline. You could call it dirty, you could call it he was just playing the game of football. But whatever it was, it does not constitute that he should be receiving death threats."
Hunter responded to the outrage on a recent livestream.
"(Blackburn) did what he was supposed to do," said Hunter. "It's football. Something bad is going to happen on the field sooner or later. You've got to get up and fight again."
Colorado safety Shilo Sanders, who is also the son of coach Sanders, wasn't in the forgiving mood, however.
"I really wanted to whoop that dude that did that to him, for real, after the game or something," said Shilo Sanders. "If I see him just around here somewhere, he got to watch out. But that really made me mad, just seeing him try to play dirty like that. That was crazy."
Betting Colorado at Oregon
Even though the Pac-12 is breaking up with teams migrating to the Big Ten and Big 12, including Colorado returning to the Big 12, the Pac-12 has several of the top teams in college football this season.
The #10 Oregon Ducks host #19 Colorado in Eugene on Saturday. The line opened with Oregon a -17 favorite, but quickly moved to -21 by midweek. Even though Colorado won't have Hunter in the lineup, Colorado bettors kept firing away on the Buffs as a three-touchdown underdog.
On Friday, the Colorado/Oregon line had moved to -22 in some offshore sportsbooks and in Las Vegas, like at the South Point.
Colorado is 3-0 straight up and 2-1 against the point spread this season. The Oregon Ducks are 3-0 ATS this season.
Sportsbooks took a beating on Colorado in the first two weeks of the season. The Colorado/Nebraska game attracted more wagers than the entire slate of NFL Week 1 games. Sportsbooks booked a win last weekend when Colorado failed to cover in an overtime victory against Colorado State.
BetMGM reported that Colorado is the most-bet team at +21 in terms of total wagers, and Colorado is the biggest bet team in terms of money.
Ben Fawkes reported that there are significantly more moneyline wagers on Colorado at BetMGM than on any other college football game this weekend. Colorado is currently +600 on the moneyline and +21 with the point spread at BetMGM Colorado. The total in Colorado/Oregon is 70.5 over/under.
DraftKings reported that Colorado/Oregon is getting the most wagers in college football this weekend. The public loaded up on Colorado at DraftKings, with 81% of the bets on the Buffs at +21.