College Football Week 12 Odds: Minnesota, Baylor Try to Remain Undefeated as Underdogs
Posted on: November 16, 2019, 01:00h.
Last updated on: November 15, 2019, 11:55h.
Two of college football's remaining undefeated squads will be put to the test on Saturday, as Minnesota and Baylor are listed as underdogs in Week 12 action.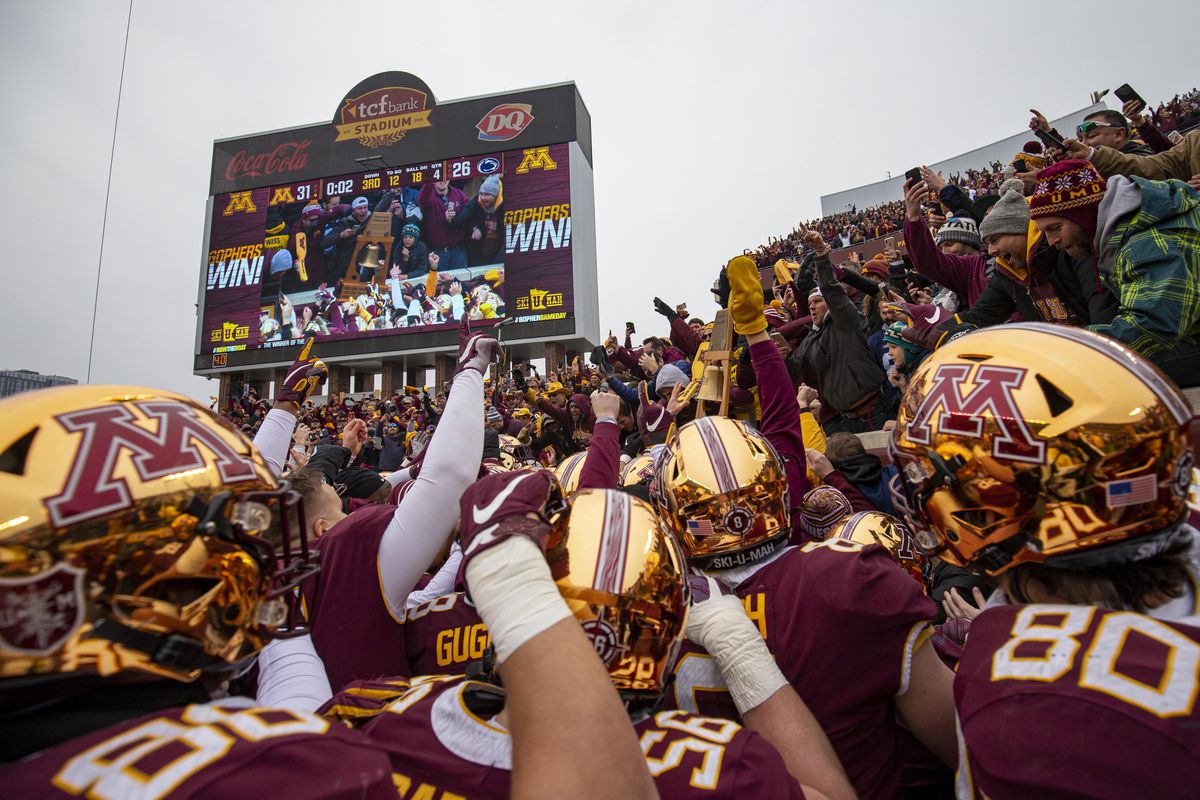 No. 8 Minnesota (9-0) is a 3.5-point underdog on the road at No. 20 Iowa (6-3), while No. 13 Baylor (9-0) is a massive 10.5-point home underdog to the No. 10 Oklahoma Sooners (8-1).
Minnesota Looks to Back Up Penn State Victory
Of those two games, the fact that Minnesota is an underdog might come as a bigger surprise to most college football fans. The Gophers are coming off a huge win against Penn State, one that immediately vaulted the team into the playoff picture.
That said, the Hawkeyes will certainly be a test. Iowa's three losses – to ranked teams Michigan, Penn State, and Wisconsin – came by a combined 14 points, so while its record may not appear impressive, there's no doubt that the Hawkeyes can hang with elite competition.
That hasn't escaped the notice of Minnesota, which is playing football with a completely different culture under head coach P.J. Fleck.
We are going to practice this week harder than we've ever practiced because we've got our eyes fixed on the goal, which is going 1-0 in the Iowa season," Minnesota senior defensive end Carter Coughlin told the Minnesota Star Tribune. "And we're going to take care of business."
Meanwhile, Baylor faces a fearsome test against Oklahoma. The Bears have played a relatively weak schedule, and they haven't looked overpowering doing so: Baylor has one-score wins over teams like West Virginia, TCU, Iowa State and Rice on the season, none of whom are now ranked.
Baylor Has Opportunity to Impress in Week 12
That has left many with the impression that Baylor has been overachieving on the year, and doesn't have the pedigree to survive as a playoff team until the end of the season. But a shocking win over the Oklahoma Sooners could quickly change that perception, and do for the Bears what the Penn State win did for Minnesota last weekend.
We're not going to do anything special," Baylor head coach Matt Rhule said at a press conference. "We're going to do what we do and hope that our guys make more plays than their guys make, knowing that we're going to make plays and they're going to make a lot of plays, too, they're really good, but that's what's fun about this game."
Hardly a week goes by where there isn't a major game to be played in the SEC, and Week 12 is no exception. No. 4 Georgia (8-1) will be playing at No. 12 Auburn (7-2) in another game that could potentially have playoff and conference championship implications.
Georgia enters the game as a three-point favorite on the road, but won't have an easy time of it against the Tigers.
"The point of attack is three different places on every play: it's the quarterback, it's the back, and there's something outside of that, whether it's an RPO or some kind of screen game. They're always making you defend all over the field," Georgia head coach Kirby Smart told reporters about Auburn's offense. "That's college football now, and they do a good job of that."
Also in Week 12 action, No. 23 Navy will visit No. 16 Notre Dame, with the Fighting Irish installed as a 7.5-point favorite in yet another matchup between ranked teams on Saturday.