China Makes Biggest Online Gambling Bust Ever
Posted on: April 2, 2015, 12:02h.
Last updated on: April 2, 2015, 12:02h.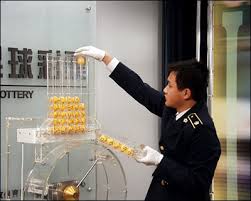 China has made the biggest online gambling bust in the nation's history, as over 1,000 suspects were detained by Guangdong police in connection to a gambling network that allowed people to place bets on hundreds of different websites.
"It is, so far, the largest online gambling case that has ever been cracked on the mainland since the founding of People's Republic of China in 1949 according to statistics revealed by the Ministry of Public Security," said Lu Feng, director of the general office for the Guangdong provincial department of public security.
A Record-Breaking Bust for China
According to Lu, the case broke multiple records for police. The 1,071 suspects detained were the largest number on record, and the 333 million yuan ($52.8 million) was the most gambling money ever seized in a single case.
That money was found in various bank accounts that belonged to members of the ring, all of which have been frozen. Lu said that police also seized a large number of computers and servers, along with phones, cars, bank cards and business records.
As for the endless train of suspects, most were gang members, bankers and technicians who developed and worked on the sites. Of those many hundreds of detainees, 15 gang members were transferred for prosecution, while about 570 have been formally detained.
The operation was codenamed "221" and began in the cities of Shantou and Chaozhou on December 21 after months of investigation.
According to Yu Canxian, the director of online security for the Guangdong department of public security, there were more than 400,000 people illegally betting on more than 200 different websites and platforms.
Many servers were operated overseas, and online banking services were provided for customers. However, the group was led by two men from Shantou.
It appears that the main operation involved allowing gamblers to wager on the results of China's state-run welfare and sports Lotteries. While most gambling is illegal on mainland China, the state-run lotteries are a major exception.
Corruption Crackdown Impacts Legal Gaming in Macau
The one place in China where almost all gambling is legal is Macau, the former Portuguese territory that is now semi-autonomous and plays host to numerous casinos.
But even there, mainland China has begun to assert influence, dramatically impacting the legal gambling that takes place there.
Last year, a corruption crackdown by the Chinese government started to cut the flow of funds to Macau, as corrupt officials and junket operators who catered to some of Macau's biggest customers were targeted.
That caused a dramatic fall in gaming revenues for the territory, as the loss of these whales could not be offset by a mild increase in mass market traffic.
The end result has been ten straight months of year-over-year declines in gambling revenue for Macau's casino gaming industry.
Most recently, gaming revenue was down 39 percent in March, the second-largest decline in Macau's history. Tighter controls on money leaving mainland China, along with labor disputes, smoking bans and other factors mean that it could be many years before Macau's revenues fully recover.
However, there are at least signs that the market has already bottomed out, and many analysts believe that revenues should flatten out or even begin improving again in the second half of 2015.