Changing Las Vegas Landscape Makes Selling Iconic Little White Chapel Difficult
Posted on: October 14, 2019, 12:01h.
Last updated on: October 14, 2019, 12:45h.
Las Vegas is constantly changing, and with a decline in visitors opting to tie the knot while in Sin City, selling the Little White Chapel is proving difficult.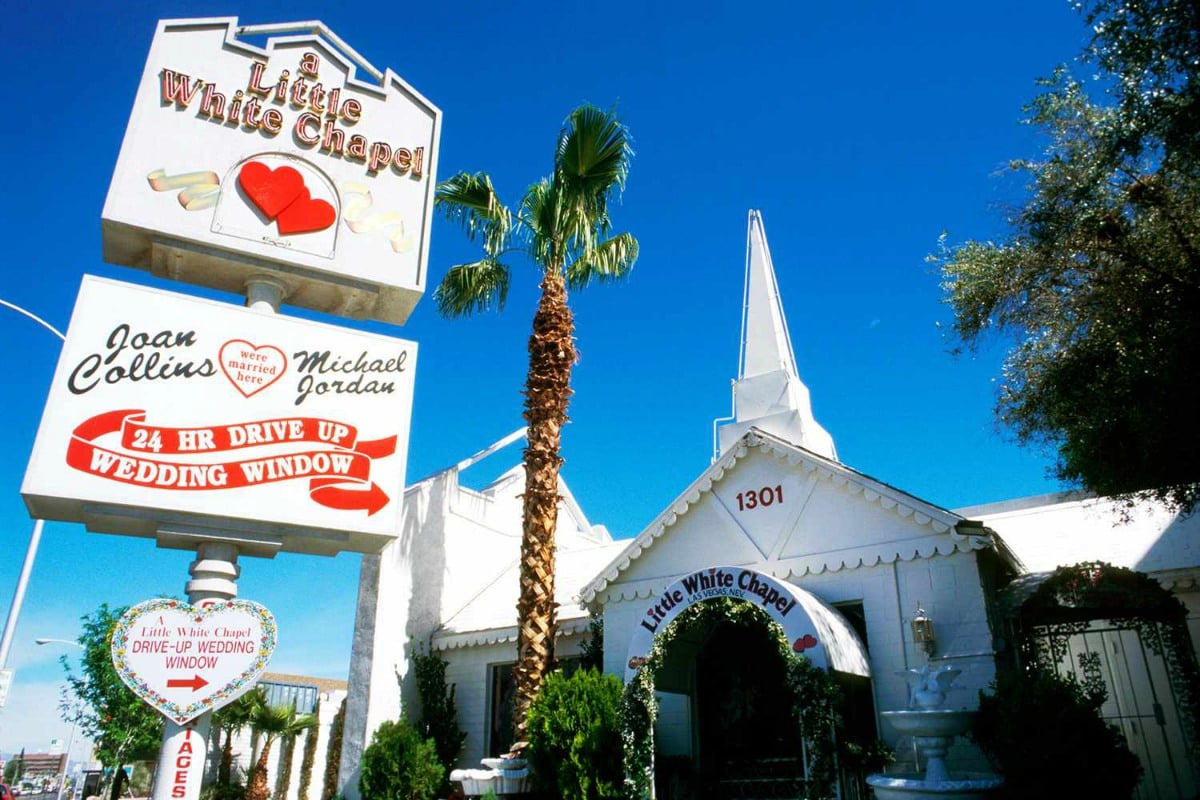 The 2018 Las Vegas Visitor Profile report commissioned by the Las Vegas Convention and Visitors Authority (LVCVA) found that just three percent of all travelers arrive in Sin City with the primary purpose of attending a wedding. That's down by one percent from 2016 and 2017.
Vacation/pleasure led the way at 40 percent, seeing friends and family next at 19 percent. Nine percent of all travelers said their primary reason was to gamble, down considerably from 14 percent in 2014.
In terms of weddings, marriages in Clark County are on the decline. More than 121,000 couples said their vows in the county in 2001. That number fell to 74,500 last year – a 38 percent decline.
After overseeing hundreds of thousands of weddings in her career, Charlotte Richards, 86, has been trying to sell her world famous Little White Wedding Chapel, located at 1301 S. Las Vegas Boulevard since April. The asking price: $12 million.
Many of those in the three percent demo that said their leading reason to come to Southern Nevada was for a wedding also end up gambling. Strip casinos today feature their own chapels and offer wedding packages that come with various amenities, including gaming credit.
Nuptial Revenue
For Las Vegas, long considered the "Wedding Capital of the World," weddings are big business. Ceremonies generated an estimated $2.5 billion in economic activity in Clark County last year.
Each marriage license issued in Clark County carries a $14 fee that goes to the LVCVA's Wedding Tourism Fund. As of the end of last year, the account had more than $3 million in available funds. Clark County Clerk Lynn Goya says the LVCVA needs to better market Las Vegas weddings.
We haven't really been marketing effectively for the last 20 to 25 years," Goya said. "This brand of the drunk wedding by Elvis you regret later needs to change."
She added that it's actually illegal to marry someone intoxicated. "Although it makes for a good movie, we need to market the image that actually happens."
Richards says trying to find a buyer for the Little White Chapel has been more difficult than she expected. Goya perhaps isn't surprised. "We're at about half of what we were at our peak," she told The New York Times recently.
Wedding Costs
Those in Las Vegas looking to tie the knot quickly can do so for cheap. At the Little White Chapel, ceremonies start at just $50. Of course, not everyone is so thrifty when it comes to saying "I do."
Prince Harry's wedding to Meghan Markle last year is estimated to have cost $43 million.
Back in Las Vegas, Station Casinos and Red Rock Resorts billionaire Frank Fertitta spent $25 million on his daughter Kelley's 2018 wedding. The guest list numbered 450 strong, and the night's entertainment included performances by John Mayer and Bruno Mars.
According to The Wedding Report, the average cost of a wedding in Las Vegas, Henderson, and Paradise last year was $28,088. The US Bureau of Labor Statistics says the average annual mean wage in Nevada last year was $46,170.
Latest Casino Stocks:
Retrieving stocks data...
Retrieving stocks data...
Retrieving stocks data...
Retrieving stocks data...
Retrieving stocks data...