Casino Workers Against Indoor Smoking Highlight Parallel with Canadian Wildfires
Posted on: June 8, 2023, 12:36h.
Last updated on: June 15, 2023, 02:38h.
Much of the US Midwest and East Coast continue to experience an unhealthy haze and orange-colored smog because of widespread wildfires in Canada. Things got so bad in New Jersey that Gov. Phil Murphy (D) on Wednesday closed state offices "due to worsening air quality conditions."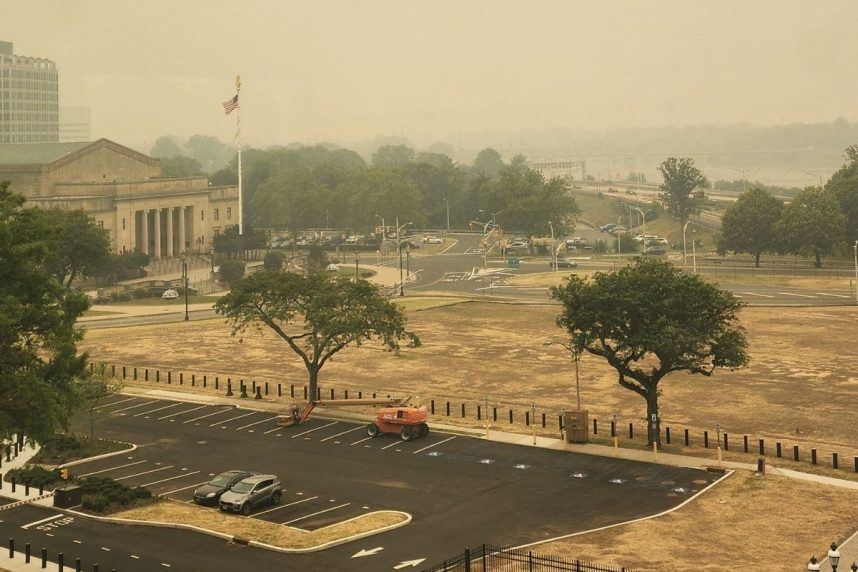 In Atlantic City, casino workers fighting for clean indoor air have linked parallels between the Canadian wildfire smoke — lingering hundreds of miles south in the Garden State — with their tobacco smoke-filled places of employment.
CEASE, Casino Employees Against Smoking Effects, formed in the summer of 2021 when Murphy's emergency health order stemming from the COVID-19 pandemic expired. The temporary mandate put indoor casino smoking on hold at the nine Atlantic City casinos.
CEASE has since expanded to several other states, with the organization today having chapters in Pennsylvania, Rhode Island, Virginia, and Kansas.
Just as fires hundreds of miles away can greatly impact our ability to breathe clean air on the Atlantic City Boardwalk, allowing indoor smoking in casinos has a major impact on workers and nonsmoking guests," a statement provided to Casino.org read. "Weeks like this are a stark reminder that too many Atlantic City casino workers are forced to breathe dangerous secondhand smoke at work."
The Canadian wildfires have resulted in unhealthy air throughout the Midwest and East Coast. AirNow.gov, the online home of the US Air Quality Index, a partnership between the US Environmental Protection Agency, National Park Service, NASA, National Oceanic and Atmospheric Administration, and US Centers for Disease Control and Prevention, says all of New Jersey is currently experiencing "unhealthy" air.
Politics Delaying Action
CEASE has been calling on New Jersey lawmakers to end the casino smoking loophole provided to gaming facilities through the state's 2006 Smoke-Free Air Act, which prohibits indoor smoking in most public places. New Jersey's General Assembly is supportive of such action, as two bills, Assembly Bill 2151 and Senate Bill 264, both of which would close the casino smoking caveat, already have enough co-sponsors to send the measures to Murphy's desk.
Murphy has said he supports banning smoking in Atlantic City but needs the legislature to act. Murphy has rejected arguments from the gaming industry that such a prohibition would hurt gaming revenue and eliminate a quarter of the casino workforce.
"Atlantic City is an American gem. We've got the ocean, and the other competitors [in Pennsylvania] do not," Murphy opined last September.
Political observers in the Garden State say Democratic leaders have stalled the anti-casino smoking measures until this November's elections play out. All 120 Assembly and Senate seats are on the ballot.
Action Needed
CEASE leaders say casino workers cannot wait any longer for state lawmakers to force their employers to move smokers outside. The CDC says even casinos with designated smoking and nonsmoking sections present dangerous levels of secondhand smoke and carcinogens in the supposedly nonsmoking areas.
"It has been nearly two years since smoking was allowed back inside Atlantic City casinos. As many escape the smoke by going inside their homes or smoke-free offices, we continue to call on our elected leaders to pass legislation to close the casino smoking loophole and protect our health," the CEASE release concluded.