Casino Crime Round Up: Allegedly Drunk Man Drives into Cop at Gaming Property
Posted on: August 30, 2023, 09:43h.
Last updated on: September 1, 2023, 02:15h.
An intoxicated man allegedly drove into a Missouri police officer earlier this month at Hollywood Casino St. Louis Hotel, authorities revealed.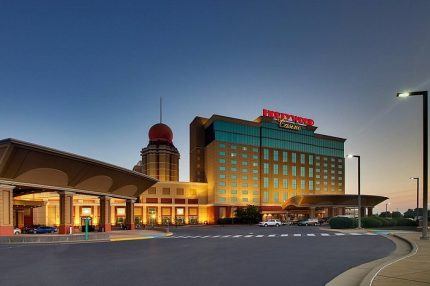 The suspect, James Ormsby, 58, was charged with driving while intoxicated — physical injury to law enforcement, according to Missouri TV station KMOV. He was apprehended and held on a $30K cash-only bond earlier this month.
The unnamed officer was working at an extra-duty job at Maryland Heights, Missouri's Hollywood Casino, on August 14.
The officer e saw Ormsby drive around barricades, and in an attempt to pull him over, the officer stepped into the road. He put up his hands, motioning for Ormsby to stop his vehicle. But Ormsby failed to stop, and the front of his vehicle struck the officer.
Given the impact, the officer was pushed onto the car's hood. He then fell on the pavement. Ormsby still didn't stop his vehicle. Eventually, he drove over a curb, police said. The vehicle then stopped.
DUI Suspicious
Other officers went to apprehend Ormsby. They claim his eyes appeared glassy and watery, and his speech was slurred. He leaned on the car when trying to stand, police added.
Ormsby only admitted to having a single drink earlier that day, police said. When searching the car, police located three empty vodka bottles. Ormsby claimed not to have seen the officer before striking him with his car.
He voluntarily took a blood alcohol test at a local hospital. The results weren't released.
Police didn't detail the injuries suffered by the police officer. The case was turned over to local prosecutors.
Arrest Following Casino Dispute
One man was arrested earlier this month after he and another person got into a dispute at Hoopa, California's Lucky Bear Casino. The August 20 confrontation was reported to the Hoopa Valley Tribal Police Department.
Officers arrived at the scene and apparently broke up the dispute. One of the suspects, identified as Raymond Padilla, had a pending warrant for an alleged parole violation, according to California TV station KRCR.
He was booked at the Humboldt County Correctional Facility. His case was turned over to local prosecutors.
Search Continues for Louisiana Casino Thief
Local police officers continue to search for the woman who allegedly stole items from another person at Louisiana's Margaritaville Resort Casino. On August 11, the suspect stole the unspecified items and left the Bossier City gaming property.
She was described as black and was wearing a red and white Nike T-shirt, as well as white capris-style pants, according to Louisiana radio station KEEL.