Caesars Entertainment to Offset Energy Needs in Atlantic City With Solar Canopies
Posted on: October 12, 2023, 12:14h.
Last updated on: October 11, 2023, 04:04h.
Caesars Entertainment is reducing its carbon footprint and utility consumption in Atlantic City through solar, clean energy that converts sunlight into electrical energy through photovoltaic panels.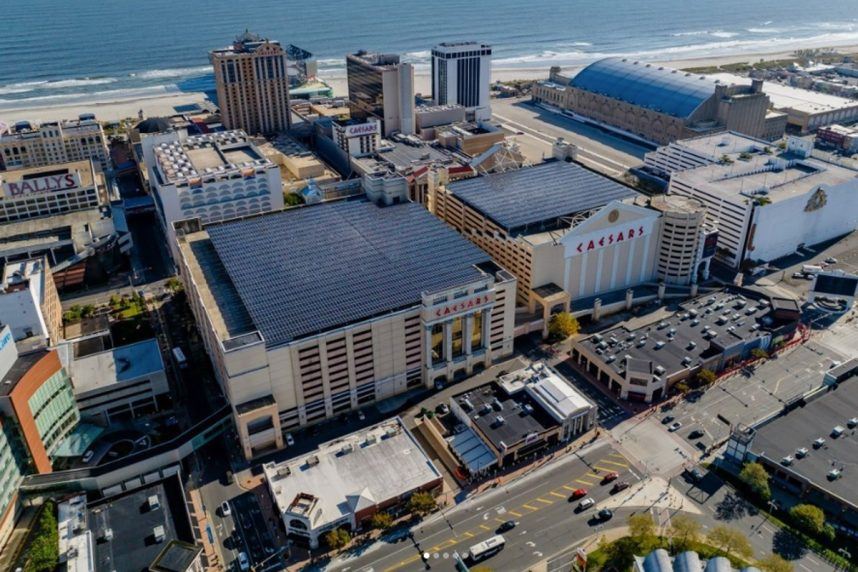 Caesars in 2018 announced its lofty goal of becoming carbon neutral by 2050. The Caesars Palace operator is outpacing its carbon emissions reduction timeline after it achieved its interim goals of reducing Scope 1 and 2 emissions by at least 30% by 2025.
Last year, the company said its Scope 1 and 2 emissions — examples of Scope 1 include fuel combustion, boilers, furnaces, and vehicle usage, while Scope 2 involves the purchasing of electricity, heat, and cooling — has already been reduced by nearly 42%. Caesars reps say they're accomplishing the climate goals by leveraging new technologies to reduce energy and water use, focusing on new energy supplies, and using more renewable energy.
The company has largely focused on Nevada where its many Las Vegas casino resorts in the Mojave Desert require massive amounts of energy. But the company this week announced the completion of a major project that will reduce energy consumption from traditional utility services in Atlantic City.
Solar Pads Installed
Through a partnership with DSD Renewables, a New York-based provider of commercial, industrial, and municipal clean energy solutions, two Caesars casinos in Atlantic City now have solar paneling. DSD funded the installation of four solar canopies, with two each at Caesars Atlantic City and Harrah's Resort & Casino Atlantic City.
1.7 MW and 886 kW solar garage canopies have been installed at Caesars, and two 1.9 MW solar canopies have gone in at Harrah's self-park and valet garages. A fifth canopy featuring a 913 kW solar rooftop system is planned at Harrah's Waterfront Conference Center next year. Once the fifth canopy is installed, the Caesars properties will have a solar portfolio of 7.3 MW.
A single megawatt can simultaneously power enough electricity for the demands of about 750 single-family homes. The solar canopy installations, Caesars and DSD officials said, will offset approximately 6% of the casino company's energy needs in Atlantic City.
These projects in Atlantic City exemplify our pursuit to integrate more clean energy resources into our business and implement on-site renewables across our portfolio nationally while delivering real value locally to the communities in which we operate," said Eric Dominguez, senior vice president of engineering and asset management at Caesars Entertainment.
"This is a pivotal moment in our clean energy journey," added John Koster, regional president at Caesars Entertainment. "Projects like this are also about championing the introduction and growth of clean energy resources that deliver jobs and economic development to benefit the local community, just as we've done here in Atlantic City."
Additional Benefits
Along with providing clean, renewable energy for Caesars Entertainment's Atlantic City casinos, the solar canopy installations provide added advantages.
Those benefits include reduced snow removal costs, as the garage canopies will keep snow from falling onto the parking spaces. The canopies will also provide workers and guests with shade during the summer heat.
The solar panels that were installed on top of the Caesars garage are also expected to extend the roof's lifespan and reduce cooling costs by limiting UV exposure.