VEGAS MYTHS BUSTED: The Strip is 100% Powered by Renewable Energy
Posted on: March 10, 2023, 08:04h.
Last updated on: March 10, 2023, 03:31h.
The city of Las Vegas is the first large city in the country to be served exclusively by renewable energy. Since this announcement was made by Las Vegas Mayor Carolyn Goodman on December 12, 2016, it's created a major misconception about where the Strip gets its power.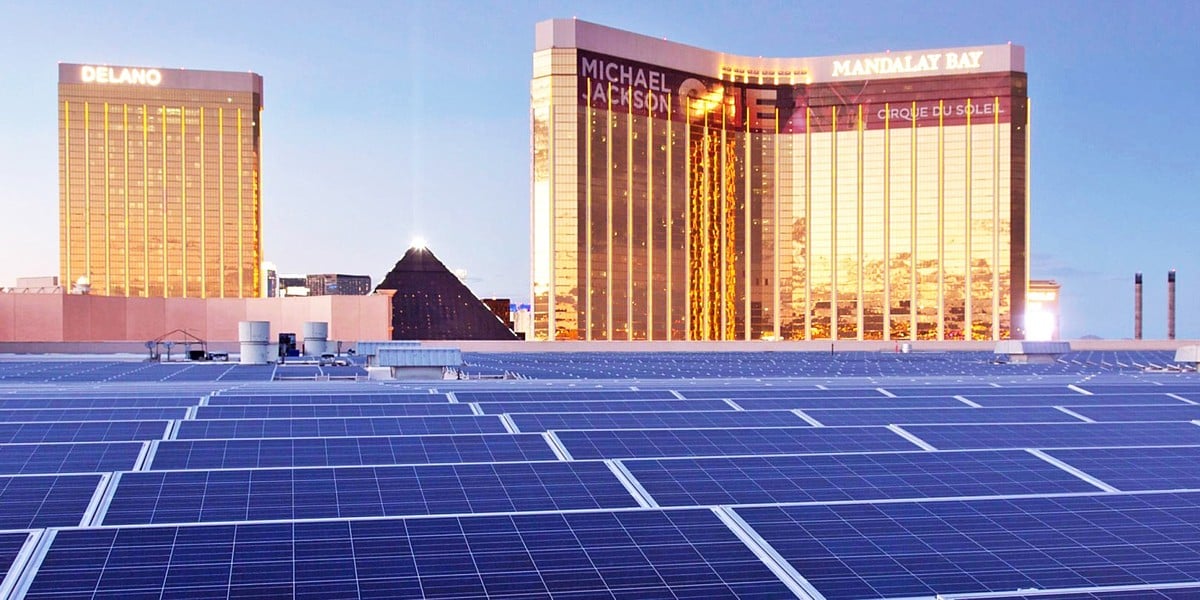 First of all, Mayor Goodman was referring only to the city government of Las Vegas, not to its casinos or other private businesses, nor its nearly 200K residential dwellings. More importantly, no part of the Las Vegas Strip lies within the city of Las Vegas, as we explained in an earlier installment of this series.
So while it's awesome that all 140 public buildings — as well as all the streetlights, city parks, community centers, and fire stations — in the city of Las Vegas proper are powered by a mix of solar and hydroelectric energy, this accomplishment has nothing whatsoever to do with where the Strip gets the energy to power its famous bright lights.
The Good News
Strip resort companies are doing their part to reduce the amount of fossil fuels they burn.
In June 2021, MGM Resorts brought its 100-megawatt Mega Solar Array online to provide "up to" 90% of the daytime power the 13 Strip properties the company claimed at the time. MGM never explained what the "up to" meant, though it's interpreted to mean on days with unobstructed sunshine.
Even before the 323K-panel Mega Solar Array, MGM's Mandalay Bay was already generating up to 25% of its own power from 26K solar panels installed on its roof. According to MGM, its goal is to run on 100% renewable energy sources in the US by 2023.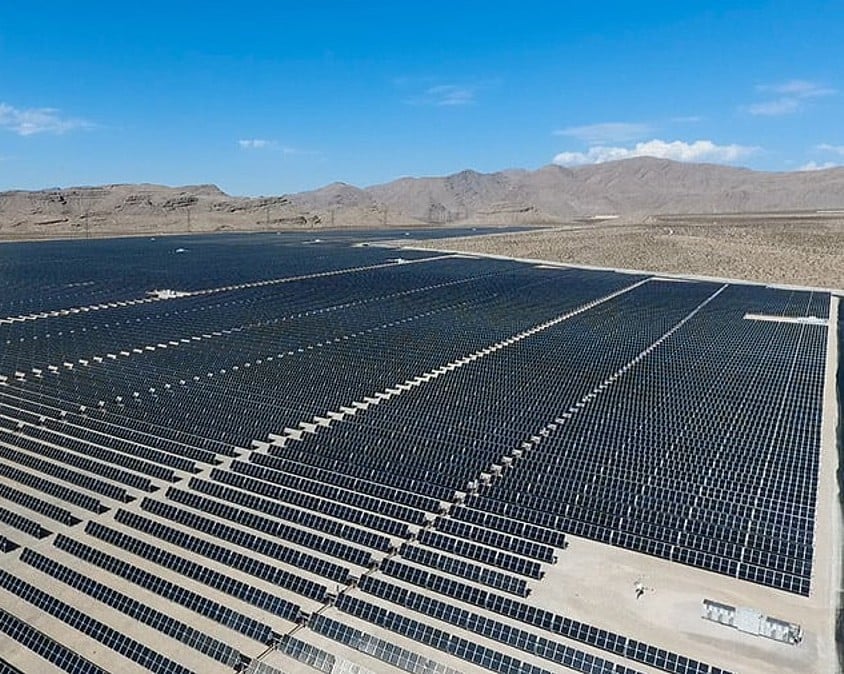 Similarly, 100K square feet of the Wynn Las Vegas roof is covered with operating solar panels. And in 2020, the company opened a 160-acre solar power plant that it said generates up to 75% of its peak Las Vegas power.
Caesars Entertainment doesn't own solar arrays on its property or elsewhere in Las Vegas. However, the Strip's second-largest resort owner reportedly purchases solar energy on the open market and has officially committed to reducing carbon emissions by 30% by 2025 and 95% by 2050.
In 2019, Las Vegas Sands announced that the Venetian and the Sands Expo and Convention Center had procured enough renewable energy certificates from Nevada Energy to cover 100% of their energy use. In 2022, Las Vegas Sands sold those properties to Apollo Global Management, Inc. affiliates and VICI Properties, Inc.
The Bad News
So far, all this conservation hasn't added up to much.
As of 2021, only 33% of Nevada's power came from renewable resources, including 18% from solar, 9% from geothermal, and less than 5% from hydroelectric, according to the US Energy Information Administration. Meantime, a whopping 61% still came from natural gas-fired plants. (Only data for the entire state is available. However, nearly three-quarters of Nevada's 3 million power consumers are clustered around Las Vegas.)
And not even the brightest artificial light in the world is powered by the sun. Since MGM's Luxor Sky Beam doesn't operate during the day, it doesn't figure into the "up to 90%" of daytime solar power claimed by MGM. Equivalent to the light emitted by 43.4B candles and visible by pilots 275 miles away, this light requires a staggering 982.8M joules of energy to run every hour. That's enough electricity every hour to power 2.5 average households every year.
Fortunately, since 2008, the Luxor Sky Beam has secretly been shining at half-strength. According to a 2012 article in the Las Vegas Review-Journal, only 20 of its 39 xenon lights are flicked on every night to save both on energy and the reported $1M a year it was costing MGM to operate at full strength since the Luxor opened in 1993.
Nevada's headed in the right direction for sure. In 2021, more solar capacity was installed in the state than in any previous year, and Nevada ranked sixth in the nation in total solar capacity and generation.
It's just that 67 more percentage points are required before the Las Vegas Strip running on 100% renewable energy is true.
Look for "Vegas Myths Busted" every Friday on Casino.org. Click here to read previously busted Vegas myths. Got a suggestion for a Vegas myth that needs busting? Email corey@casino.org.