MGM Resorts Unveils Mega Solar Array Project to Power 13 Las Vegas Strip Casinos
Posted on: June 28, 2021, 04:38h.
Last updated on: June 28, 2021, 05:01h.
On Monday, MGM Resorts International switched on its 100-megawatt solar park, the largest developed by a company in the hospitality industry.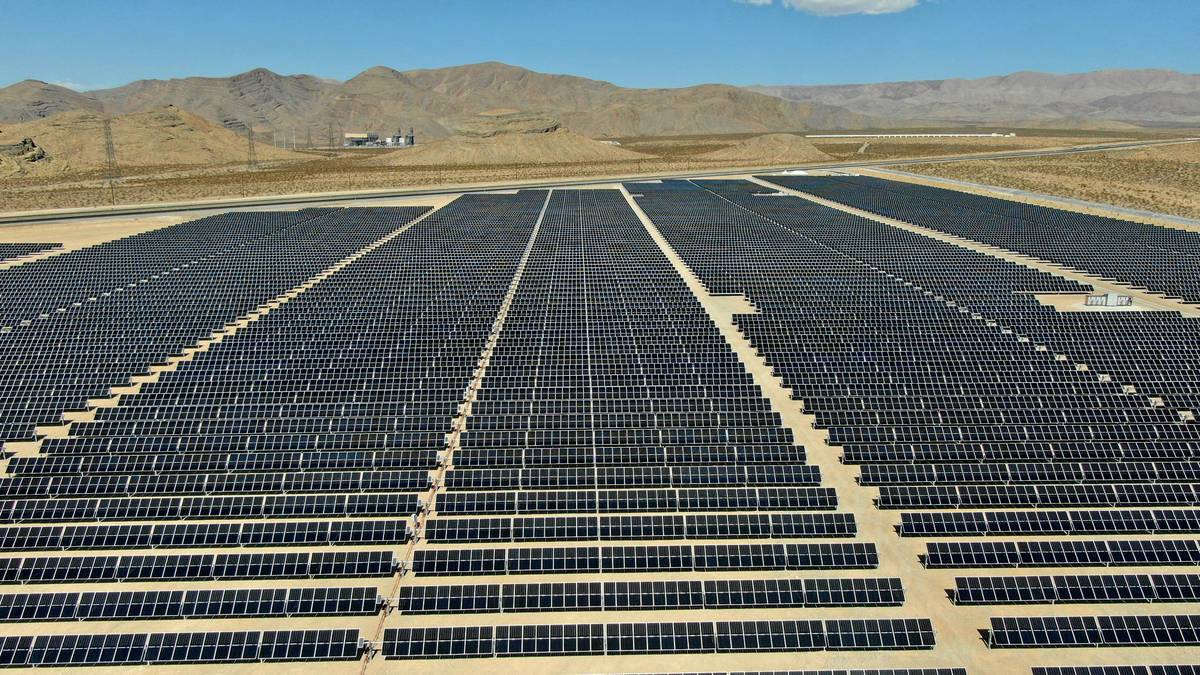 The Mega Solar Array project lies across 640 acres in the desert northeast of Las Vegas and will provide power to the operator's Las Vegas casino empire and its 36,000 hotel rooms. Its 323,000 solar panels will be enough to supply 90 percent of the daytime energy needs of MGMs 13 Strip casinos, the company said.
The site is located within the Dry Lake Solar Energy Zone, one of 19 zones nationwide designated by the Obama administration to encourage utility-scale solar energy.
'Meaningful Difference'
The launch is a major milestone in MGM's goal of reducing carbon emissions by 45 percent per square foot throughout its roughly 65 million square feet by 2025.
"With MGM Resorts' significant scale and resources, we're positioned to make a meaningful difference in the fight against climate change, and we recognize our responsibility to build a more environmentally sustainable future," said Bill Hornbuckle, CEO and president of MGM Resorts.
Today we're marking a significant step forward in our environmental sustainability initiatives in Las Vegas and our long-term vision to protect the planet and achieve an enduring, positive impact in our communities worldwide," Hornbuckle added.
MGM announced that it would be partnering with sustainable energy company Invenergy on the project's development back in 2016, two years after the operator was able to extricate itself from its contract with the state energy monopoly, Nevada Energy.
Expensive Exit
Many Las Vegas operators had been critical of the Berkshire Hathaway-owned company for raising prices and focusing on profit, while charging exorbitant exit fees that prevented them from pursuing environmental goals.
Ultimately, MGM chose to take the hit, paying a fee of $86.9 million for the privilege of not doing business with Nevada Energy. Nevada changed its laws in 2001 to allow certain consumers to opt out and purchase their own electricity on the wholesale market.
Customer Demand
The MGM's executive vice president and general counsel, John McManus, said at the time the move would reduce the company's environmental impact by "decreasing the use of energy and aggressively pursuing renewable energy sources."
"Our imperative is heightened by increasing customer demand for environmentally sustainable destinations," he added.
As the biggest resort owner on the Strip, MGM consumes the most power. But its biggest competitors have also gradually left Nevada Energy to pursue cheaper and more renewable energy options.
Until today, Wynn Resorts was leading the pack. Its Wynn Solar Facility is a stand-alone solar project that opened in 2018 in Fallon, Nevada and began supplying the Wynn Las Vegas with up to 75% of the resort's peak power requirements.
In 2019, Wynn Las Vegas ranked ninth on the list of top corporate solar installations in the US, according to the Solar Energy Industries Association, and was the only casino resort to rank as a leading user of solar energy.