Brazilian Soccer Star Paulinho Sweats Deportation from China Over Porn Star Betting Company Endorsement
Posted on: April 14, 2017, 03:00h.
Last updated on: April 14, 2017, 10:09h.
Brazilian soccer ace Paulinho could be deported from China following an ill-advised appearance in an advertisement promoting an illegal betting website with a Japanese porn-star co-star.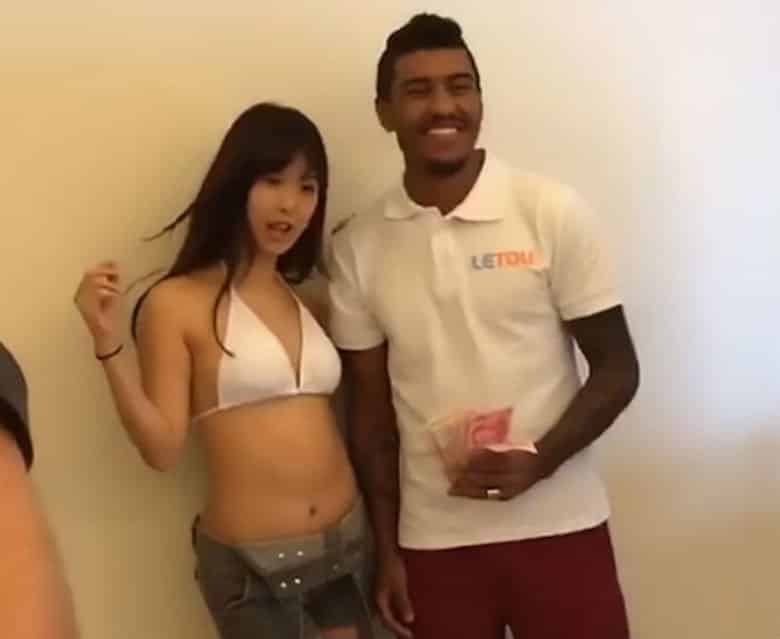 There are numerous reasons why this could go badly for Paulinho, who left English Premier League club Tottenham Hotspur two years ago to join Chinese outfit Guangzhou Evergrande, lured by big bucks on offer in the Chinese Super League. In fact, there are probably too many reasons to list, but let's try.
First, professional soccer leagues prohibit their players from betting on any soccer match in any country around the world and FIFA has banned all players from having any involvement whatsoever with the industry.
Second, pornography is illegal in China and thus the country's tolerance level of Japanese porn stars is quite low. Yet the married and devout Catholic Paulinho was happy to be snapped grinning alongside hardcore porn actress Tsukasa Aoi.
"Severe Punishment"
Third, and most important, gambling is illegal in mainland China, a fact of which Paulinho appeared to be blissfully unaware as he posed for the camera this week in a T-shirt emblazoned with a logo of an illicit gambling site.
The website he was unwisely endorsing, Letou, is an offshore betting site that specifically targets Chinese gamblers.    
Fourth, as every powerful box-to-box midfielder like Paulinho knows, timing is everything, and he chose to get cozy with Letou just one week after Beijing denounced oversees companies that entice Chinese citizens to gamble in the harshest possible terms.
Somewhat chillingly for the Brazilian, Chinese Security Minister Guo Shengkun promised "severe punishment" for those who market foreign gambling companies to Chinese citizens on the mainland.
"We must seriously investigate and severely punish those companies and individuals involved in enticing and organizing Chinese tourists to gamble in overseas casinos," said Guo. "We must severely punish those casino-related illegal labor agents and crack down on activities for investing in overseas casinos."
Fate Uncertain
Fifth, last October, 14 employees of the Australian casino company Crown Resorts were arrested for marketing the companies services to Chinese citizens. Six months later, they remain languishing in Shanghai's Number One Detention Center, without charge, their fate uncertain.
No one is saying this will happen to Paulinho, who probably has some friends in high places, although his behavior is certainly grounds for deportation.    
Should he be forcibly ejected from his adopted, he has a few options. Despite proving to be something of a washout at Tottenham, the Brazilian has since hit some form for club and country and is known to be on the radar of Carlo Ancelotti at Bayern Munich.
He might even find himself back in the English Premier League, where hanging out with porn stars is par for the course.