Bitcoin Users Scramble as Major Exchange MtGox Goes Offline
Posted on: February 27, 2014, 05:30h.
Last updated on: February 26, 2014, 08:19h.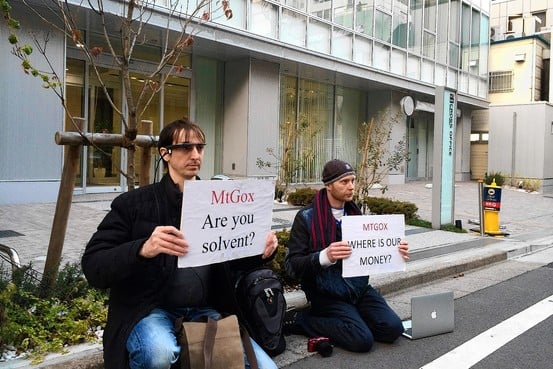 Imagine waking up one morning and finding out that Wall Street had simply vanished into thin air. That's somewhat akin to what happened in the world of Bitcoin earlier this week, when Tokyo-based Bitcoin exchange MtGox seemingly disappeared on Tuesday after reports surfaced that the site had been suffering devastating losses behind the scenes.
Security Issues, Exchange Problems Blamed
The last few weeks have been particularly rough for MtGox. Just weeks ago, the exchange halted withdrawals into conventional currencies after uncovering a security flaw in Bitcoin that could result in fraud. This past Sunday, MtGox CEO Mark Karpeles resigned his position on the board of the Bitcoin Foundation.
Many other major Bitcoin supporters and exchanges were quick to point to the collapse of MtGox as an isolated incident that was more about mismanagement than any particular problem with the digital currency itself.
"As with any new industry, there are certain bad actors that need to be weeded out, and that is what we are seeing today," groups including Coinbase and BTC China said in a statement.
The latest issues began on Monday night, when MtGox halted all Bitcoin trading without any warning to its users. Soon thereafter, the site went blank entirely, as though it had simply disappeared.
That had an immediate and predictable effect on the price of Bitcoin, with the exchange rate – at least on other exchanges that were still trading – dropping to around $400 per Bitcoin.
Earlier this week, documents that were supposedly leaked from MtGox claimed that 744,408 Bitcoins were missing from MtGox, which would amount to hundreds of millions of dollars equivalency in the digital currency. According to the "Crisis Strategy Draft" – which was published on the blog of Bitcoin enthusiast Ryan Selkis – MtGox was considering dropping Karpeles as CEO, setting up a "competent team" to redesign the exchange, and ultimately rebranding the site to restore consumer confidence.
Adding to the confusion is the fact that MtGox also deleted their Twitter feed on Sunday, removing another possible avenue for the site to disseminate information on the current situation.
Secrecy and Confusion
The end result is that few, if any, people outside of the insiders at MtGox itself know what is happening and whether the exchange is solvent. After about 12 hours of silence, MtGox did return, though only with a short statement.
"In light of recent news reports and the potential repercussions on MtGox's operations and the market, a decision was taken to close all transactions for the time being in order to protect the site and our users," a statement from the MtGox team said. "We will be closely monitoring the situation and will react accordingly."
On Wednesday, a second statement from Mark Karpeles also appeared.
"I would like to use this opportunity to reassure everyone that I am still in Japan, and working very hard with the support of different parties to find a solution to our recent issues," Karpeles said. The statement also said that all staff at MtGox had been instructed not to answer questions about the situation.
To make matters worse for the company, MtGox has reportedly received a subpoena from federal prosecutors in New York. Japanese authorities have also said that they are investigating the shutdown of the site.
Most Read