Big Banks Refuse to Process Legal Online Gambling Transactions
Posted on: January 13, 2014, 06:56h.
Last updated on: February 8, 2018, 08:22h.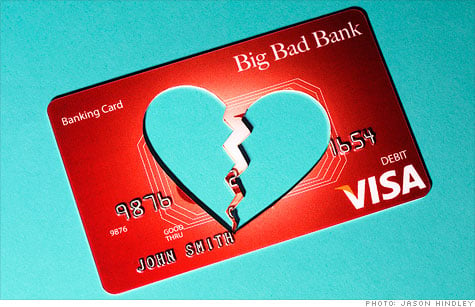 Everything seemed so hunky dory: Nevada, Delaware and New Jersey all got legal online gambling – or at least poker, in Nevada's case – up and running in 2013, and except for a few issues with geo-location snafus, overall, the sites in all three states have been running pretty smoothly. Except for one fairly major bug that has nothing to do with the sites themselves: major financial institutions like American Express, Wells Fargo and J.P. Morgan Chase are refusing to process any money interactions on these sites, legal or not.
Your Transaction Has Been Denied
Whether credit or debit, several heavy-hitter card issuers say they aren't gambling when it comes to honoring their cards on Internet gaming sites. And obviously, that's not sitting well with  many players who say, what gives? But the banks involved say they will not budge, not for online casinos, poker or even legal sports betting in Nevada.
"We don't allow credit card transactions for this activity," said Steve O'Halloran, director of public relations and public affairs for Chase Card and Merchant Services. And American Express spokeswoman Sanette Chao concurs, saying her company simply "prohibits the use of the card for gambling services."
While some may conclude that this is some kind of moral imperative, it turns out that it's more of a simple bottom-line business decision  than anything else.
"Gambling services, historically, account for a high number of card member credit losses and customer service disputes," noted Chao.
UIGEA Still Directs Banks' Positions
And some banks do still hold onto the old UIGEA model (Unlawful Internet Gambling Enforcement Act of 2006), because, after all, from a federal standpoint, it's still murky how it's to be interpreted after a 2012 reinterpretation of the initial 1961 Wire Act was handed down from the Supreme Court that opened the door to at least state-by-state lawful Internet gambling.
Wells Fargo spokeswoman Natalie Brown says this is the reasoning behind her company's decision to decline gambling deposits.
"In compliance with regulation GG (Unlawful Internet Gambling Enforcement Act of 2006), we prohibit the use of consumer credit cards for Internet gambling," said Brown, who is vice president of consumer lending communications with Wells Fargo. "The networks (Visa, MasterCard and American Express) monitor the merchant category codes and block charges that don't comply with federal regulations."
While this may make some sense from their perspectives, it can prove a frustrating reality for online players in legal gambling states.
"What the industry has done is take a conservative approach or response to the legalization of online gambling," said Tobin Prior, CEO of Ultimate Gaming, which is a subsidiary of Station Casinos, a land-gaming proprietor in Nevada and the first to go online with legal poker in the Silver State. "That can be frustrating, but we work with customers to find alternatives."
One of the advantages of this brick-and-mortar/Internet symbiosis is that customers can both fund and cash out at any of their land gaming properties, in either Southern Nevada or at Station's land gaming partner the Taj Mahal in Atlantic City. Players can also use e-checks or wire transfers to make deposits, Prior noted.
While legal online sites might wish that banks were more in their court right now, Caesars WSOP site's spokesperson Seth Palansky says it is what it is.
"You wish everything went smoothly," said Palansky, "[but] it's not the reality. It's a new business."
——————————————————————————————————————
Read more about this here: 
Once Ruler of the Online Payment World, Neteller Returns to US
Paradise Papers Show German Banks Flouted Law to Process Online Gambling Payments
Similar Guides On This Topic