Betting on Nathan's Hot Dog Eating Contest Denied in New Jersey, Twitter Discussion Ensues
Posted on: June 19, 2019, 08:46h.
Last updated on: June 19, 2019, 08:46h.
The 2019 Nathan's Famous International Hot Dog Eating Contest will be held July 4 on Coney Island, but don't plan to place wagers on the outcome of the 10-minute devouring if you live in nearby New Jersey.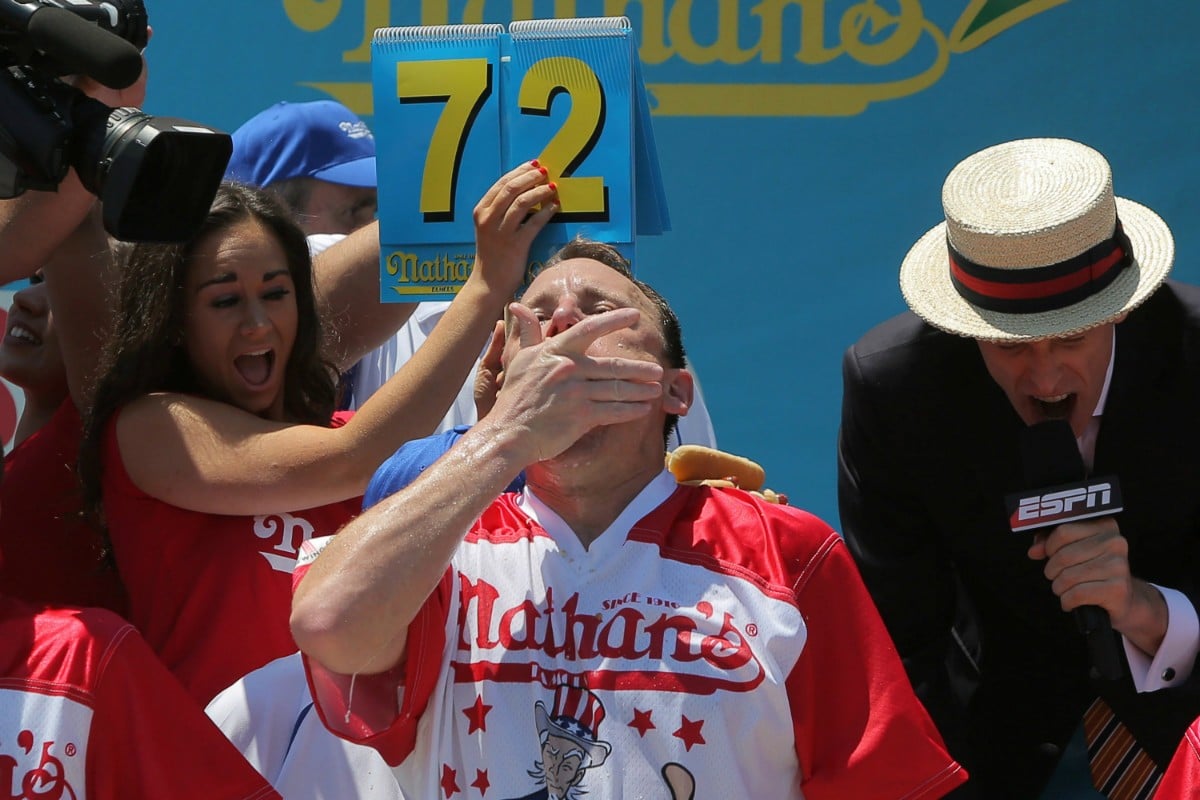 This week, the New Jersey Division of Gaming Enforcement (DGE) denied a request from several sportsbooks to offer betting lines on the hot dog feast. Press of Atlantic City writer David Danzis, who covers casinos and the gaming industry for the media outlet, supported the decision on Twitter.
So…this needs to be said. If you EVEN considered betting on a hot dog contest, you have a problem. You definitely have a gambling problem. But you likely have other psychological problems too that require professional help," Danzis tweeted.
Not all appreciated the opinion. ESPN's David Purdum – who covers sports betting for his employer – was quick to respond.
"I completely disagree and think throwing out statements like this desensitizes real problem gambling," Purdum countered. "The event one chooses to bet on is not indicative of a gambling problem."
"I may bet 20 bucks on the hot dog contest and then not bet on anything else until football season," Purdum concluded.
Back to Betting
Sports betting is now legal and operational in seven new states other than Nevada since the May 2018 Supreme Court repeal of the federal ban.
With the landmark decision, states are free to determine to their own rules and regulations on the gambling activity. That includes determining whether such novelty betting opportunities such as the Nathan's Hot Dog Eating Contest should be permitted. For 2019 in New Jersey, the answer is "no."
Online, however, some sportsbooks are taking bets on the hot dog face-stuffing event.
Joey Chestnut, an 11-time winner of the contest and currently ranked No. 1 in the world by Major League Eating, is the heavy favorite to take the competitive hot dog consumption title for the fourth year in a row and 12th time in 13 years. He's at around -900 to win again, meaning a $100 bet and a Chestnut victory nets just $11.11.
The DGE doesn't always deny requests from sportsbooks to offer non-typical sports betting odds. Earlier this year, the state gaming agency allowed casinos to take bets on the outcome of the Oscars.
"The Division has received multiple requests. After reviewing the relevant information on integrity issues, the Division has determined that pre-event betting on the Oscars can be offered," the DGE said in an email to sportsbook operators.
Hot Props
Sportsbooks are also offering up a smorgasbord of proposition bets on the Nathan's event. They include the total number of dogs consumed by the men's winner, with 73.5 being the over/under.
Chestnut ate 74 hot dogs last July 4, which set a new world record. That equates to 7.4 dogs per minute.
Five-time defending female champ Miki Sudo is the women's favorite. She's at a hungry -1000 for the championship.