Baton Rouge to Take Long Drag in Deciding Proposed Casino Smoking Ban
Posted on: July 2, 2017, 02:00h.
Last updated on: July 1, 2017, 12:41h.
Baton Rouge's Metro Council opted to delay voting on whether to implement a proposed smoking ban on bars and casinos within the Louisiana city's jurisdiction.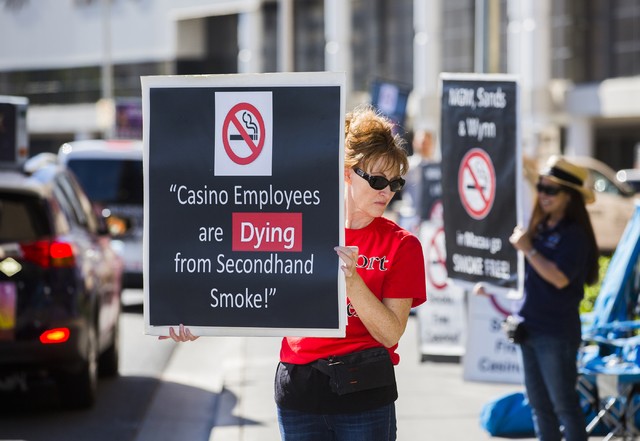 The capital and second largest city in Louisiana behind only New Orleans, an anti-smoking group called Smoke-free East Baton Rouge (EBR) is pushing the regulation. A similar ordinance was considered last year, but the council was deadlocked in a 6-6 tie.
Two new members, Barbara Freiberg and Matt Watson, both Republicans, are expected to break the standstill in favor of implementing the ordinance. But the casino industry has warned the council that banning smoking will lead to diminished gaming revenue, and subsequently, the loss of jobs.
During a public meeting this week, EBR, the American Cancer Society, and local business owners in favor of the decree expressed their views before the board. But so did the opposition, including casino operators and even employees who communicated concern over their future employment.
The result was that the Metro Council said they needed more information and deferred the matter to its next meeting on August 9. Baton Rouge is home to three riverboat casinos, the Hollywood Casino, L'Auberge, and Bell of Baton Rouge.
Money vs Life
The argument whether to ban smoking on casino floors essentially boils down to how much the state and gambling companies are willing to pay in order to protect the health of its citizens and workers.
Casino companies argue smoking is essential to keeping gamblers on the floor.
New Orleans placed a ban on tobacco use inside the lone land-based casino in the city, Harrah's, in April of 2015. The Caesars-owned property said the regulation has cost the venue $69 million in just two years.
Louisiana Casino Association Executive Director Wade Duty said earlier this month, "We believe both our customers and employees are educated and therefore able to choose for themselves the environment they wish to enter. Despite the speculative claims that such bans would actually increase the number of customers visiting casinos, real world experience in New Orleans and other locations which have imposed such bans in casinos clearly shows otherwise."
At the Baton Rouge hearing this week, a casino worker from L'Auberge said air filtration at the venue prevents smoking from lingering, and her clothes don't even smell when she leaves her job.
But one would be hard pressed to find any health official who doesn't believe continued exposure to secondhand smoke isn't dangerous. Metro Councilman LaMont Cole asked the casino interests, "What amount of money is equal to the loss of human life?"
The Great Outdoors
When the council reconvenes in August, it's expected that the Baton Rouge smoking ban will be approved. This week, casinos told the board if that's the inevitable reality, they would request that the ordinance be delayed until at least 2018 in order to provide ample time to adjust to the rule.
In New Orleans, Harrah's has opened an outdoor smoking and gaming courtyard after receiving permission from the city. The space now holds some 60 slot machines in a climate-controlled environment.
Those representing the casinos told the Baton Rouge officials they would be interested in creating similar outdoor spaces if the smoking ban goes into effect.
Similar Guides On This Topic
Latest Casino Stocks:
Retrieving stocks data...
Retrieving stocks data...
Retrieving stocks data...
Retrieving stocks data...
Retrieving stocks data...