NASCAR Halts Plans for Barstool Sportsbook at Phoenix Raceway
Posted on: June 26, 2023, 04:41h.
Last updated on: June 27, 2023, 12:33h.
NASCAR is pumping the brakes on plans to open a Barstool sportsbook at Phoenix Raceway, which hosts two Cup Series events annually.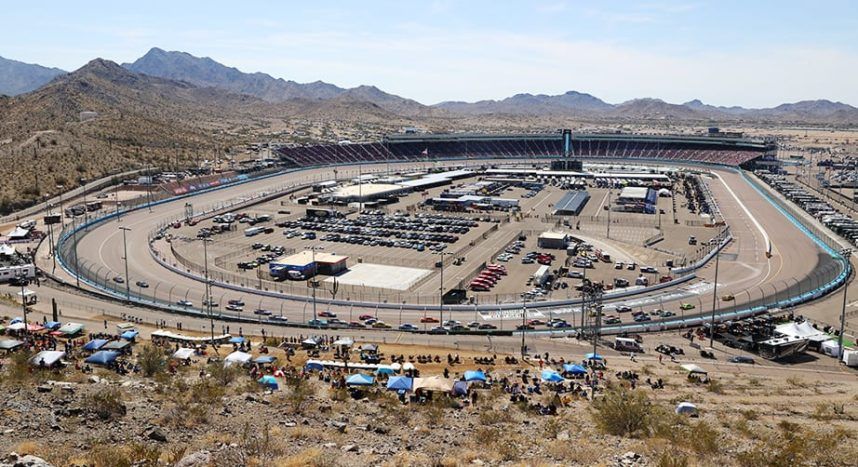 In an interview with Gaming Today's Brant James, NASCAR Managing Director of Sports Betting Joe Solosky said the economics of a brick-and-mortar sportsbook at the track need to make sense for Penn Entertainment (NASDAQ: PENN), the parent company of Barstool Sportsbook.
Right now, it just doesn't make sense to build out that retail book at the racetrack," Solosky said in the interview.
Other Phoenix-area stadiums and arenas are homes to retail sportsbooks. Those include Chase Field, home of the Arizona Diamondbacks, and State Farm Stadium, which is the home field for the NFL's Arizona Cardinals. The home arena for the NBA's Phoenix Suns and the WNBA's Mercury also has a FanDuel sportsbook, while a DraftKings retail book is scheduled to open later this year at TPC Scottsdale. The Stadium Course there hosts the PGA Tour's Phoenix Open.
Phoenix Raceway Calendar Problematic for Penn
Any brick-and-mortar sportsbook located at a stadium or raceway is dependent on the number of events hosted by that venue.
As Solosky noted in the Gaming Today interview, that could be an issue Penn Entertainment is monitoring, because as things stand today, Phoenix Raceway hosts just two Cup Series events per year, and its contract to host the championship race expires next year. The track also hosts ARCA, Craftsman Truck, and Xfinity series races. But those events don't draw crowds on par with the Cup Series.
That makes for tough comparisons with an MLB stadium or NBA arena, which host 81 and 41 regular season games per year, respectively.
Likewise, Phoenix Raceway hosts concerts. But attendees to those events likely aren't looking to place wagers. At least not to the level that an operator requires to have a sportsbook open during a concert. Barstool Sports offers mobile sports betting in Arizona, and that footprint wouldn't be threatened should Penn ultimately decide against building a physical book at the racetrack.
NASCAR's Betting Ties
Over the past several years, NASCAR has increased its embrace of the casino gaming and sports wagering industries. Today, three Cup Series races are sponsored by casino operators, including Penn. That company sponsored the "Hollywood Casino 400, presented by Barstool Sportsbook" in Kansas last September.Additionally, 19, or more than half, of the points-paying Cup Series races take place in states where sports betting is legal. That includes six of the 10 races that comprise the NASCAR playoffs.
While NASCAR still lags football and basketball, among others, in terms of handle, the motorsport is gaining popularity among some bettors. One reason why is the variety of wagers a bettor can consider on just one NASCAR race. In addition to attempting to properly pick the race winner, bettors can wager on head-to-head props, including whether a driver will finish in the top five or top 10, and manufacturer odds, among others.