Baha Mar Casino Resort Ready to Open 12 Years After Initially Envisioned
Posted on: April 18, 2017, 01:00h.
Last updated on: April 18, 2017, 12:16h.
Baha Mar is finally ready to welcome guests. After more than a decade of construction delays, bankruptcy drawbacks, and legal disputes, the $4.2 billion, 1,000-acre resort says it's opening its doors to the general public on April 21.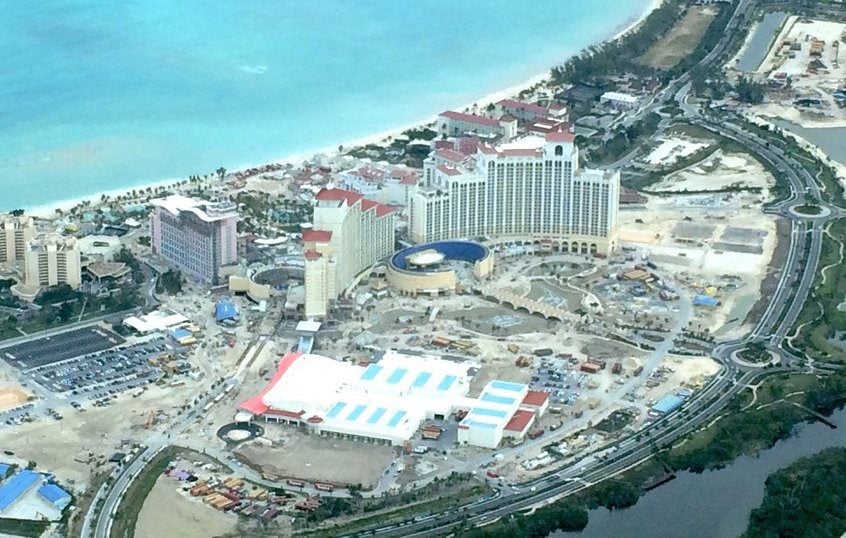 The massive property features three hotel brands, Grand Hyatt, SLS Hotels (which owns SLS Las Vegas), and Rosewood Hotels. Combined, Baha Mar will have 2,300 rooms, though only Grand Hyatt, the largest with 1,800 rooms, will open this week. SLS and Rosewood's rooms will debut later this year.
In addition to a variety of hotel choices, Baha Mar features 100,000 square feet of gaming space. In a Facebook post, the resort says the casino will be open from 10 am to 4 am daily. The resort also comes with a 30,000-square-foot spa, Jack Nicklaus-designed golf course, retail shops, seven swimming pools, fountain show, and plenty of other attractions.
Baha Mar sits on Nassau's northern coast some six miles west of Atlantis, the island's most-visited resort that also features a casino.
Made in China
Bahamas businessman Sarkis Izmirlian first conceived Baha Mar over a decade ago. Izmirlian made a fortune off his family's interests in commodity trading, as well as manufacturing, real estate and other investments in the Caribbean.
In 2005, he convinced the Government of The Bahamas to allow him to lead the effort to build a massive resort on the northern shore. But as recession hit most parts of the world, funding for the then-$1.6 billion project stalled.
In 2008, China, a country that has been adamantly opposed to gambling within its borders except in Macau, intervened.
Through its Export-Import Bank, a state-owned financial enterprise, China loaned Izmirlian nearly $2.5 billion. China Construction America, another foreign operating arm controlled by the Chinese government, additionally provided $150 million.
China took majority ownership for its investment, and mandated that Chinese workers would immigrate to Nassau to build the resort. That led to criticism over shoddy work, as China Construction America had never built a resort of Baha Mar's size.
After a scheduled May 2015 opening was missed, Baha Mar declared bankruptcy and the project sat at a standstill reportedly 97 percent complete.
Grand Opening Critical
China sold its stake in Baha Mar to Chow Tai Fook Enterprises (CTFE), a private Hong Kong-based jewelry company that also has holdings in hotels and casinos, for an undisclosed sum this year.
The Chinese conglomerate says it purchased a nearly completed resort, which is why it's able to open the property so quickly.
There are plenty of skeptics. Travel agents invited to see the resort are excited to see the finished project, and determine if it's adequate for their clients.
"We are in the final stretch of bringing the Baha Mar dream to life," CTFE President Graeme Davis said in a March statement. "You can feel the energy, excitement and spirit amongst the Baha Mar family, who are working hard to open our doors next month and introduce the beautiful destination of the Bahamas to our first guests."