At G2E 2017, AGA Vows to Lobby for Nationwide Sports Betting, Lowering Jackpot Tax Threshold
Posted on: October 4, 2017, 11:59h.
Last updated on: October 4, 2017, 12:36h.
The American Gaming Association (AGA) unveiled its new strategic plan at the opening session of 2017's Global Gaming Expo (G2E) at the Sands in Las Vegas on Tuesday.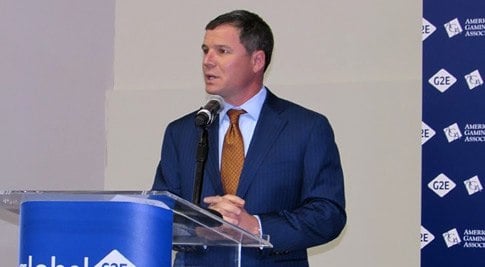 At the forefront of "Strategic Plan 2020" is the legalization of sports betting and the repeal of PASPA, the federal law that prevents states from regulating sports betting within their own borders.
After leading a minute's silence to remember those who died in Sunday's shooting at a country music concert outside of Mandalay Bay, AGA CEO Geoff Freeman vowed that a proactive campaign lay ahead for his organization.
While the AGA's thrust has traditionally been lobbying to protect the industry from damaging legislation, the next few years would be about fighting for new laws that will affect positive changes for American gaming, he said.
"We're not just playing defense in Washington," said Freeman. "Let's go play offense. Let's go make some really good things happen."
PASPA Challenge
The US Supreme Court is expected to review New Jersey's legal challenge to PASPA in November or December. A ruling is expected by Spring 2018, and it could ultimately lead to nationwide legalized sports betting.
"To have sports wagering throughout the United States gives us the same opportunity that lotteries were able to avail themselves of years ago by taking the numbers racket, the illegal lottery operations, from underground and bringing it above ground and make it into state revenues," said panelist and former State Gaming Control Board Chairman Michael Rumbolz, who is now president and CEO of equipment manufacturer Everi.
"If we bring sports wagering into the regulated casino gaming environment, whether it be physical, online or both, those revenues from underground maybe will begin surfacing, and you'll see local jurisdictions getting the benefit of the taxes and the jobs that will be created through that," he added.
Battling the IRS
The AGA also plans to take a more proactive stance on lobbying to raise the tax reporting threshold for slot winnings. Freeman noted that the threshold had been $1,200 since the 1970s, which, adjusted for inflation, should now be closer to $5,000. The IRS has tried to have the threshold lowered in recent years.
"If you adjust it to $2,500, you account for more than 90 percent of all jackpots. That, to me, is a great opportunity to go on offense," Freeman said.
Around 26,000 gaming industry from across the world are expected to gather at G2E over the course of three days for more than 100 seminars, panels and presentations, tackling a vast array of issues affecting the industry.
Freeman said G2E 2017 promises to "challenge the industry to think differently about the future."
"This year's show will advance the industry by showcasing legalized sports betting, esports, skill-based gaming and other emerging trends that will grow casino gaming's footprint from a $240 billion industry today, to a $300 billion industry tomorrow," he said.