Ambulance Chasing Attorney's Alleged $2M Embezzlement No Accident, Used Money to Gamble
Posted on: December 19, 2018, 08:55h.
Last updated on: December 19, 2018, 09:43h.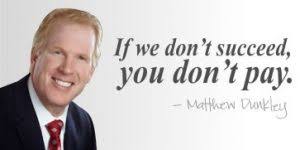 Nevada personal injury attorney Matthew Dunkley, 53, is in jail after being charged in Henderson Justice Court with nine counts of theft and one count of exploitation of an elderly person.
Metro Police allege that the lawyer stole money from his clients' financial settlements and used it to fund his gambling trips and an ongoing relationship with an exotic dancer.
Police say Dunkley kept $1.86 million over a three-year period that was supposed to go to his clients.
Dunkley abused the trust of the victims and misappropriated the funds to live an extravagant lifestyle and to fund a sexual relationship with a young woman," Metro Police allege.
Detectives claim that in addition to using the money to gamble, the lawyer paid exotic dancer Ivory Star Cain around $100,000 for companionship that included sexual favors. Dunkley reportedly referred to her as his "hot girlfriend."
Dunkley's victims include a five-year-old boy who was to receive money after being attacked by a dog. Others include elderly people who were awarded money by insurance companies to cover medical liens or treatments.
Lawyers Breaking Law
Attorneys defend clients against what they consider to be unlawful actions, but that doesn't stop many from breaking the law themselves. And some do so to gamble.
Last year, an attorney in Kentucky was charged with embezzling money from clients to pay down his gambling debts that totaled $1.6 million. Federal authorities charged Danny Butler, 71, with multiple counts of wire fraud. He pled guilty this month, agreed to be disbarred, and will be sentenced in March.
Attorney Nathan Hardwick was accused in October of stealing more than $18 million from clients, including Dustin Johnson, the No. 3 ranked golfer in the world. The alleged spending was on private jet use, gambling, and women. Johnson has since filed a lawsuit against Hardwick, and the case is ongoing.
In 2015, a New Jersey attorney Matthew Neugeboren admitted to embezzling over $2.6 million to cover his gambling addiction. Under his guilty plea to wire fraud and filing a false tax return, he was sentenced to 18 months in prison.
Finally in China, an attorney was sentenced to 12 years in prison after admitting to stealing money and gambling away as much as $1 million a day. Navin-kumar Aggarwal said he stole from 92 clients to swindle around $64 million into his own personal banking accounts.
Not So Sorry
Metro Police contend that a lawyer working to handle outstanding settlements for Dunkley's clients wrote one individual, "Dunkley gambled all the money away. Sorry, anyways … good luck."
Dunkley ran a personal injury attorney firm in Henderson. At a hearing in April, Dunkley admitted to taking the funds and using most of it to gamble.
The attorney is being held in the Clark County Detention Center on $250,000 bail. Investigators are asking anyone who was a client of Dunkley's who believes they might have been victims of his alleged crime to come forward.