Amaya CEO David Baazov Charged with Insider Trading by Canadian Securities Regulator
Posted on: March 23, 2016, 10:45h.
Last updated on: March 23, 2016, 11:00h.
David Baazov, CEO and major shareholder of PokerStars parent Amaya, has been hit with insider trading charges in Canada.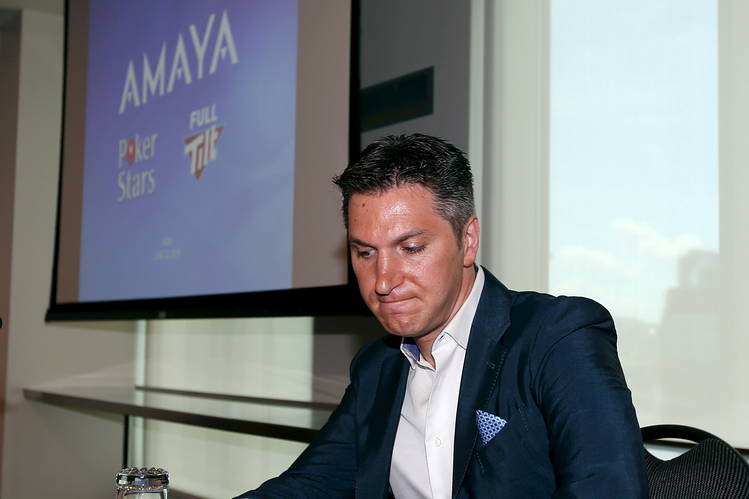 If proven, AMF, the Quebec financial regulator, said today that he could face up to five years in prison and as much as $5 million in fines.
The filing relates to allegedly suspicious trading patterns in the weeks leading up to Amaya's $4.9 billion leveraged takeover of PokerStars and Full Tilt in June 2014.
AMF filed penal proceedings against Baazov Wednesday morning, along with charges against two other individuals and three separate companies. Baazov is facing five serious charges, including "aiding with trades while in possession of privileged information, influencing or attempting to influence the market price of the securities of Amaya Inc., and communicating privileged information."
Baazov Colleagues, Separate Business Entities Also Charged
Also accused are Benjamin Ahdoot, Amaya's VP of government projects and a childhood friend of Baazov's. Ahdoot and the Amaya CEO formed a computing company in the nineties, Vortek Systems, which ran afoul of the Canadian Copyright Collective in early 2003, according to the UK's Globe and Mail news site.
Vortek Systems was eventually dissolved, after a federal judge ruled that it had failed to pay copying levies for the audio discs it sold, a violation of Canadian copyright law.
Yoel Altman, also charged, is a chartered accountant who has been described as a long-time strategic adviser to Baazov.
The three accused companies are Diocles Capital Inc., an investment company involved in Amaya's 2012 purchase of Cryptologic; Sababa Consulting Inc.; and Ontario Inc., a biopharmaceutical company. It's unclear what the specific relationship is of the businesses to the insider trading charges per se.
Baazov Denial
The AMF raided Amaya's Montreal offices in December 2014, seizing computers and the e-mail and phone records of three Amaya officials, including Baazov and his chief financial officer, Daniel Sebag.
The company has traded on the Toronto Stock exchange since 2013, and its shares had performed unspectacularly until the beginning of May 2014, just weeks before the shock announcement of its leveraged takeover of the Oldford Group, the owner of PokerStars.
In the weeks before news of the deal broke, its share prices almost doubled, skyrocketing 14 percent in one day alone.
Baazov, who along with a group of investors that includes senior Amaya execs, was expected recently to make a bid to take the company private. He said today in a statement that he was "disappointed" by the investigation's findings and intended to "vigorously contest" these "false" charges.
Amaya, which is not charged with any violation, said it stood fully behind its CEO.
"Amaya does not anticipate the charges will have any impact on the management or day-to-day affairs of the operating business," said the company in an official statement. "Operations continue as usual and there will be no change to the PokerStars or Full Tilt product offerings, either in customer experience, player fund security or game integrity."
Whether the New Jersey Division of Gaming Enforcement (DGE), where PokerStars just this week launched its full site to a welcoming player reception of high traffic, agrees with that assessment, remains to be seen.
The Garden State gaming regulatory arm has not smiled kindly on any transgressions in the past, but will likely at least wait to see how this plays out before taking aim at their new Golden Goose.
US Law Firm Launches Shareholder Investigation
By midday Wednesday, Levi and Korsinsky LLP, a New York-headquartered law firm that bills itself as setting "ground-breaking legal precedents in high-stakes securities and class action lawsuits throughout the country" had already put out a call to shareholders regarding "possible violations of federal securities laws by the Company and/or certain officers and directors."
While no legal action has yet been announced in the US, it seems entirely possible that this could be forthcoming. We will continue to update the story.
Most Read