AGA Chief Geoff Freeman Attacks Illegal Gambling at G2E, Says It Is Not a Victimless Crime
Posted on: October 1, 2015, 04:26h.
Last updated on: January 12, 2023, 11:16h.
Geoff Freeman, president of the American Gaming Association, kicked off the Global Gaming Expo (G2E) in Las Vegas this week with a keynote speech that railed against illegal, unlicensed gambling and the threat it poses, not just to the casino industry, but to society at large.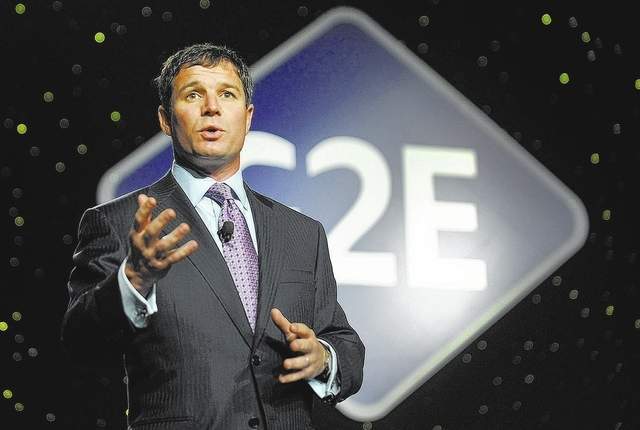 "Illegal gambling affects the credibility of our industry, and that credibility is directly tied to the public policy that we confront," said Freeman of that "other industry that operates in the shadows."
"We need to do a better of job of explaining how regulated gaming can be a positive influence on a community," he added.
Roadblocks to Acceptance
Illegal gambling, Freeman suggests, fuels the negative views of the casinos that are held by many lawmakers and members of the public, despite the economic benefits the casino industry brings to areas in which it operates.
The AGA president cited the current situation in Massachusetts, where public officials have erected "every roadblock they can possibly find to slow down casino development."
The City of Boston is suing the state's Gaming Commission over its decision to award the East Massachusetts casino license to Wynn Resorts, rather than Mohegan Sun. Had the latter won the license, Boston would have benefited to the tune of $18 million, as part of a "host community" compensation agreement with the operator. Last year, the Gaming Commission denied Boston said host community status in respect to the Wynn deal, incurring the wrath of Mayor Marty Walsh.
Links to Organized Crime
Freeman went on to tell audience members that they must carry the positive message of legal casinos and become "proselytizers about gaming."
The AGA has published a study, compiled by Jay S. Albanese of Virginia Commonwealth University, which demonstrates that illegal gambling is not a victimless crime. The research looked at federal gambling convictions throughout 2014, and included online and land-based sports betting, unregulated casino parlors, and animal fighting rings.
Ten of these 40 cases had links to organized crime, including the New York and Philadelphia Mafia and Texas drug traffickers. In each case, an average of $3 million in illegal funds was seized, money that would have been used to fund further criminal actions by these groups, the study noted.
"Suffice it to say, the money was not going to college tuition," said Albanese.
Call for Sports Betting Reforms
Freeman further cited the National Gambling Impact Study's most conservative estimate that some $80 billion will be bet illegally on sports this year. This demonstrates the need for urgent regulatory reforms, he said.
"It speaks to the utter failure of the law we have in place," Freeman said. "This is one that's completely ignored."
The AGA recently launched an initiative in partnership with law enforcement to combat illegal gambling. "Stop Illegal Gambling: Play it Safe," will aid the development of research designed to "dig into the roots of this problem," according to the AGA, by studying criminal patterns, and to develop "actionable intelligence."
Most Read