Accused Poker Cheater Mike Postle Makes Final Table Using Alias
Posted on: January 17, 2023, 12:40h.
Last updated on: January 17, 2023, 02:22h.
Mike Postle has been lying low since he was publicly accused of cheating in a lawsuit brought by 88 fellow poker players. But over the weekend, he turned up at the Beau Rivage Hotel and Casino in Biloxi, Miss., to play the Million Dollar Heater Main Event. On Tuesday, he made the final table, finishing in seventh place in the $1,200 event for $32,703.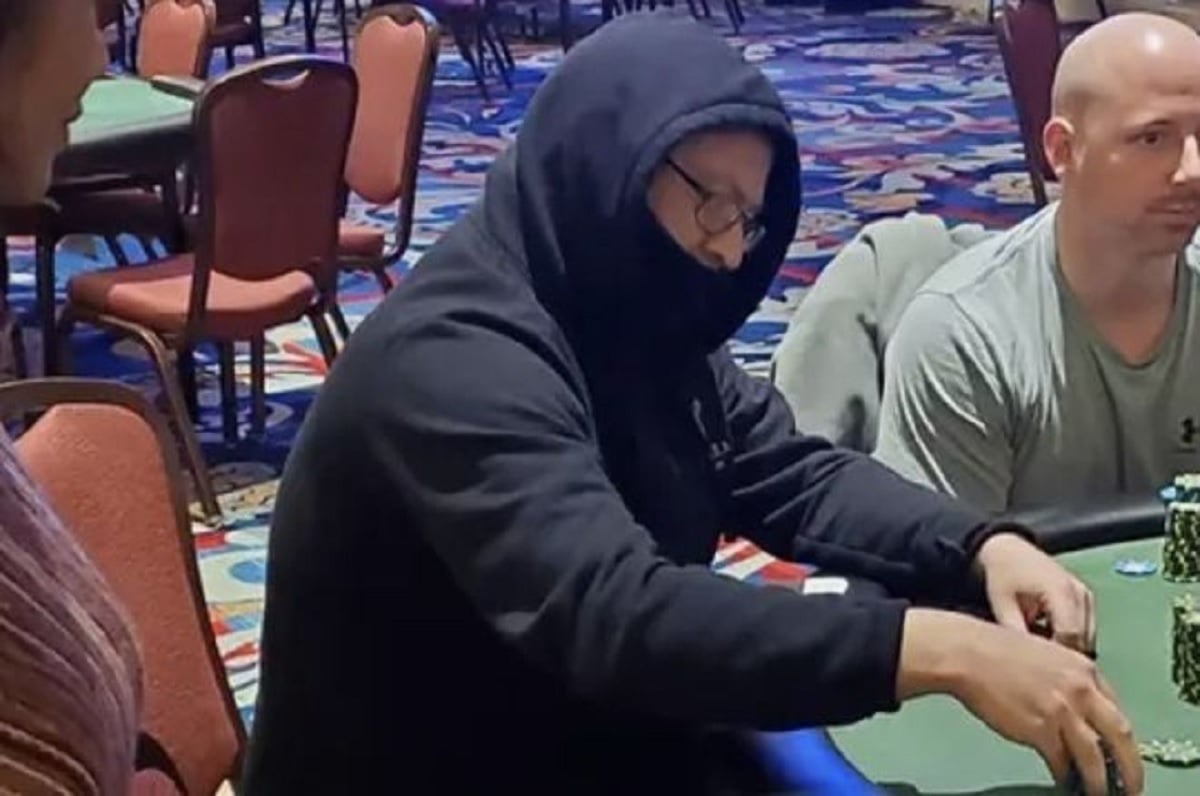 Ultimately, the attention was probably unwelcome for Postle, who seemed to have taken steps to conceal his appearance, although a face mask and a hoodie are far from unusual apparel for a poker player.
Postle also entered the tournament using an alias – of sorts – "Mike Lawrence." Lawrence is his middle name, according to court documents.
Many wondered on social media why the casino would allow a player to enter a tournament using a pseudonym. Others asked why a player so widely suspected of cheating should be allowed anywhere near a casino.
World's Best Poker Player?
In 2019, Postle was a regular at Stones Live Poker, a live-streamed cash game from Stones Gambling Hall in Citrus Heights, Calif.
The low-stakes grinder soon found fame among followers of the stream for his Godlike ability to read his opponents and win with freakish regularity while employing sub-optimal strategies. It's almost as though he could see his opponents' cards, they marveled.
And, according to subsequent litigation, he could. Internet sleuths pored over hours of Stones footage, analyzing hands and the statistical implausibility of Postle's win rates. They concluded he was receiving information from an unknown accomplice who had access to the back end of the radio frequency identification (RFID) system that reads players' cards for broadcast purposes.
Information was relayed to Postle via his cellphone, which he concealed under the table, and via a device embedded in his baseball cap, according to the lawsuit.  
For the duration of Postle's unbelievable winning streak, he didn't play in any other game at Stones or at any other casino. On the rare occasions when he failed to bank a winning session, a suspected accomplice, who was not named in litigation, happened to be out of town, according to the suit.
It's believed Postle won around $250K from dozens of players during his impossible low-stakes winning streak.
Lawsuits Fly
The lawsuit was dismissed under a quirky old California law that states gambling losses cannot be recovered in court. Stones Gambling Hall, which was named as a defendant in the lawsuit, later settled with some poker players for an undisclosed sum.
Postle subsequently sued several poker players for defamation. They responded with anti-SLAPP lawsuits. A SLAPP case is when a plaintiff embarks on litigation as a pretext to silence, intimidate, or censor their critics.
Postle withdrew the defamation lawsuit after his own lawyer asked to be dismissed from the case.
One of the players who brought the anti-SLAPP case, Todd Witteles, confirmed via Twitter Tuesday that Postle still owed him legal fees.
Parting Shot
The manner of "Mike Lawrence's" departure from the final on Monday suggested poker world isn't ready to forgive the player for his alleged transgressions.
Postle moved all-in holding pocket tens on a six-high flop. This time, his superpowers had deserted him. His opponent, Brock Gary, was holding trips with a pair of sixes. It should have been a snap call for Gary with the powerhouse hand.
But, Gary opted to take his time before calling, pretending to turn things over in his head, making Postle believe there was a chance he was ahead. It's called "slow-rolling" and it's one of the most disrespectful things you can do at the poker table.
But on this occasion, no one seemed to mind.
"That's for all the cheating," a voice shouts off-camera, as Gary eventually turns over the winning hand.