One Year After PASPA Overturn, Is US Sports Betting State-by-State Growth Living Up to the Hype?
Posted on: May 14, 2019, 01:00h.
Last updated on: August 15, 2019, 10:56h.
May 14, 2018: that's the day the sports betting world changed forever in the United States. It's been a year since the overturn of the Professional and Amateur Sports Protection Act (PASPA), and the push for massive US sports betting expansion has had a tumultuous 12 months.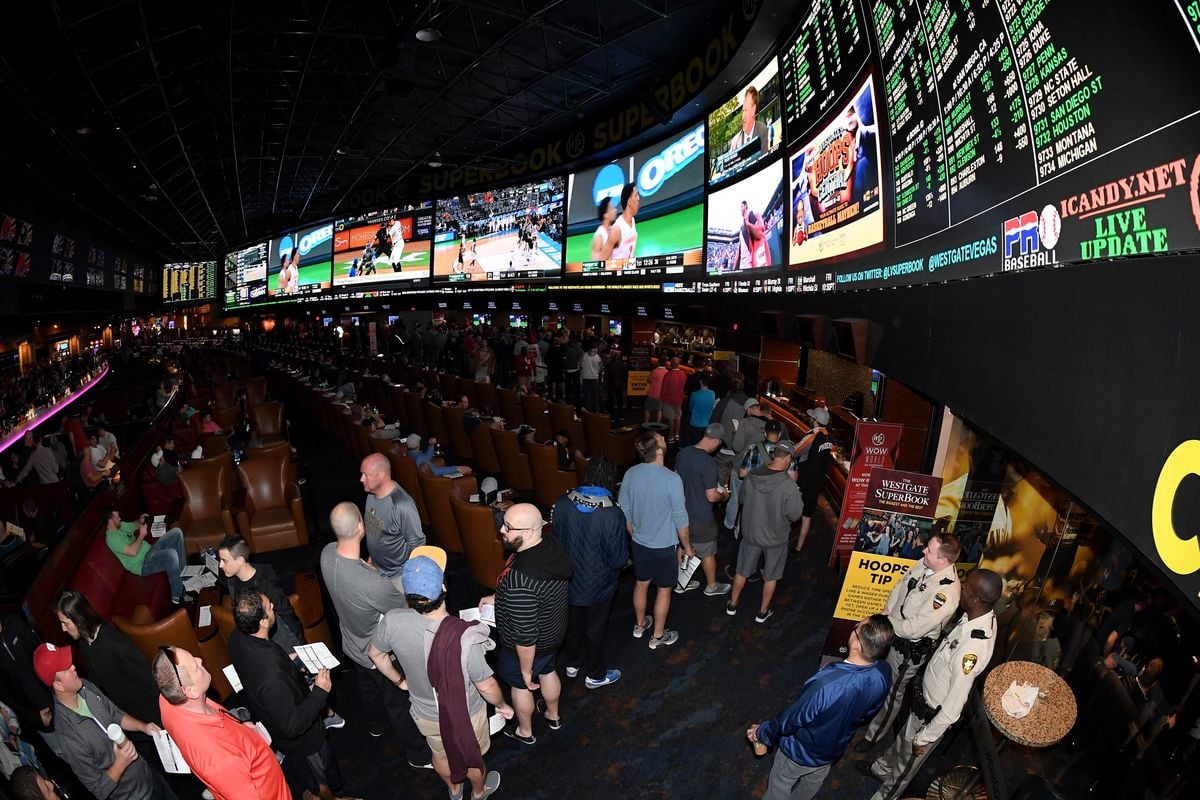 The US Supreme Court (SCOTUS) ruled a year ago to the day that the law that Congress passed 26 years earlier restricting most states from legalizing sports betting violated the Constitution.
The legalization of sports gambling requires an important policy choice, but the choice is not ours to make," said Justice Samuel Alito in writing the majority opinion. "Congress can regulate sports gambling directly, but if it elects not to do so, each State is free to act on its own. Our job is to interpret the law Congress has enacted and decide whether it is consistent with the Constitution. PASPA is not."
The 6-3 ruling opened the door for American states to legalize sports betting across the country, and so far, 10 states have joined Nevada, which first legalized sports betting 70 years ago. Since PASPA's dismissal, sports betting has now been made legal in Delaware, Mississippi, New Jersey, New Mexico, Pennsylvania, Rhode Island, and West Virginia. Earlier this month, Montana and Indiana enacted sports betting laws, while Iowa Gov. Kim Reynolds signed her state's bill into law Monday afternoon. Those three states will begin taking bets later this year.
In addition, Tennessee's legislature passed a sports betting bill last month. According to The Tennessean, Gov. Bill Lee has said he will let his state's measure become law without his signature.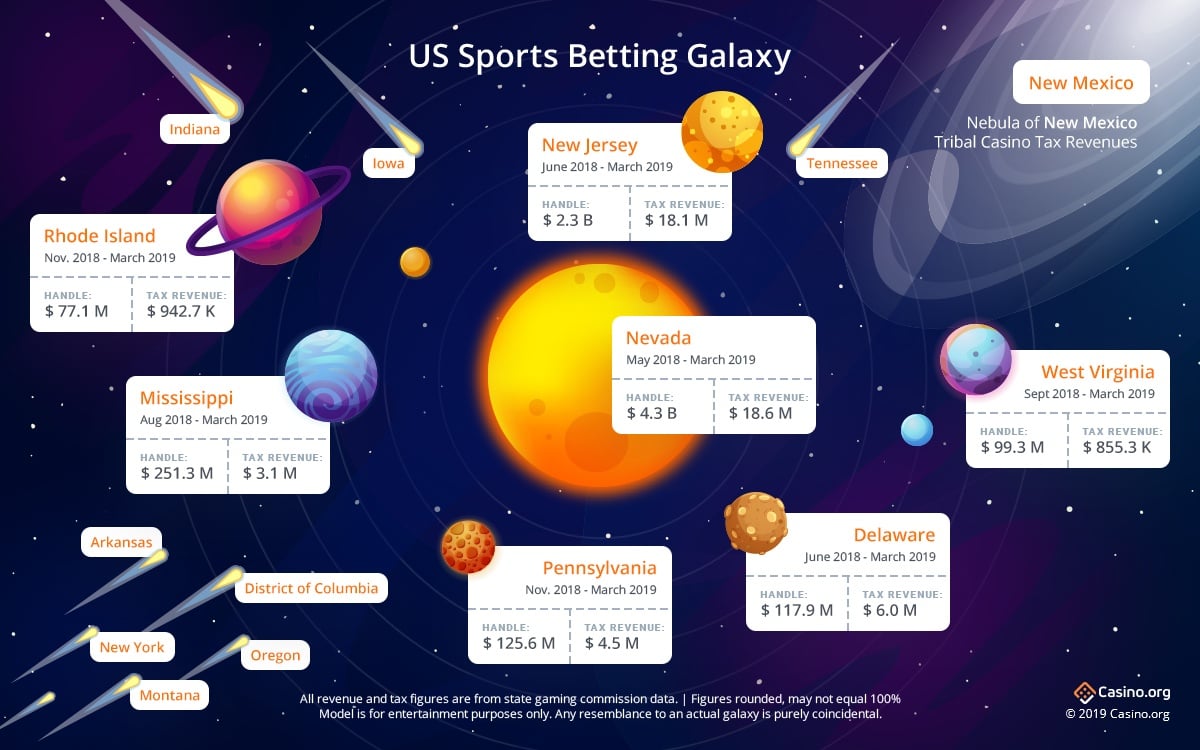 In addition, Arkansas, the District of Columbia, New York, and Oregon have taken steps to either pass legislation or add regulations to allow sports betting. However, none of those four have officially announced when they will start accepting bets.
Making New Jersey History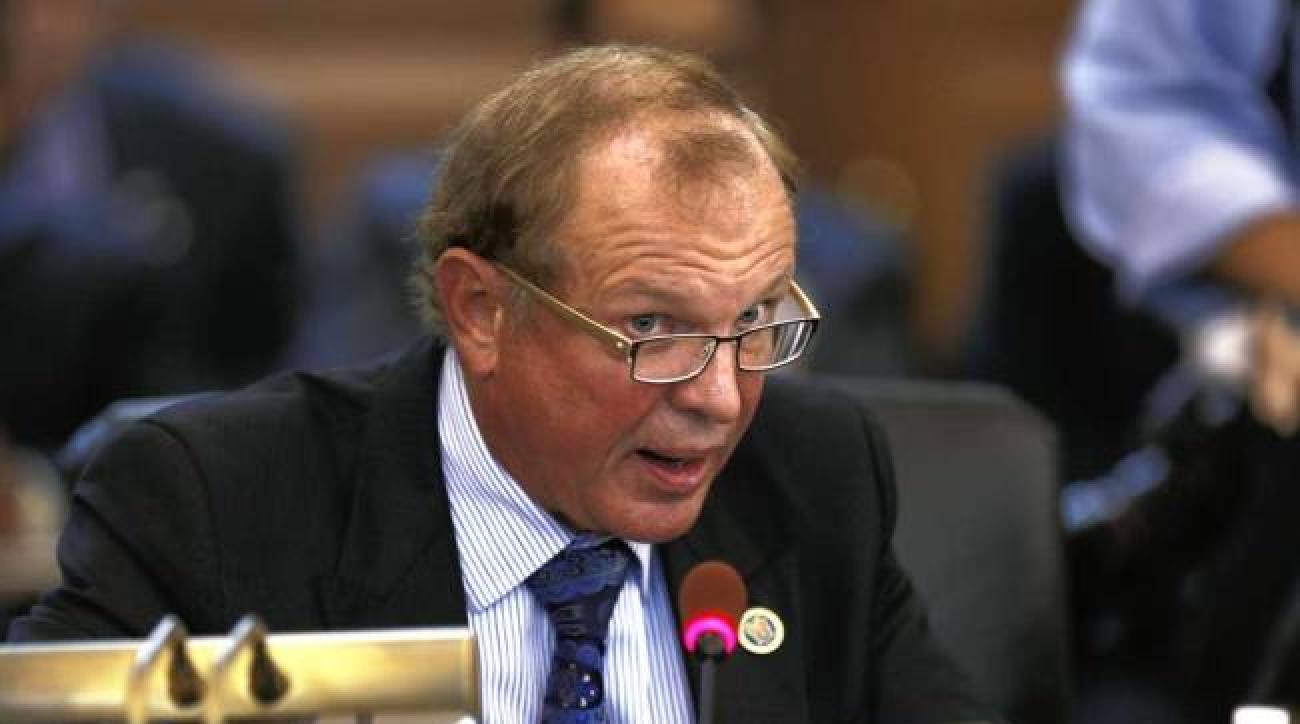 Ray Lesniak doesn't remember who told him the news that the Supreme Court had overturned PASPA, but he recalls who he contacted first afterwards. The former New Jersey state senator was just about to play a round of golf when he got a call, and his game quickly took a back seat to his legal home run.
That first call went to Rudy Garcia, a former mayor and New Jersey state assemblyman. A dozen years earlier, Garcia had been arrested as part of a sting operation when he was trying to place a bet.
"They thought he was a runner for the organization," Lesniak told Casino.org. "He was charged with racketeering, everything. Conspiracy, of course, and charges were dropped, but meanwhile he had a mugshot, papers, embarrassing. And I said 'Damn, Rudy's getting arrested for doing something that he could've gotten on a plane and gone to Las Vegas and placed [a bet] legally.'"
While PASPA gave New Jersey a one-year window to legalize sports betting when it was passed a generation ago, the state decided not to take advantage of that opportunity at the time.
But seeing his friend and former colleague get arrested prompted Lesniak to start the ball rolling on legalization. The first lawsuit did not succeed, which prompted the then-lawmaker to push a state constitutional amendment through the legislature back in December 2010.
Eleven months later, voters made it constitutional by a nearly 2-to-1 margin at the polls.
It would take two more court cases before the SCOTUS would finally hear the case and turn the American sports world upside down. Lesniak notes the steps and challenges needed to be overcome in his book Beating the Odds: The Epic Battle That Brought Legal Sports Betting Across America.
One month after the ruling, New Jersey Gov. Phil Murphy went to Monmouth Park and put $20 on Germany to win the 2018 World Cup and another $20 on the New Jersey Devils to win the 2019 NHL Stanley Cup. Lesniak was there to witness history being made.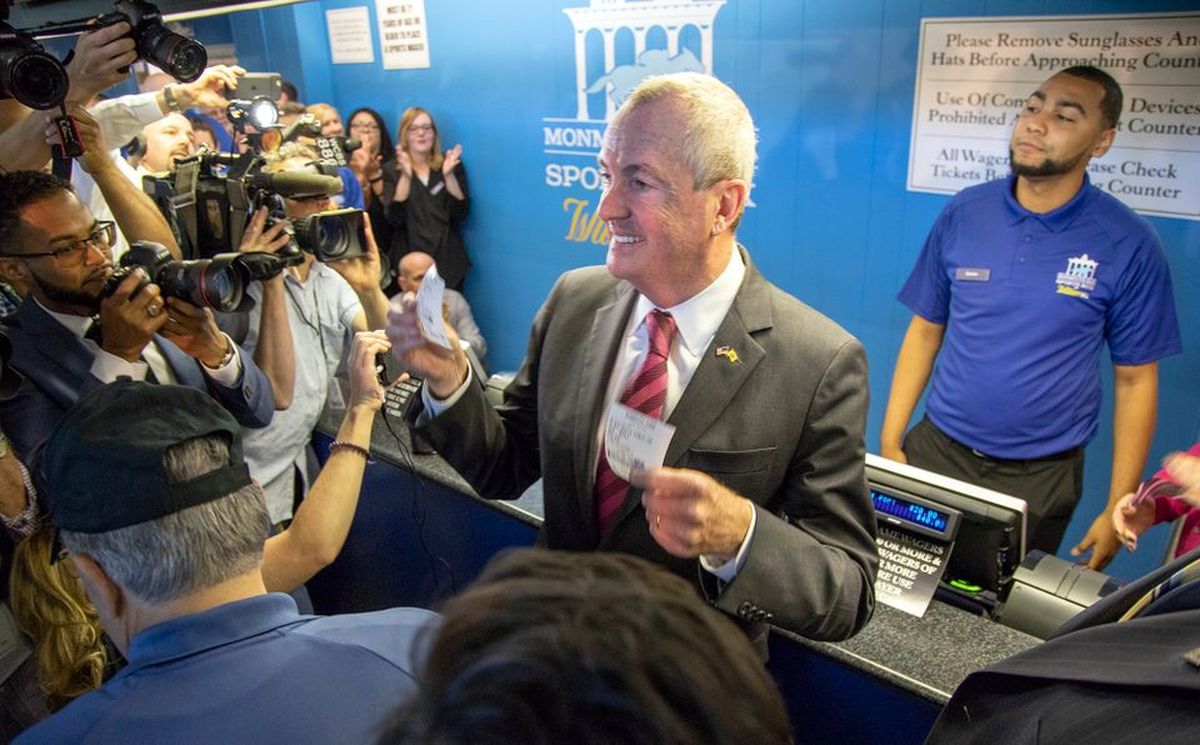 While they officially weren't the first into the post-PASPA world — Delaware beat New Jersey by nine days — a new era had officially begun.
For Lesniak, the first year of sports betting has been nothing short of a success. He saw it as a way to bolster the state's faltering casinos and race tracks, which had not been attracting younger demographics hungrier for the excitement sports betting could bring.
"I saw sports betting as a boost to revive two failing industries in New Jersey and bringing those jobs back, and that's what it has done," he said. "We have casinos reopening, racetracks have enhanced purses. They're no longer on the threat of closing. It's been just a win-win-win for the state of New Jersey."
States Take Unique Approaches
Most interesting in the first year of expanded sports betting in the United States has been the uniqueness of each state's approach when it came to how to implement it.
Some have given control of sports betting to their existing state lotteries, taking a direct share of revenue generated. Others have allowed sportsbooks to manage the operations while electing to enact tax off the books' adjusted gross revenues.
Other states have elected to allow sports betting only at brick-and-mortar locations, while others allowed gamblers more leeway to make bets through mobile applications.
Allowed betting ages vary from state to state as well, with a range of 18 to 21 years of age as the legal minimum.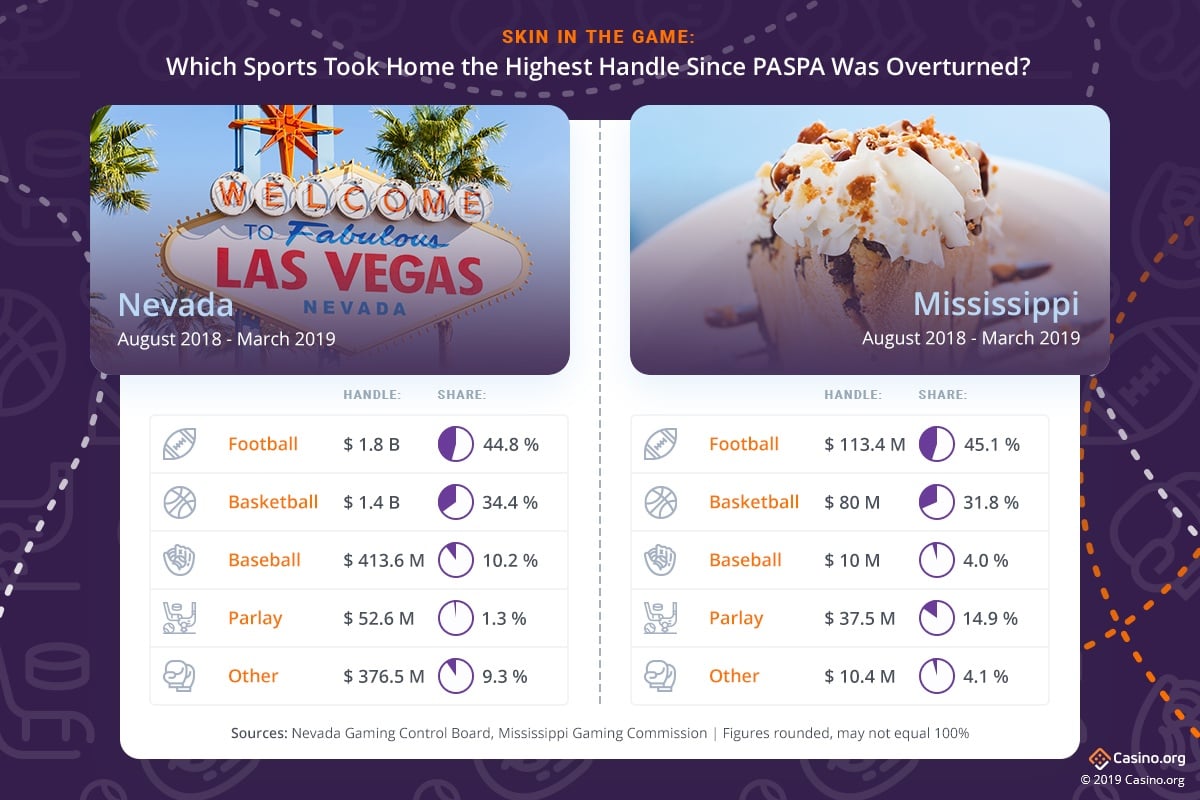 Since June 2018, when New Jersey and Delaware both went live, the new sports betting states have amassed a total betting handle of nearly $3 billion through March 2019, according to Casino.org research. The tax revenue from that is $33.3 million.
Excluded from those figures is New Mexico, where two tribal casinos began offering sports betting. State figures there do not breakdown sports betting from the tribal casinos' other Class III gaming options.
According to Jim Murphy, an analyst on sports betting and casino gaming for CasinoInsider.com, none of the new states really have gotten it right so far, because they don't really understand the business of sports betting.
"They don't realize number one how difficult it is to run a sports betting operation and do it well. They don't realize that they're getting into a competitive business, that they've got to win the business of the sports betting public," Murphy told Casino.org.
There's really not a state, I think [that's gotten it down]. New Jersey to some extent, they've done some things right. I'd probably give them the best grade of the new sports betting states right now, but I can't even think of anyone that I can even say 'OK, they've done a half decent job,'" he added.
Murphy saved some of his most pointed criticism for those states that let their lotteries run sports betting. Some, like Oregon and Delaware, ran football parlay cards for years, but that's different.
"They're going to lose money on sports betting," he added.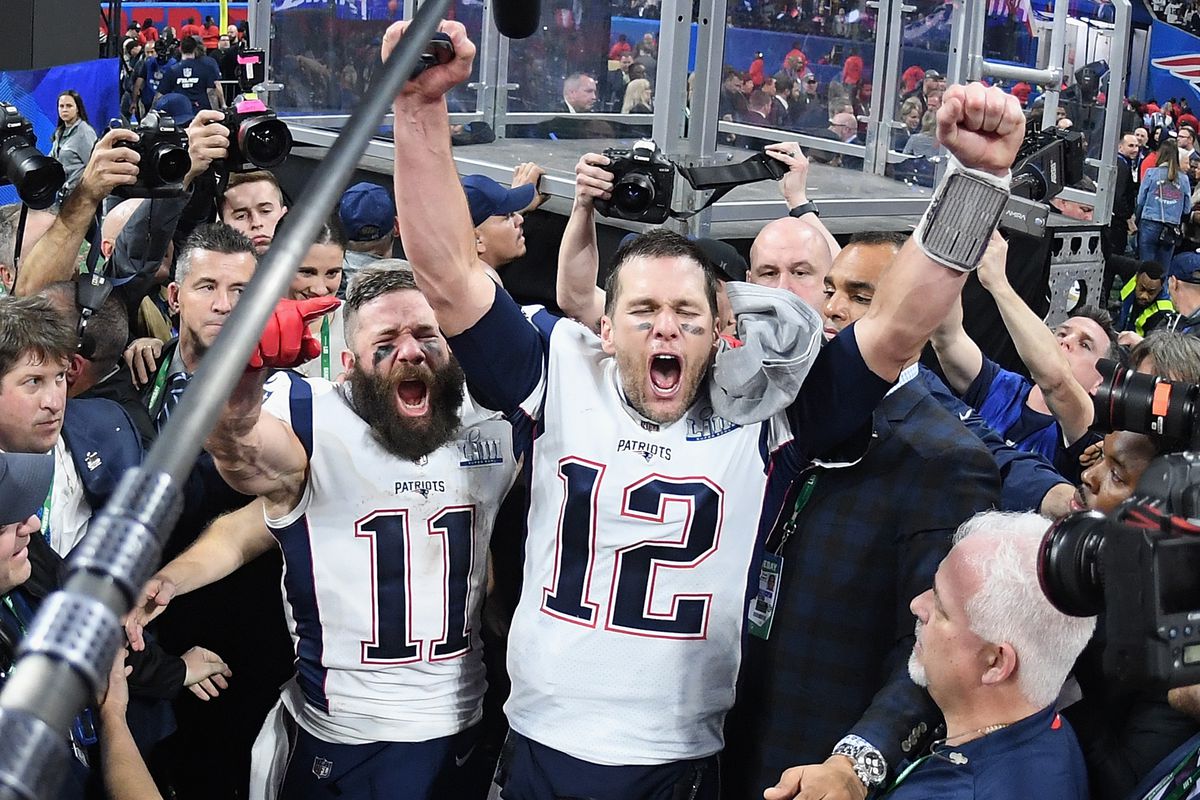 That's what happened in February when Rhode Island's sportsbooks reported a loss of more than $890,000, thanks to heavy betting on the New England Patriots, who played roughly 30 minutes away from the Twin River Casino near Providence, in Super Bowl 53 in February.
According to an Associated Press report last month, officials in Rhode Island — whose lottery also runs the state's two casinos — had expected to generate more than $1 million a month in revenue from sports betting. Based on Casino.org's review of the state lottery's data, it has not even passed the million-dollar mark in revenue from the bets taken between November — when sports betting started in the state — through to March of this year.
Not All Fun and Games
And there have been other hiccups across the country in the first post-PASPA overturn year as well.
In March, two West Virginia casinos owned by Delaware North saw their sportsbooks suddenly close thanks to a vendor technology dispute.
Those casinos — which were among five in the state to get licenses — ended up missing out on the NCAA Basketball Tournament, which generates $8.5 in bets over its three-week run. Delaware North subsequently announced it had terminated its partnership with Miomni and is seeking a new sportsbook solution for its Wheeling Island and Mardi Gras casinos, as well as its BetLucky application.
Like Rhode Island, West Virginia's sports betting operations are managed by the state lottery, and tax revenues are far off from what state leaders projected when they pushed the bill through the legislature. The state had hoped to capture $5.5 million in its first year, but from September through March, has just $855,342 in revenue.
There have been some bumps in New Jersey as well, even as the Garden State has already exceeded its fiscal year tax revenue goal of $13 million for the first year. The state fined PokerStars $10,000 and Caesars Entertainment $2,000 for accepting bets on in-state college teams, which is against the state's sports betting law.
Impact on Nevada
While other states are still ramping up their sports betting operations, Nevada keeps going strong. In March, the state's sportsbooks reported a handle of $596.8 million, the largest ever.
The other six states reporting sports betting figures had a combined handle of $501.1 million, and New Jersey accounted for $372.5 million of the remainder.
Some may have thought that Nevada losing its legal sports betting monopoly would cause business to take a hit there. But ESPN's Doug Kezirian, who serves as the network's sports betting analyst and host of Daily Wager, wasn't one of them.
I said this a year ago and I'm even more certain now," Kezirian, who served as a sports anchor in Las Vegas for seven years, told Casino.org. "This will do nothing to Vegas.

"Why? Because, the Supreme Court did not invent sports betting last May. It has been going on forever … We talk about the black-market all the time. It has already co-existed," he added.
"So, people who go to Vegas, except for the Super Bowl, except for March Madness, they don't go there just to sports bet. They go there for bachelor, bachelorette parties, conventions, weekend getaways with the spouse, just reunions, whatever, and they happen to bet sports while they're there."
Since last June, when Delaware and New Jersey both went live, through to March, Nevada's sportsbooks have taken in nearly $4.6 billion in bets. The other six states that have reported data have handled nearly $3 billion, again with New Jersey's $2.3 billion making up the largest portion of the remainder.
Nobody Does It Better for Bettors
As the first states see their operations mature and more yet come online, Nevada's share of the market will naturally decline, even if its books' handles don't decline per se. However, Kezirian believes sports betting nationwide will help the books in Vegas and other parts of Nevada, too.
"It'll already be a part of their daily behavior, so they'll just happen to stop at a sportsbook," he said. "They're more inclined to stop at a sportsbook, because [it's part of] their daily routine."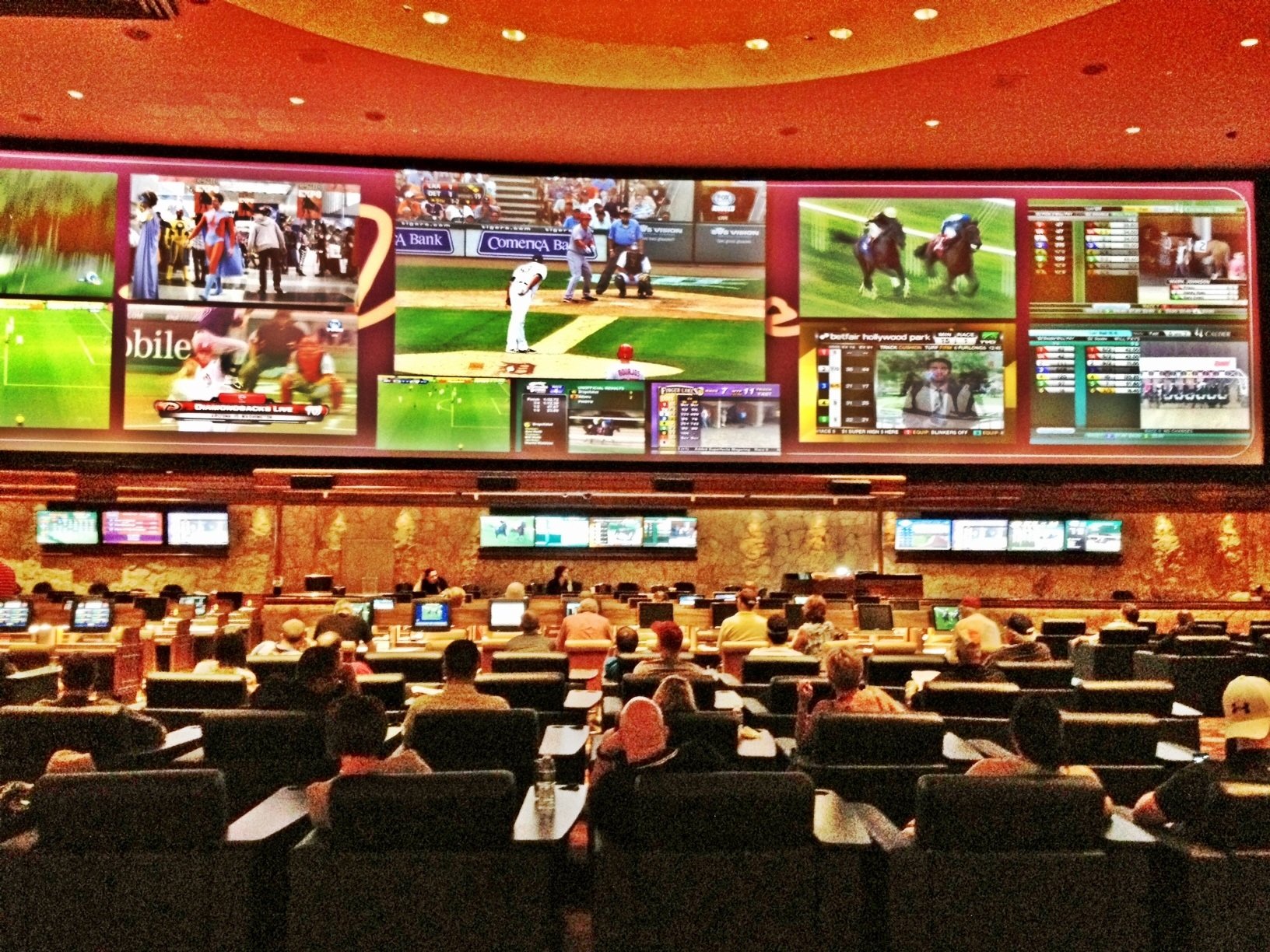 Both Kezirian and Murphy both expressed some surprise that lawmakers from other states did not look more to Nevada when creating their sports betting bills.
Analyst Murphy added that lawmakers should just get on a plane and fly to Las Vegas to see how sportsbooks run there. They'd also likely see something he thinks is missing from most states that currently offer sports betting.
"I think there's a pent-up demand that none of the states are really leveraging [which is] kind of the basic Nevada sportsbook experience," he said. "Going into a place where you can place bets with TV screens on the wall, you have a bunch of tickets … I think people enjoy that. I think if any of the states are trying to replicate that to some degree, they have a lot of success at it."
What Lies Ahead
The future of sports betting in America will see more states get involved in the action, both this year and beyond. But Lesniak told Casino.org he was surprised at just how few have gotten on board already.
While the final number of states that decide to legalize sports betting remains unknown, other aspects of the industry's ancillary future are already starting to play out.
For instance, sports media has embraced the industry. While betting lines were once just topics of discussion for preview shows, both ESPN and FOX Sports have started sports betting-topic shows, with Kezirian's Daily Wager having started in March on ESPNews.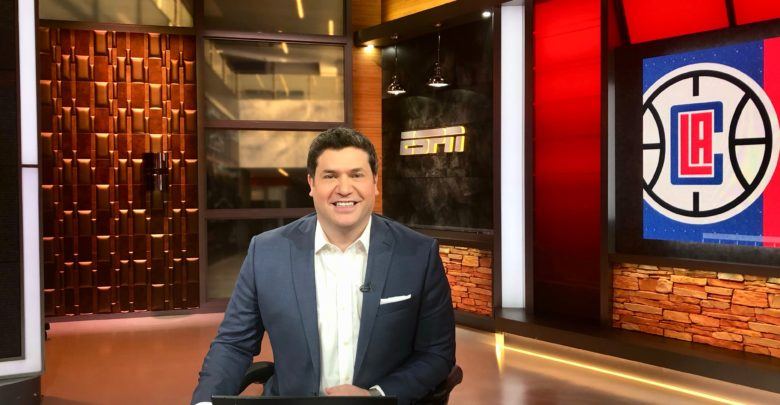 Beyond just spreads and over-unders, the weekday show also examines how the sports news of the day affects betting.
And just within the last week, FOX announced a partnership with The Stars Group to start FOX Bet, which will allow bettors to place wagers on a multitude of sporting events online, although which states will award the new effort mobile gaming licenses is still undetermined.
By the end of this year, the new venture also expects to roll out a free nationwide game that will award cash prizes to people who can correctly predict the results of sporting games.
For Kezirian, while he still sees the need for retail sportsbooks, he also sees mobile and online betting representing the future of the industry. It's especially true since mobile technology has already transformed how fans watch games and get results.
Twenty years ago, fans would watch ESPN's SportsCenter to get all the scores and highlights from games they missed. Now, they can go to ESPN's Snapchat page or its Twitter feed to watch highlights and get scores instantly.
So it only makes sense then for people who consume sports online to bet on it the same way.
"It just lends itself to the appetite of the human being in 2019," Kezirian told Casino.org.
Going Mobile
Currently, Nevada and New Jersey allow mobile gaming, as does West Virginia, although its only mobile application is currently on hiatus. Pennsylvania and Rhode Island have announced plans to launch online sports betting later this year. Delaware, Mississippi, and New Mexico do not allow online sports betting.
If Tennessee's bill becomes law, it would be the only state to allow sports betting exclusively online. Montana's new law allows online gaming, but all bets, even online, must be made within the premises of an established gaming facility.
The new laws in Indiana and Iowa also allow for online betting.
Other questions remain unanswered as well. While professional sports leagues have embraced sports betting more since the Supreme Court's landmark decision, they've also worked to find ways they can develop revenue from it and still lobby states to exclude certain activities from betting laws.
For instance, the National Football League in a recent letter to New York officials encouraged them to allow the leagues to prohibit bets on player performances.
Epilogue: One More Celebration
On this May 14, sports betting will once again keep Lesniak off the golf course. This time, though, he'll be in Boston delivering a keynote address at a sports conference and signing copies of his new book.
He'll still find a way to celebrate the anniversary of the Supreme Court's decision.
"You know what I'm going to do? I'm going to open up a bottle of Chateau Margaux," he said. "A good French Bordeaux."
A quick perusal shows bottles of the fancy wine selling for starting prices of $120 online, and going way up from there. But after all, Lesniak has a lot to toast on this day in history, and he will always have a place in its retelling.