$5 Billion Pinnacle Entertainment Takeover Is Odds On
Posted on: July 8, 2015, 05:43h.
Last updated on: July 8, 2015, 05:43h.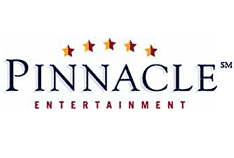 Pinnacle Entertainment's share price rose to an annual high on Tuesday following a revised $5 billion takeover bid from Gaming and Leisure Properties (GLPI); a bid that analysts say Pinnacle would be mad to turn down.
The new offer represents an increase of $900 million on a bid Pinnacle rebuffed in March.
The news of the proposal sent Pinnacle's stock price up by 5.82 percent on the New York Stock Exchange, as investors took the view, shared by JP Morgan, that the takeover is practically a done deal.
"We have a tough time envisioning a scenario where Pinnacle's board and management could create the same value in the same time frame that GLPI's deal would, and we don't see the likelihood of a superior bid from another entity," JP Morgan Gaming Analyst Joe Greff told the Las Vegas Review Journal on Tuesday.
Bing Crosby No On Board
GLPI, a corporate spin-off of Penn National Gaming formed in 2013, trades on the NASDAQ and owns 21 casino and racino properties across the US, including the Penn National Race Course in Grantville, Pennsylvania.
Pinnacle, meanwhile, traces its history back to 1938 when Jack L Warner, head of the Warner Brothers Studio, opened the Hollywood Park Racetrack. Initial shareholders in the company included Walt Disney and Bing Crosby.
The group was initially known as Hollywood Park Entertainment, and later Hollywood Park Inc, before it changed its name to Pinnacle Entertainment when the racetrack was sold to Churchill Downs in 2000.
Today, it owns 15 casino properties in the US, as well as a controlling stake in the racing license owner. It also has 26 percent stake in Asian Coast Development Ltd, the owner and developer of the Ho Tram Strip in Vietnam, which has benefited from the recent economic downturn in Macau, as Chinese high-rollers seek to evade the scrutiny of the Chinese government.
Better Deal
In 2013 Pinnacle acquired Ameristar Casinos for $869 million and $1.9 billion of assumed debt, adding nine new properties to its portfolio and essentially doubling in size.
Under the new proposition, Pinnacle shareholders would also receive a better deal; GLPI is offering $47.50 per share of Pinnacle, and would also give Pinnacle shareholders a 28 percent stake of GLPI.
However, the language GLPI has used, even its press releases, makes it clear that this is a hostile takeover.
"GLPI has committed financing in place and is ready to finalize this transaction immediately, and we would expect to close our transaction within approximately six months of signing," the company said in a statement. "Nevertheless, Pinnacle continues to make new demands, delaying the signing of a definitive agreement and denying its shareholders a value-creating transaction that is clearly superior to Pinnacle's previously announced standalone separation plan.