How Much Do Basketball Officials Make?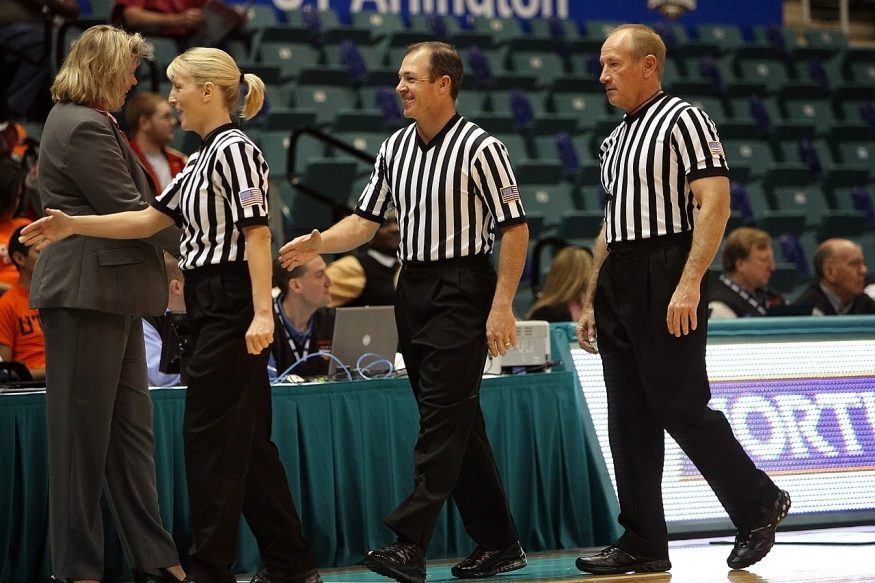 NBA referees are arguably the best officials in the world, but their pay pales in comparison to that of top-flight pro players.
Where elite NBA players can make up to $50 million annually, pro basketball officials are estimated to earn between $200,000-550,000 per year, plus travel reimbursements and a courtside seat for games.
But getting to the NBA is hard as there are thousands of basketball referees across North America and across the planet, so the chances of ever reaching the top end of the salary bracket are slim.
From the big leagues to lower levels, here's a breakdown of how basketball officials are compensated.
The Big Leagues
There are about 80 on-court officials in the NBA, and as many as three work each of the 1,230 regular-season games and playoffs.
The lead official is the crew chief, and he or she is joined by two umpires that keep control of the game.
Veteran NBA crew chiefs make upwards of $550,000 per year — paid out to about $7,000 per game over about 80 games per regular season.
The best of the best earn playoff assignments, which could net them an additional $9,000 per game, and if they are chosen for NBA Finals games that pay could jump by threefolds.
Less experienced NBA umpires can still make six figures but more like $3,000 per game.
These officials still receive first-class travel arrangements, hotel reimbursements and per diem. Plus they still get to be on the floor for NBA games.
Officials have been covered by a union, the NBA Referees Association (NBRA), since 1973.
In 2017, the union expanded to cover officials of the NBA G League and WNBA.
WNBA officials make about $500 per game and nearly $200,000 per season. G League officials make less than that.
The NBA also relies on replay, which means it needs officials at its video operations room in Secaucus, New Jersey each night.
Those operators make about $21 per hour, according to Glassdoor.
College
The NBA is the majors, but where do the pros pull their talent from?
College, of course.
Officials of college games are not covered by unions but still can make more than six figures — around $2,500 per game in major conferences like the Big East, Big Ten or Big XII — according to Sapling.
Though college basketball plays far fewer games than the pros do, which means the earning potential is less in college even though the per-game cost can be more.
The median income for a college basketball official is about $36,000, with food and travel expenses reimbursed, which is a nice income supplement for those who officiate college or professional football games in the fall — former NFL referee and current CBS commentator Gene Steratore and current NFL official Bill Vinovich each have officiated college basketball games during their offseason.
Those who are chosen to officiate NCAA Tournament games can make $1,000 per game more, or $2,000 per game if they reach the Final Four.
Lower Levels
There are thousands of girls' and boys' basketball games played every day, including high school, AAU, youth and even adult men's leagues. These games need officials too as tempers flare up and the sport doesn't police itself.
For high school games the pay is less, but still can be lucrative, particularly as a side job on nights and weekends.
Officials for AAU games can make $70 apiece. High-end high school refs can make between $40-$60 per game, according to Dunkorthree.com, and on weekends could officiate two or more games per day
Youth referees can make a little less than high-school refs, roughly $30 per game, but again can work multiple games per day to boost their earnings.
So now you know how much basketball officials make, why not find out how much NHL referees make too?