Ten Things Downtown Grand Las Vegas is Doing Right
What a difference a month makes in Las Vegas.
Not long ago, we were reporting about the bleak situation at Downtown Grand, the former Lady Luck. Two restaurants closed and hours at others were shrinking, massive staffing cuts were being made department-wide and the hotel's casino was pretty much on life support.
Those "adjustments" now appear to have been part of some master plan, because there have been a slew of recent changes, big and small, breathing new life into the struggling hotel-casino in downtown Las Vegas.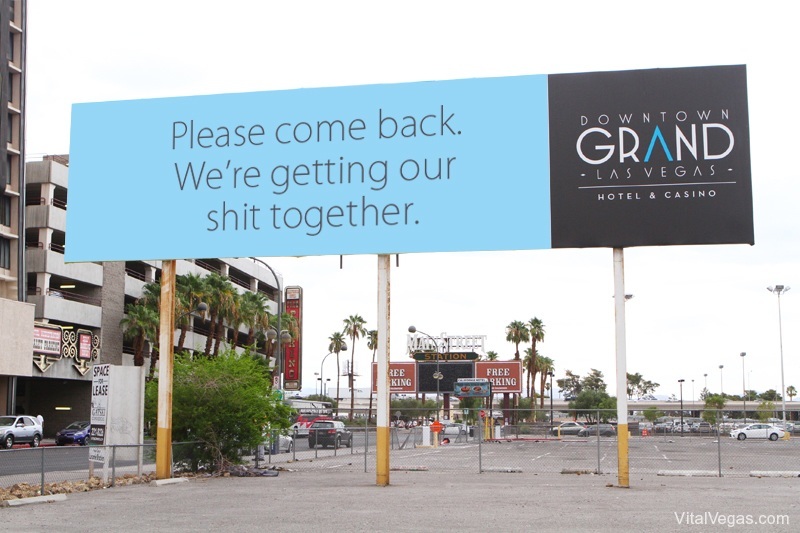 Here's a list of 10 things Downtown Grand Las Vegas is finally doing right.
1. Improved Video Poker Pay Tables
If your casino has less-than-favorable video poker pay tables, words spreads quickly. The result is players stay away. In response to customer feedback, Downtown Grand has retooled its poker play tables to be comparable to other downtown casinos.
Thankfully for Downtown Grand, word spreads just as quickly when payouts are adjusted upwards. We've played more video poker at Downtown Grand in the last two weeks than we did the prior six months.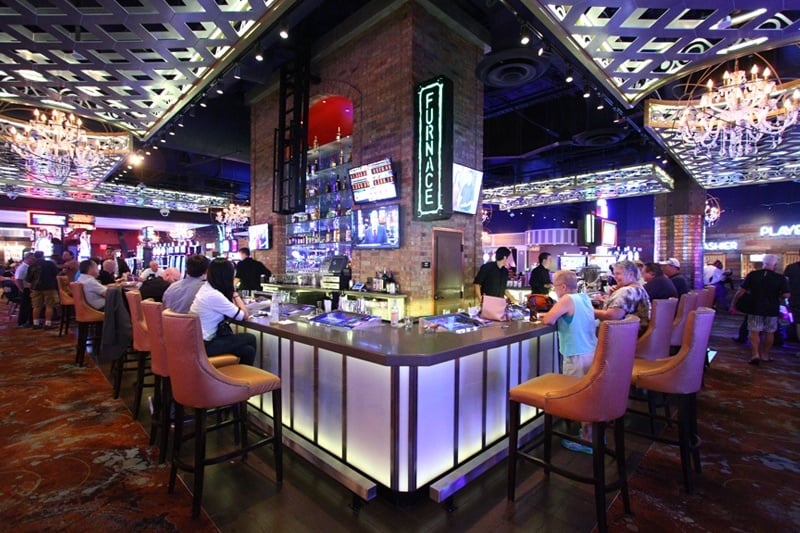 Thanks to the folks at Royal Flusher Vegas for letting us know about the pay table changes.
2. Fresh Blood
Sensing its days might be numbered at Downtown Grand, the casino's management company, Fifth Street Gaming, did something dramatic. They wisely brought on some fresh blood.
The most significant acquisition was Anthony Bender, Downtown Grand's director of casino marketing. Bender has held management roles at the Riviera and at Stratosphere owner American Casino & Entertainment Properties, both entities familiar with the delicate balance of appealing to both Vegas visitors and locals, just as Downtown Grand must do to thrive.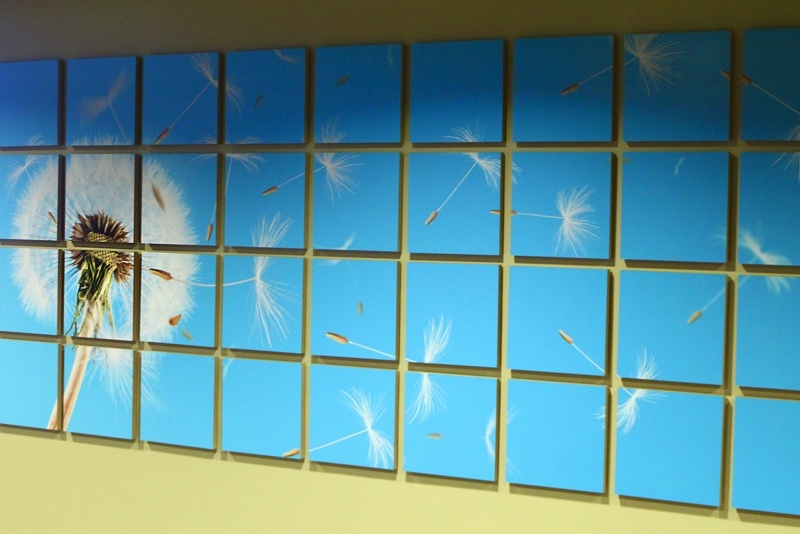 In addition to Anthony Bender, the hotel also brought on a new chief financial officer (Marie Ramsey), a new casino financial analyst (Jeffrey Rabinowitz) and a new director of table games (Ken Mumby). All the hires were new positions according to Downtown Grand CEO Seth Schorr.
These new executives bring a diverse and expansive set of skills to Downtown Grand. Ken Mumby, for example, has 35 years of casino industry experience, and was most recently Vice President of Casino Operations for Planet Hollywood. Let's see if these folks can shake things up!
3. Promotional Table Game Play
What's most grabbed our attention recently at Downtown Grand is the aggressive marketing to casino players.
For example, while we have played a few times at Downtown Grand, we're not what you'd call a whale. Still, each week in August, the hotel has offered us $25 in promotional chips for the casino's table games. Not match play. Promotional play. That means you get $25 in promotional chips, every week, which you can play like real chips. If you win, you are paid in real chips. If you don't, it costs nothing, there's zero risk.
It's difficult to overstate our love for these perks!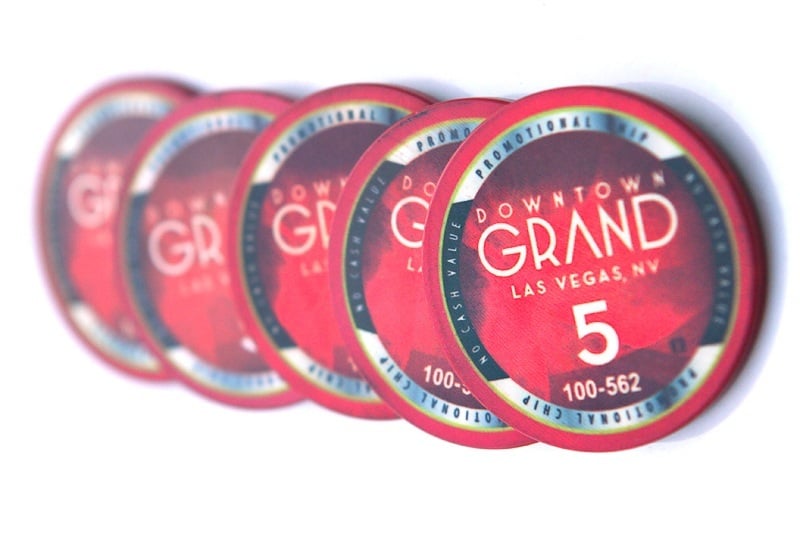 We've never gotten a promotional offer like that from a casino, ever.
Sometimes we just play the promotional chips, win and cash out. Sometimes we play those chips, plus some additional cash. But no matter the result, it's a blast, and we feel valued and appreciated as a customer. That engenders loyalty, and again, these promotional chips have gotten us into Downtown Grand more in the last few weeks than in the months prior.
This is a very good sign. It's also a potentially expensive promotion for the casino, but if you're going to kick-start a recovery, this is a bold way to do it.
4. Pot Roast at Triple George
The same folks that own Downtown Grand also own Triple George restaurant, just across the street. This welcoming restaurant does a lot of things well, but until recently, we'd never tried the pot roast. It was off-the-charts amazing, including meat so tender, you'll think you're French kissing a cloud.
What does this have to do with what Downtown Grand is doing right? Because dining is a huge part of what makes a Las Vegas resort work. Customers don't have to gamble 24/7, but there should be enticements to stick around as long as possible.
The dining options at Downtown Grand are outstanding, and we'd put Triple George's pot roast up against any dish in Las Vegas. That's how you get people to visit, and stay. Be extraordinary.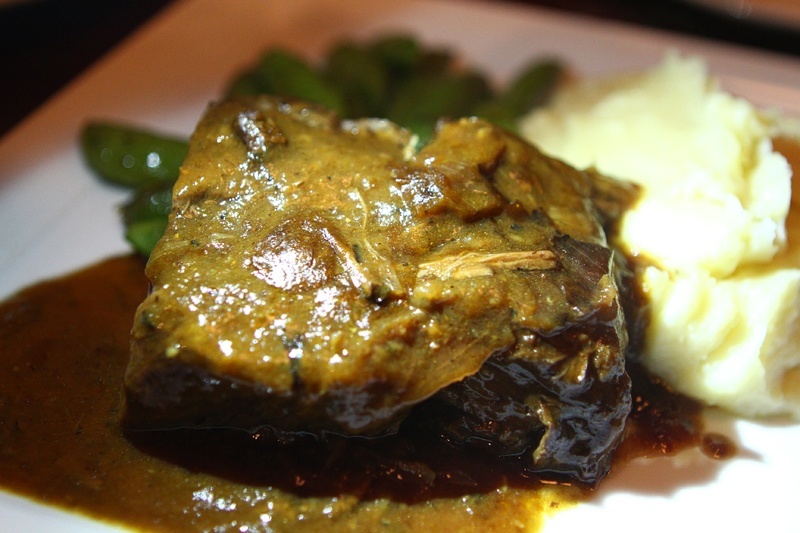 Credit for this meat masterpiece goes to Downtown Grand's assistant executive chef Todd Harrington, formerly of Central at Caesars Palace, who revamped the menu at all the hotel's restaurants.
5. Art Bar Happy Hour
Art Bar is Downtown Grand's lobby bar, and its marketing hook has been copious amounts of art on the bar's ceiling. Why, we have no idea, especially when happy hour is really the selling point.
Art Bar's happy hour is 5:00 p.m. to 7:00 p.m., and features 50 percent off all food and drinks. This is an excellent deal, in a warm, mellow space. In fact, Art Bar was recently named "Best Bar to Chill" by the staff of Las Vegas Weekly.
We love the fact our Captain and diets run about three bucks, and the specialty cocktails are worth a try, too.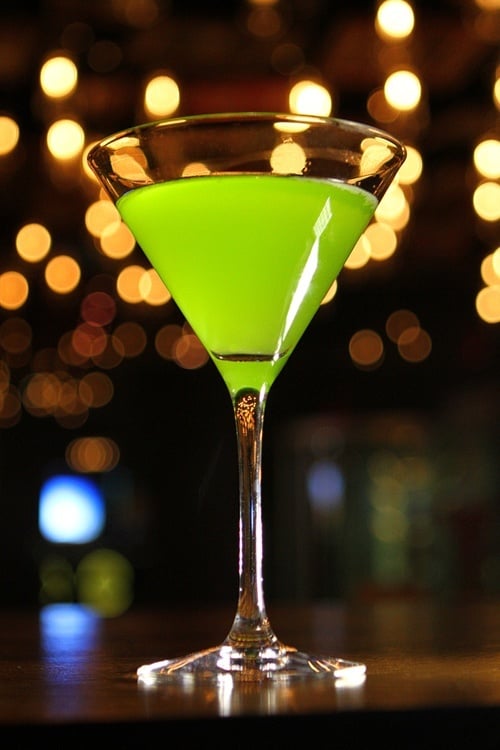 6. The Commissary $1 Taco Deal
Yes, The Commissary's hours have recently been pared back (currently 11:00 a.m. to 3:00 p.m. daily, 11:00 a.m. to 7:00 p.m. Fridays and Saturdays), but the sometimes-overlooked restaurant still has some fight in it.
The Commissary's one-time $1 Tuesday taco deal has been extended to seven days a week. Get a chicken, brisket or bean-and-cheese street taco for just a buck.
We've only tried the chicken and brisket versions, but they're stellar, and again, have kept us coming back, sometimes several times a week. After which we sometimes gamble. Starting to see a pattern here?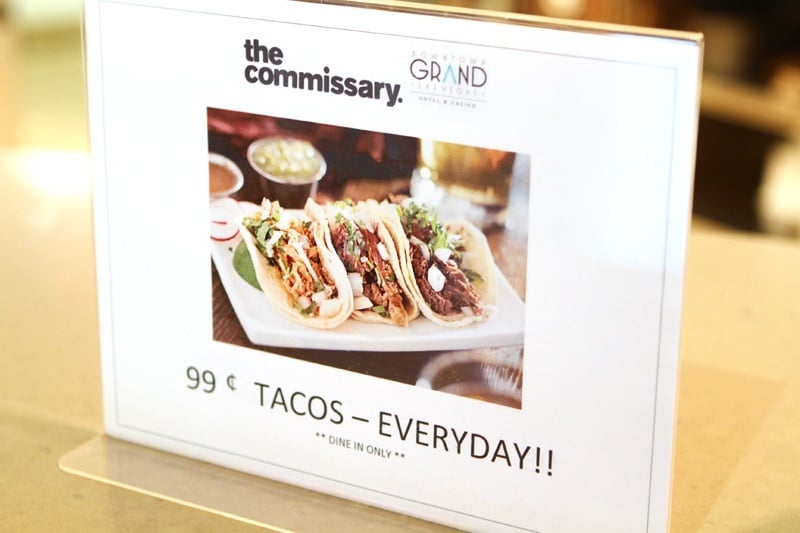 7. Video Poker at Side Bar
Side Bar is what they now call the former Mob Bar, adjoining Triple George. For some reason, when Mob Bar moved down the street, the plug was pulled on all the video poker machines at Side Bar. Prior to Mob Bar's departure, this was one of our favorite places to hang, eat, drink and play video poker.
The good news is video poker is back! Side Bar isn't open all the time as far as we can tell, it's mainly used as an overflow dining room for Triple George, but even if Side Bar is just a Friday and Saturday night thing, it's a step in the right direction.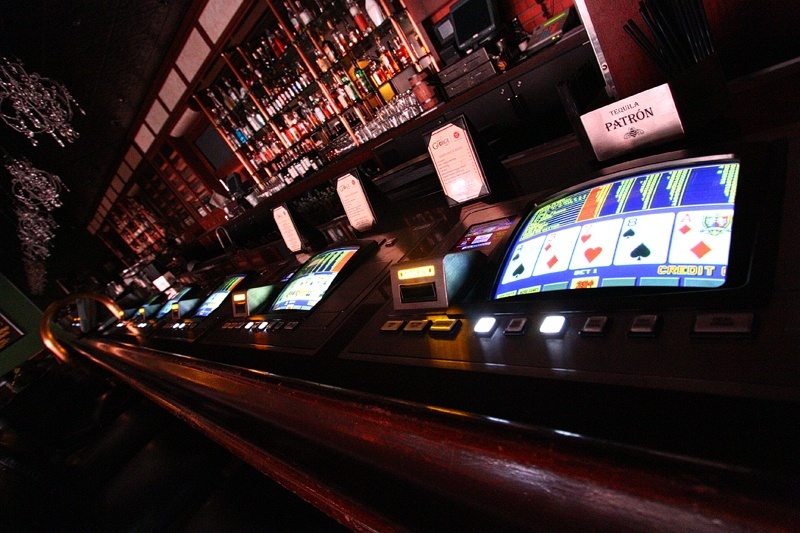 8. Free Comedy
Free is good, and Downtown Grand continues to offer free comedy, called "Summer Comedy Club," each Thursday.
Show's start at 8:00 p.m., and the comics are "curated" by Bonkerz Comedy.
Check Downtown Grand's official site for who's scheduled to perform when.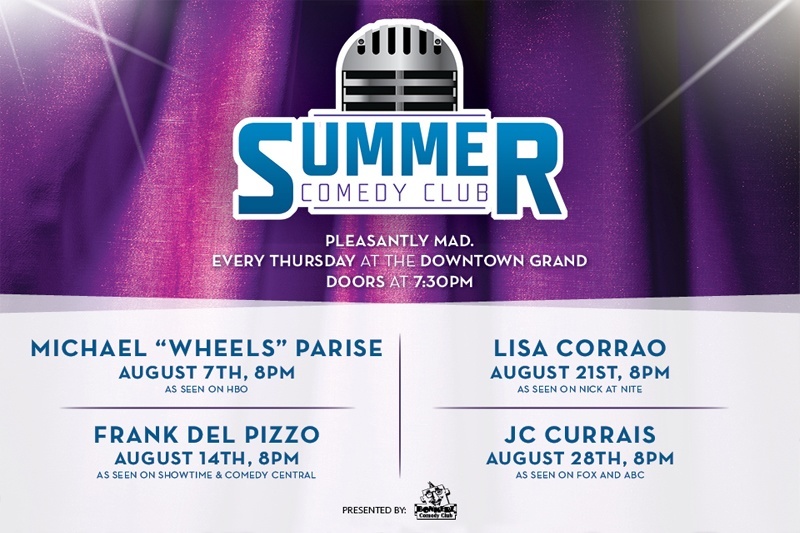 9. Dollar Daze
A recent effort to help drum up business at Downtown Grand is the hotel's Dollar Daze promotion. Cheap food and drink? Providing value to guests? It's so crazy, it just might work!
Loyalty club members can get a cheeseburger at Stewart + Odgen (pronounced "Stewart Plus Ogden," not "Stewart and Ogden," we recently learned) or a specialty shot for $3.
For $2, get a pretzel or a bottle of domestic beer. For $1, get a kosher hot dog or a daiquiri at Ninth Island. Learn more.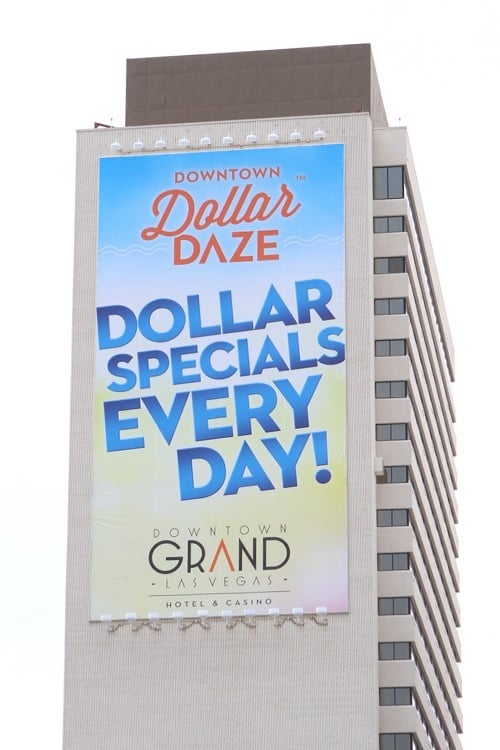 These are solid deals, and tailored to value-oriented customers. Will they bring in high rollers? Maybe not, but deals like this are the bread-and-butter of casinos that appeal to local, repeat players.
10. Get Lucky
Ultimately, there's only so much Downtown Grand can do with marketing and promotions to refresh its image as a lucky place to play. That's where Lady Luck steps in.
A slot player at Downtown Grand recently won a progressive for, wait for it, $1.2 million. To be exact, $1,212,863.16. See more.
Wisely, Downtown Grand has been promoting this big win like crazy. Giant jackpots are a gambler magnet, part of what keeps the Las Vegas dream alive. A casino can't plan for a super-sized jackpot, of course, but it can certainly take advantage of the resulting buzz.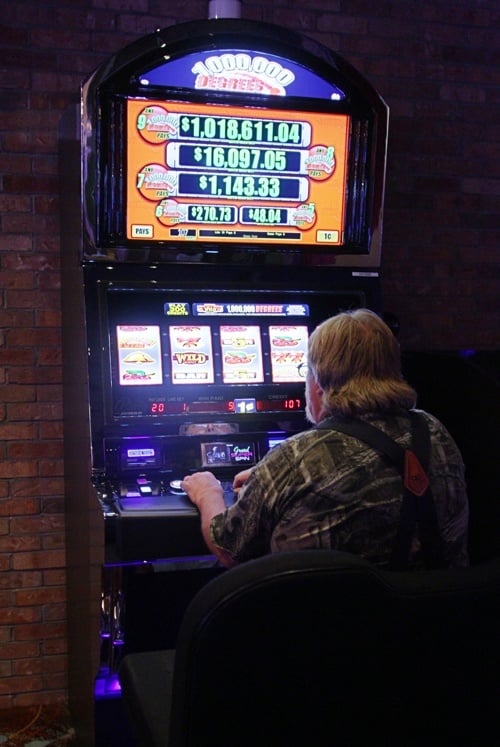 It's obvious Downtown Grand is serious about making a long-awaited, much-needed course correction.
Are Downtown Grand and Fifth Street Gaming out of the woods? Not quite. The hotel's location remains a challenge, but if these recent initiatives are any indication, talent and resources are being brought to bear on Downtown Grand's challenges, and we look forward to seeing what's next, especially if it results in one of the great comebacks in Las Vegas history.