Superfrico Restaurant Celebrates One Year at Cosmo
One of our favorite Strip restaurants, Superfrico, celebrated its one-year anniversary at Cosmopolitan on Nov. 2, 2022.
Superfrico has been a hit since it opened on Sep. 24, 2021. Yes, those two dates are different. When did you become such a stickler for details?
The quasi-anniversary of Superfrico was marked by a pajama party, although, nobody's entirely sure why.

Superfrico was the brainchild of show producer Ross Mollison, who brought Las Vegas three quirky and disruptive shows: "Absinthe" at Caesars Palace, "Opium" at Cosmopolitan and "Atomic Saloon" at Venetian.
Here's Ross Mollison speaking to the revelers at Superfrico, many of whom are performers in his three Las Vegas shows. Sorry about the Australian accent and saucy language, we can't make him stop either.
Mollison refers to "Vegas Nocturne," a show that closed in the same space in July 2014. At the time, the venue was Rose.Rabbit.Lie., a combination of restaurant and show, much like Superfrico and "Opium."
Rose.Rabbit.Lie. closed at Cosmo in March 2021.
Ross Mollison freely admits not every idea is a winner right out of the gate, but the combination of "Opium" and Superfrico seems to be hitting all the right notes.
Mollison's adjoining lounge, The Ski Lodge, adds yet another layer to the cavalcade of offbeat diversions at Cosmopolitan.
While it's always delightful to touch base with Ross Mollison, the highlight of our evening was receiving a consensual hug from the balloon girl in "Opium."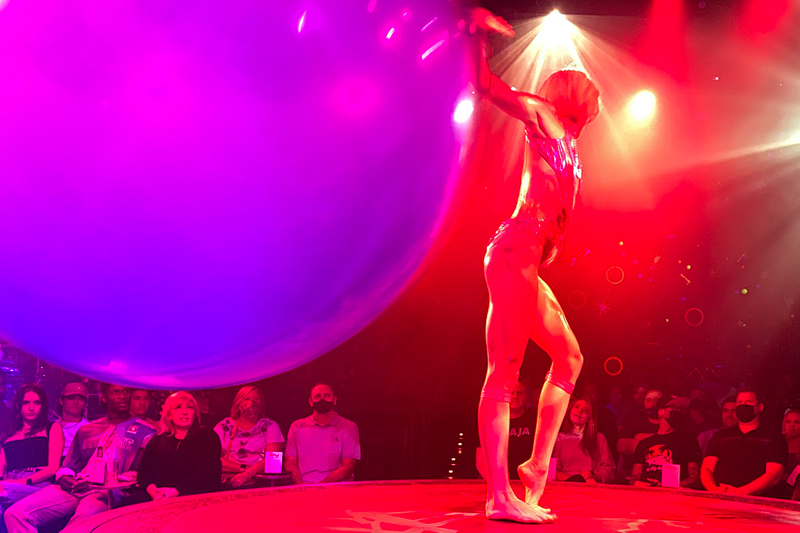 The last time we saw "Opium," we dubbed it the best show in Las Vegas. We've heard there have been some changes, so it's a great excuse to check it out again.
During our visit, we learned Mollison's production company, Spiegelworld, has its own whiskey.
Today we learned Spiegelworld (the folks behind "Absinthe," "Opium" and "Atomic Saloon") has its own line of whiskey. pic.twitter.com/23HnZTE0ja

— Vital Vegas (@VitalVegas) November 3, 2022
Here's a fun fact you won't read anywhere else: At one time, Ross Mollison had a handshake deal with Matt Maddox, the former CEO of Wynn Resorts (the same one currently shopping for a downtown casino), to bring a Spiegelworld show to Wynn Las Vegas. The deal fell through, and by that we mean it sounds like Maddox welched on the deal.
Wynn has since gone in a very different direction with its new show, "Awakening." It remains to be seen if Wynn Las Vegas made the right decision, but we're fairly sure Mollison's show wouldn't have cost north of $150 million.
Anyhoo, enough of the exclusive scoop, let's get back to the opinions you brazenly skim through!
Superfrico is awesome, and it needs to go on your Las Vegas restaurant must-try list. Which we assume you have. Possibly in a spreadsheet.
Superfrico is Italian-American fare, and the pizza is the star of the show. The "frico" part of Superfrico (pronounced "super-freeko") refers to cheese that's cooked to the point of being crispy, a signature element of the Superfrico pizza crust, also known as a "cheese crown."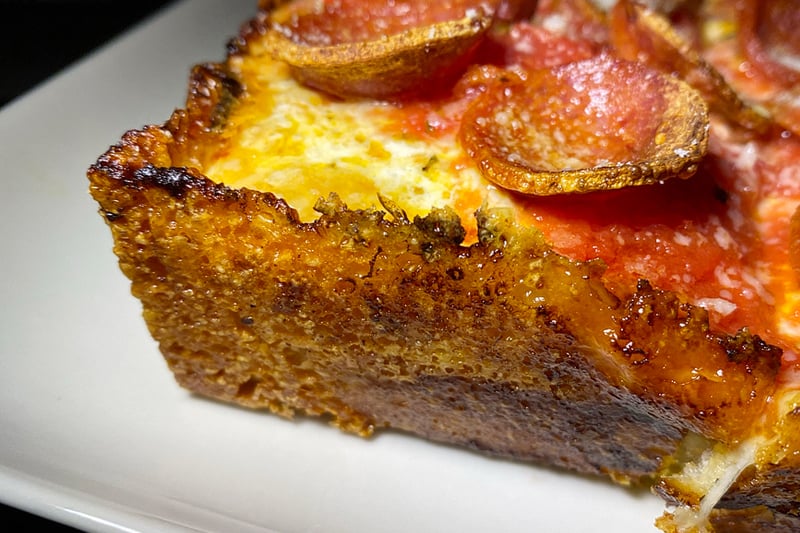 You can also find this "frico" style of cheese on the Detroit Red Top at Pizza Rock and the Pop-Up pizzas served in Sand Dollar Downtown at Plaza. We are a big fan.
One of the best things about the pizza at Superfrico is you can order it and eat it at your seat in the adjoining "Opium" theater space.
Speaking of theaters, in case you rudely bailed on our video of Ross Mollison's speech, he plans to add another theater space at Superfrico, the Romper Room. Details to come.
Superfrico restaurant isn't just about the food, there are lots of fun Easter eggs. For example, the menus have names based upon Australian rhyming slang. Penelope Cruz is the cocktail menu (Cruz, booze.) Calvin Klein? That's the wine menu.
Even something as simple as a logo has layers in Mollisonland. The pair of penguins seen around the restaurant represent Mollison and his son.
Superfrico is also filled with millions of dollars of artwork. Mollison claims to have invested $30 million in the art, and says it's his son's inheritance.
When Superfrico opened, we feared its entertainment elements would ruin everything, but the venue has found a perfect balance. The performances are short, so aren't disruptive to conversation. They're often strange, circus-style and add to the atmosphere, rather than hijacking it (like at other supper clubs in town, Mollison is adamant Superfrico isn't a supper club).
Given the success of Superfrico and "Opium," it appears both venues (as well as The Ski Lodge) will survive the sale of the operations of Cosmopolitan to MGM Resorts. We are happy to hear this, as we are very busy and don't have a lot of time to form protests or come up with annoying chants, although this one springs to mind, "Hey-hey, ho-ho, Superfrico cannot go!"
Thankfully, Superfrico is in the black and packing them in. We suspect Ross Mollison will have another excuse for a blow-out anniversary party in 2023. A whopping 60% of restaurants fail within their first year of operation, so Superfrico has already defied the odds.
Mollison is bringing a new disco-inspired show to Linq, and we'd love to see a restaurant attached. The new theater space at Linq will be where the former Imperial Palace sportsbook resided. It appears zero progress has been made to-date, but we'll definitely share when there's something to share.
Cheers to the entire Superfrico and Spiegelworld team. Please keep making magical things for us all to enjoy in Las Vegas.