Superfrico at Cosmo is Magnifico, Ditto "Opium"
It gives us immense joy when there's something new to rave about in Las Vegas. A new restaurant at Cosmo, Superfrico, is that.
The folks at Spiegelworld have a track record of success with shows ("Absinthe," "Opium," "Atomic Saloon"), now their Superfrico Italian restaurant is set to be one of the most buzzed-about restaurants in Sin City.
Superfrico is more than just great Italian food, it's an experience, and not in a cringy, contrived way. The other kind. You may not know what we're talking about, because they don't really exist. They do now.
Superfrico is satisfying on every level, including levels you might never even know about unless you read, ahem, certain Las Vegas blogs. You are wise beyond your years.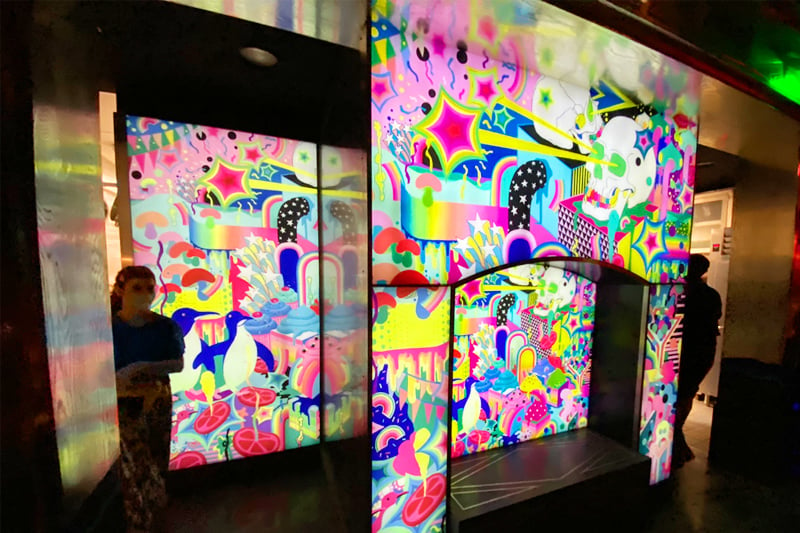 Superfrico is the brainchild of Spiegelworld's owner, Ross Mollison. Typically, we wouldn't care whose brainchild a restaurant is, but Superfrico has a lot of Mollison in it.
If Mollison is involved, you know you're going to get something offbeat, fun (for grown-ups) and utterly unique.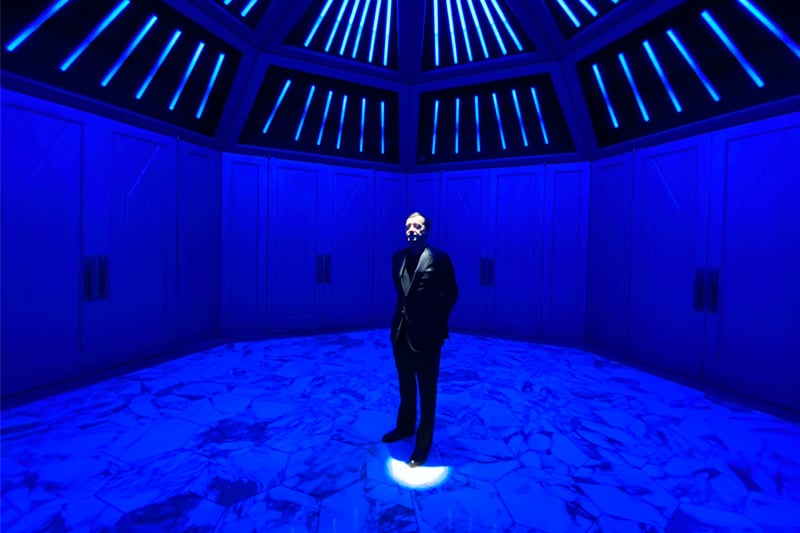 Gird your loins, let's go to Superfrico.
Some housekeeping first. Superfrico is pronounced "super-FREAK-oh."
"Frico" is an Italian word for a traditional Friulian cheese dish where the cheese is shredded and pan fried, making it crispy and delicious. Frico is that crispy cheese you'll find on the crust of the top-notch pizzas at Superfrico.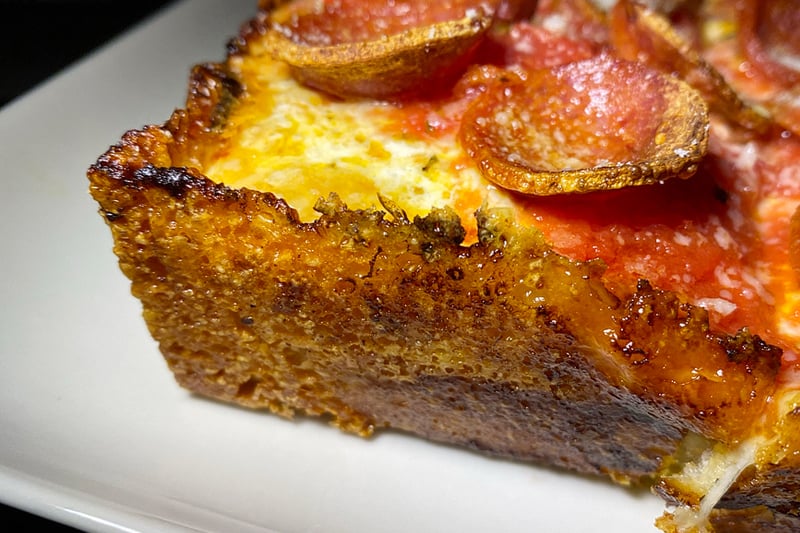 On the Italian restaurant scale, Superfrico isn't as fancy as a ristorante, or as casual as an osteria. It's right in the middle, a trattoria.
The dress code (there isn't one) can best be described as "Gents, put on pants if you have time."
Oh, and the pants thing doesn't always apply to the entertainers. Fair warning.
Superfrico is in the Cosmopolitan's former Rose.Rabbit.Lie. space, and adjoins the "Opium" theater. More about "Opium" later. A lot more.
The venue has been retooled to the tune of millions of dollars, but those who visited Rose.Rabbit.Lie. will recognize the general layout.
The venue now has a main dining room and several bars, including a sort of hidden Ski Lodge lounge that could be its own stand-alone speakeasy. It was inspired by Mollison's favorite bar in Japan, Bar Gyu, also known as the Fridge Door Bar.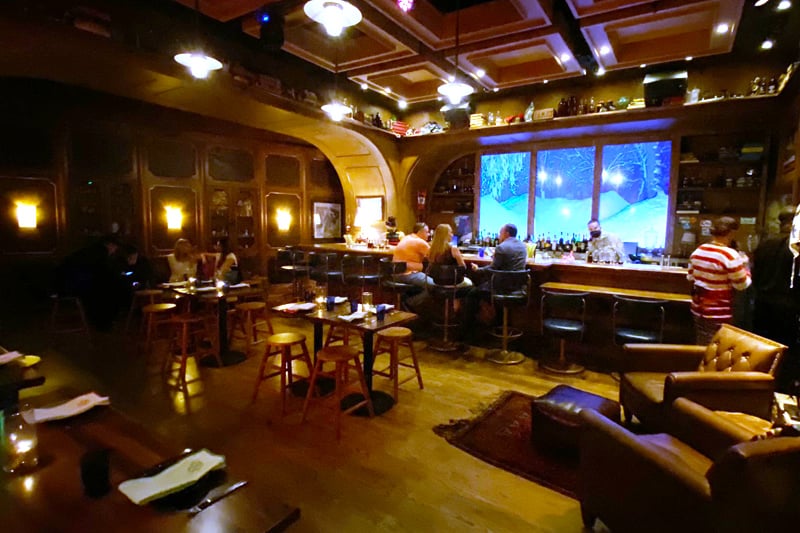 The entire venue is adorned with art. Mollison says the art cost in the neighborhood of $30 million, and most of it has a story behind it. Here's more.
We asked Mollison why he spent so much on art, and he said it's his son's inheritance.
Here's one of those things you might not notice unless you're reading this blog: You'll find penguins everywhere at Superfrico. It's on the napkins, signs, menus and there are ice cubes with penguins on them as well (see below). The penguin represents Mollison's son. Now you know.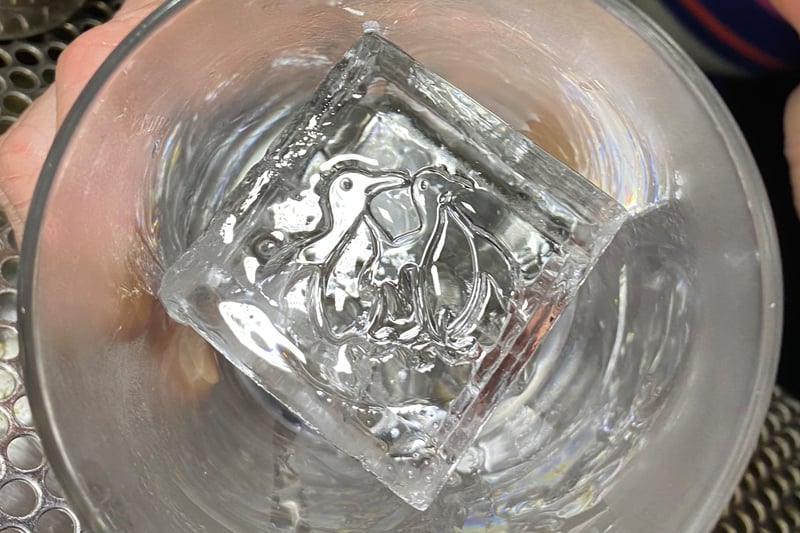 Oh, and another bit of housekeeping: Superfrico is not a supper club. It's not Delilah at Wynn or Mayfair at Bellagio.
There's occasional entertainment in the form of variety performers from "Opium," but it's brief and not disruptive to the dining experience. It's flair.
There's also a DJ, but we barely noticed. The noise volume increases as the evening goes on, but that's mainly because the restaurant gets busier, so the music has to be louder to hear it.
As with everything in Las Vegas, Superfrico is about 10 percent too loud for our liking, but Mollison says they're still looking for the right balance between energy and being able to hold a conversation. The noblest of endeavors, in our humble opinion.
But enough about the vibe, let's dive into the menu, because it's the star of the show at Superfrico. The cocktails resent that last sentence, but they're divas.
Like so many things at Superfrico, the menus involve some backstory. At first glance, the menu names make no sense at all: Penelope Cruz, Frank Skinner, Calvin Klein. The Ski Lodge menu says Tommy Tucker.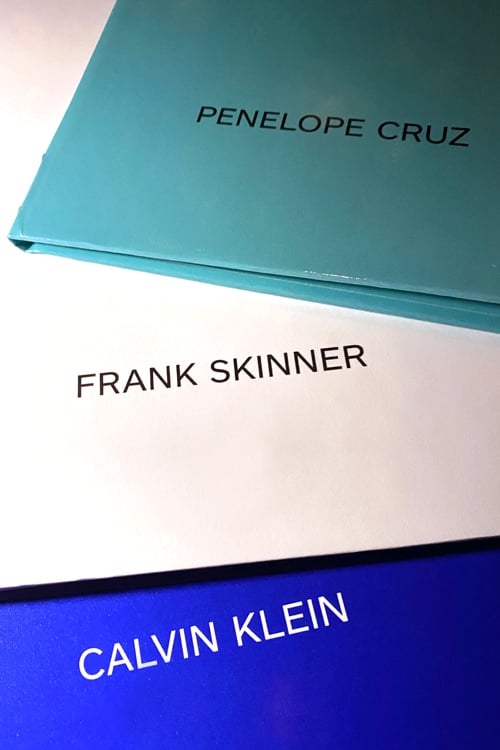 This is where it's useful to know Ross Mollison is Australian. Australian's have a love of rhyming slang.
Penelope Cruz? Booze. Calvin Klein? Wine. Frank Skinner? Dinner. Tommy Tucker? Supper.
Playful and silly and surprising and weird. At Superfrico, you're either onboard or you're not. And even if you're not, you're still going to have an unforgettable time.
The menu is described as "Italian American Psychedelic." So, Italian.
Just a couple of dishes in and we knew we'd found a new favorite restaurant at Cosmopolitan.
We started with fried mozzarella, sort our wheelhouse.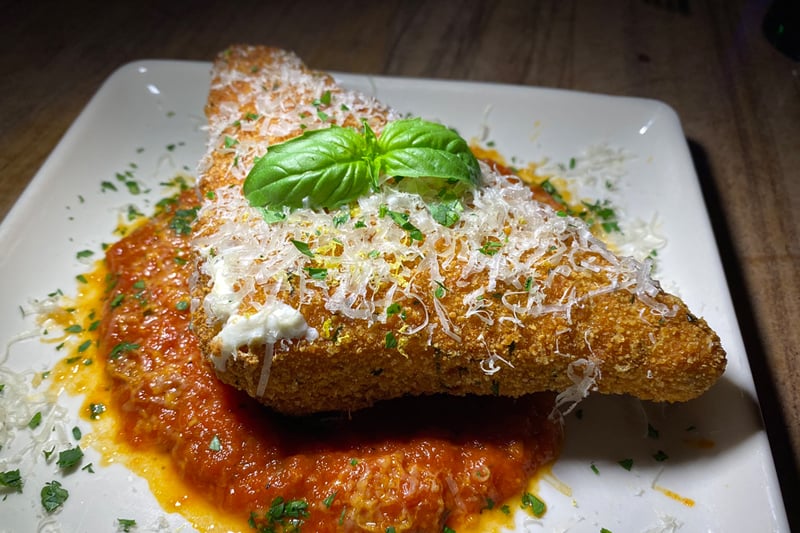 The pizzas are a strong offering a Superfrico, and we even loved one we never would've ordered without Ross Mollison forcing us to try it. We visited Superfrico twice, dining once with Mollison and a second time on our own. Service levels tend to be better when the boss is in the place, but service was excellent during both visits.
The Pistachio Mortadella pizza has pistachio pesto, house mozzarella, mortadella, house stracciatella, parmigiano reggiano and pistachio. We literally recognize almost none of those
words, yet this pizza was fantastic, even with mushy stuff on top.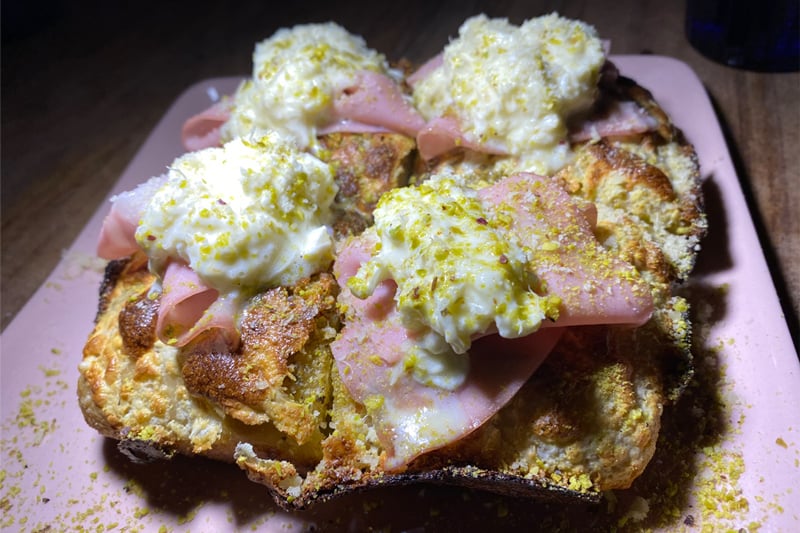 One of the great things about the pizza at Superfrico is you can order it at your seat during "Opium."
That means even if you're not seeing "Opium" (if you don't, you're missing out), you can still get your frico on.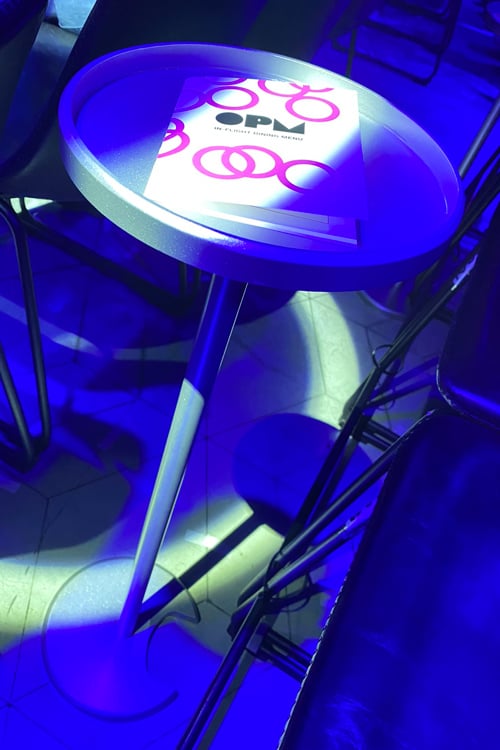 Food is also available at the various bars at Superfrico, a big plus for solo diners. This is pretty much going to be a go-to spot at Cosmo for those who'd like a quick pizza or cocktail or three. Sorry, Secret Pizza, this is next level pie.
Naturally, we had to try the chicken parm. We're relieved to report it's one of the best we've had in Las Vegas.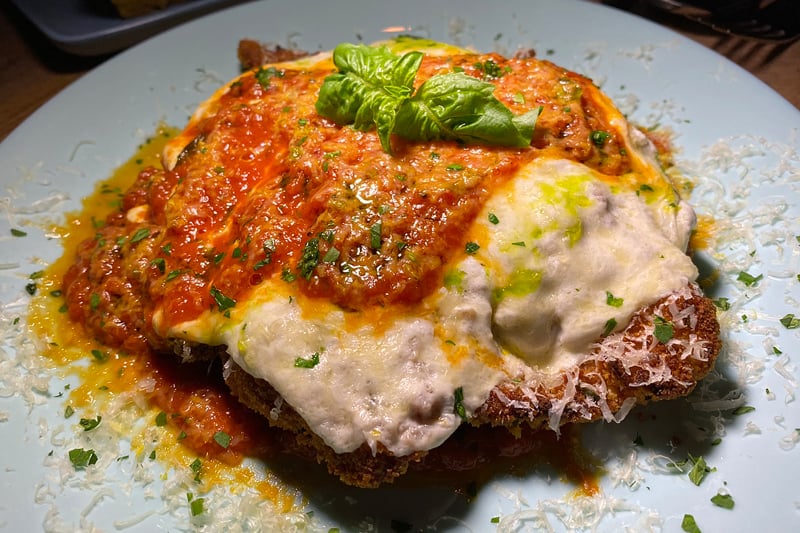 You'll want to save room for the Baked Alaska.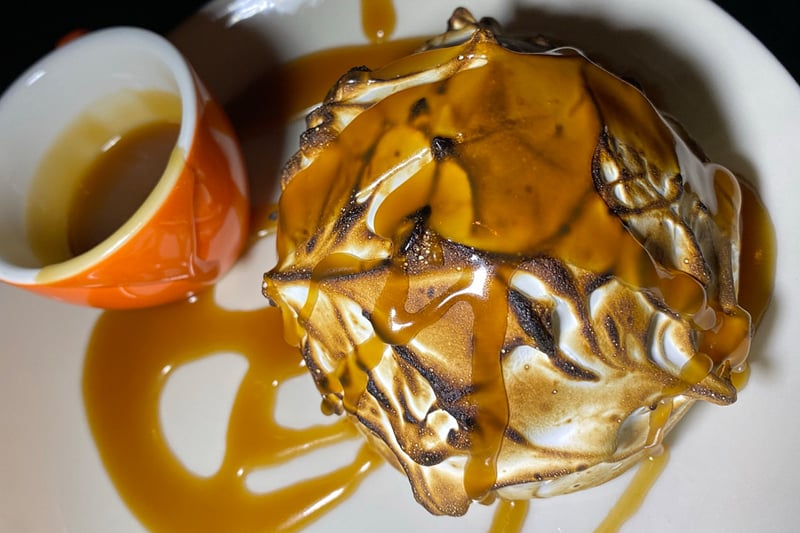 Props to Executive Chef Mitch Emge and his team for making Superfrico a winner right out of the gate. Superfrico got an assist on its pizzas by Anthony Falco, billed as an "international pizza consultant." See the chef in action.
Superfrico's cocktail program is as pleasing as the food, and we'll just cut to the chase by saying try a cocktail called The Cosmonaut of Las Vegas. It's a take on a classic Cosmo (and a
play on the name of the hotel, The Cosmopolitan of Las Vegas), and it's currently on our very short list of "Things We Like to Drink That Aren't Captain Morgan and Diet."
The other is the black cherry lemondrop martini at Triple George. Yeah, we like our drinks sweet because we're a recessive supertaster. Long story.
Anyway, the Cosmonaut!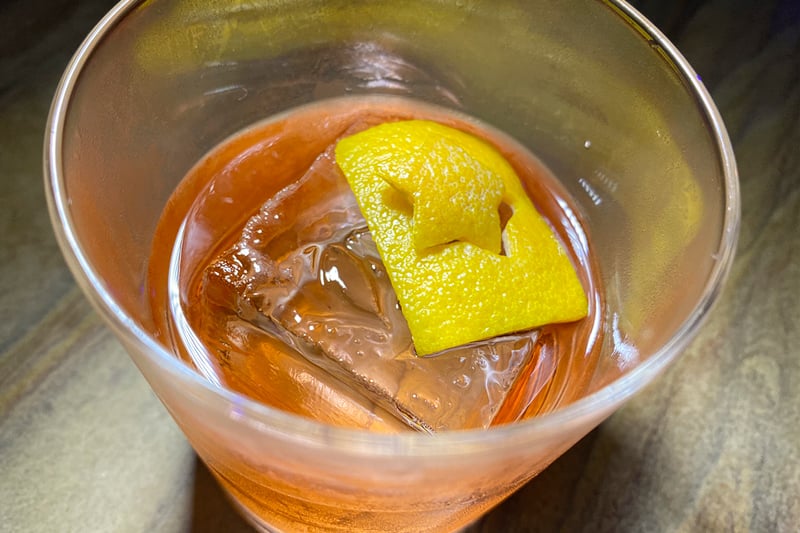 There are other drinks people were raving about, but we tend to find something we like and do that until our lips are forcibly removed from the glass.
For the liquor nerds, we should mention the Superfrico cocktail program is from James Beard Award-winning hooch whiz Leo Robitschek.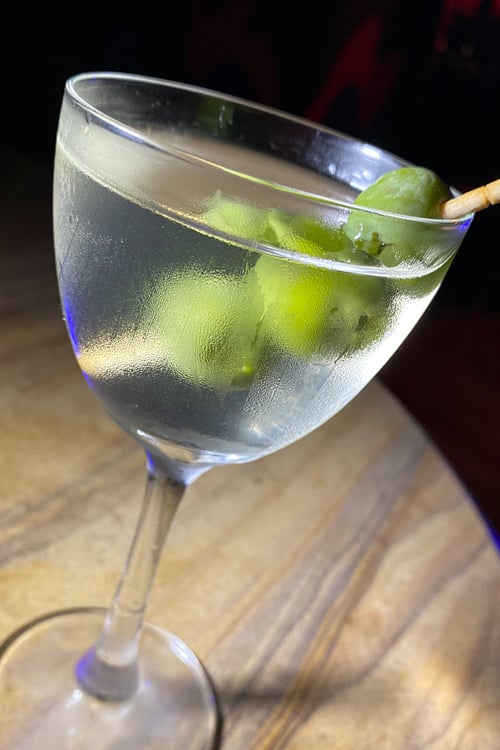 As mentioned, throughout dinner, there are moments of odd and amazing, courtesy of variety performers.
It's just the right amount of entertainment, and the acts last 2-3 minutes, about every 20 minutes. These performers are so talented, yet make what they do look so easy.
Which leads us to "Opium."
"Opium" was a bit of a mess when it opened in 2018, honestly. We liked it, but didn't love it. The jokes were a lot more miss than hit, there was too much emphasis on the sci-fi characters and "story" and the variety acts hadn't quite gelled yet.
Well, that's not "Opium" anymore.
The bawdy humor (the show's main character is named Captain Kunton) and mesmerizing variety acts make "Opium" as good, if not better (the audacity!), than "Absinthe," the previously-undisputed best show in Las Vegas.

"Opium" just reopened on Sep. 24, 2021, the last of the Spiegelworld shows to do so. It was worth the wait.
Some of the acts in "Opium" haven't made it back yet. The tennis racket contortionist guy, the hula hoop guy, the guy that may not be a guy. They've all had visa issues due to the pandemic.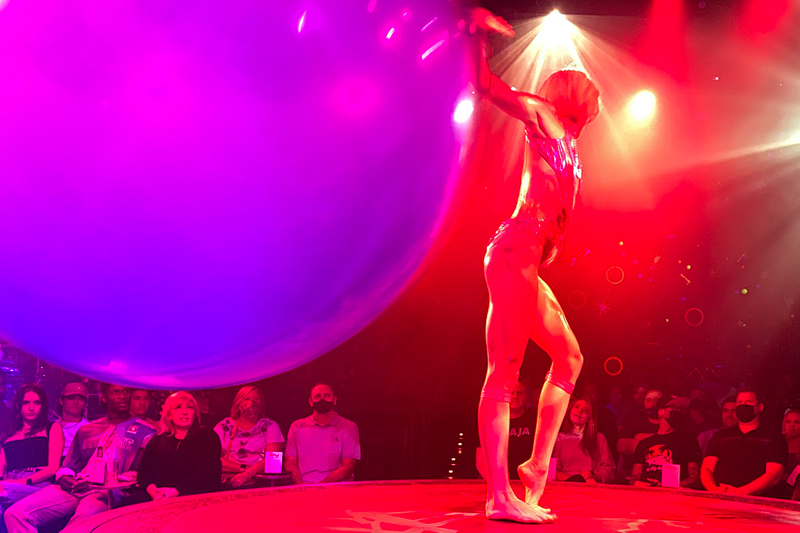 The current mix of variety acts is fantastic, however, in every sense of the word, including "fanciful" and "imaginative."
Here are some highlights from "Opium."
Related and important: It's worth noting Superfrico and "Opium" aren't like many venues that prohibit photos and video. Here, it's welcome and encouraged.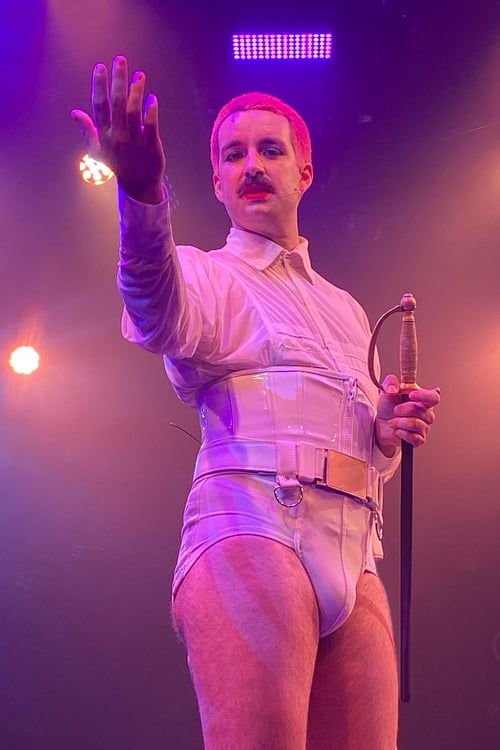 More information about "Opium" can be found here.
Superfrico is the perfect complement to the show, but is a destination restaurant all on its own.
Get a taste of the Superfrico weirdness and a reservation here.
There's a lot more to experience at Superfrico, but the Internet can only hold so much fawning. Hey, we love what we love.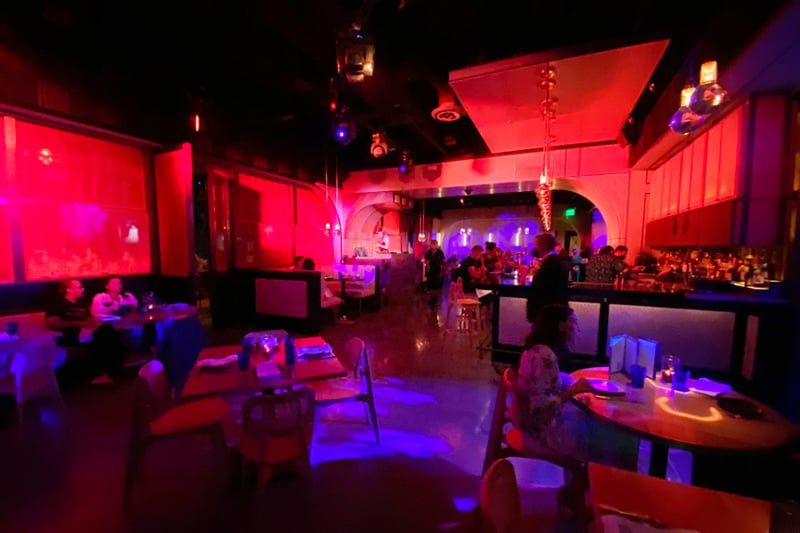 Superfrico isn't cheap, but the prices are in line with other restaurant on the Las Vegas Strip.
The bottom line is Superfrico is the newest must-try Las Vegas Italian restaurant, and Spiegelworld finds itself with another smash hit on its hands.
Enjoy a cavalcade of photos from Superfrico and "Opium" in our expansive gallery, below. It's free of charge, so don't complain if they aren't in focus or whatever.