Some Las Vegas Casinos Could Be Smoke-Free Upon Reopening
It's been the subject of much debate since the Las Vegas shutdown began, but now we have our first solid word some Las Vegas casinos could ban smoking when they reopen in the next few weeks.
Insiders share Planet Hollywood is using a working date of May 22, 2020, as a reopening date, but there's a twist.
The reopening plans will reportedly include this rule: No smoking in the casino. (Update: Caesars Entertainment says this rumor is untrue. See bottom of the post for details.)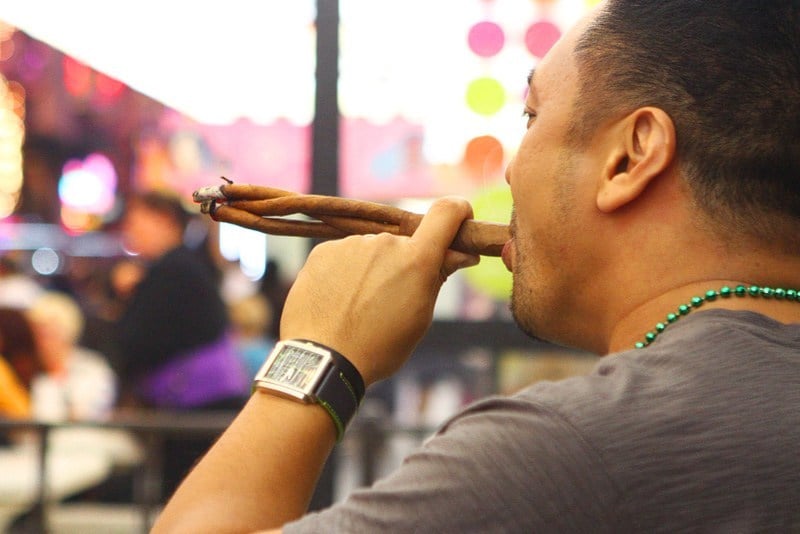 Planet Hollywood is in the Caesars Entertainment family of casinos, so it remains to be seen if other Caesars resorts in Las Vegas will follow suit.
Smoking in casinos is a time-honored tradition, despite smoking being banned in just about every other indoor venue in America.
We sparked early rumors of a casino smoking ban when we shared an MGM Resorts questionnaire raising the question of whether such a ban would encourage players to return more quickly to their favorite Vegas resorts.

While the results of that survey haven't been made public, we did a survey on Twitter, possibly the best focus group ever created.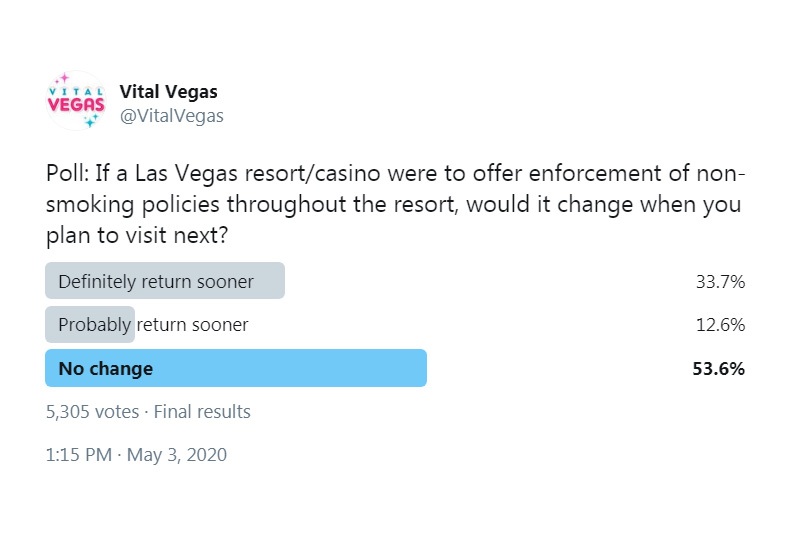 The call for ending smoking in casinos has intensified during the shutdown because COVID-19 is a respiratory disease.
According to the World Health Organization: "Smokers are likely to be more vulnerable to COVID-19 as the act of smoking means that fingers (and possibly contaminated cigarettes) are in contact with lips which increases the possibility of transmission of virus from hand to mouth. Smokers may also already have lung disease or reduced lung capacity which would greatly increase risk of serious illness."
The battle over smoking in casinos isn't new, with passionate voices on both sides.
The standing (and suspect) wisdom has always been casinos will fail if smoking is banned.
Many consider smoking an integral part of the Las Vegas casino experience.
In an interview with Fox 5 Las Vegas, former MGM Resorts CEO Jim Murren said, "We have so many guests, particularly from Asia, that find that is an important element of their gaming experience." He continued to say he believes over time Las Vegas casinos will "gravitate" toward being smoke-free.
For non-smokers, the implementation of social distancing in casinos is sure to provide relief from smoke even if it's permitted. Beyond the separation required between players, Las Vegas casinos will temporarily be limited to 50% capacity, significantly decreasing the amount of smoke.
Non-smoking sections of the casino floor, and non-smoking tables, have been in place for some time in Las Vegas casinos, so it may not be a giant leap to eliminating smoking altogether.
The CDC says about 14% of Americans smoke.
Las Vegas casinos now face liability concerns they never could've imagined, and that could mean the time for banning smoking in casinos has arrived.
This is a Vegas trend to watch, no ifs, ands or…well, you know.
Update (5/14/20): In response to our story about his rumor, Caesars Entertainment made the shortest statement, ever, to say it's untrue.