Six Scary-Obvious Reasons Goretorium Kicked the Bucket
After operating for just a year in Las Vegas, Eli Roth's Goretorium is closing (as of Oct. 2, 2013).
Goretorium—part haunted house, part bar and lounge—filed for bankruptcy in July 2013, and had been plagued by problems since day one. Here's our take on why it tanked.
1. A Horrific First Impression
When the $10 million Goretorium opened, it immediately started getting unflattering word-of-mouth related to, among other things, bad management. Managers misled some employees during the hiring process, and basically bribed other new hires to cheat online review services like Yelp. Its inauspicious beginnings should have sent up some blood-red flags.

2. Ten Million Bucks is a Lot to Recoup
Yes, we said Goretorium cost $10 million. That's a lot of investment to recoup, and you're unlikely to do it just with bloated ticket prices. A component of Goretorium's demise was most certainly unfounded optimism.

3. Location, Location, Location
Goretorium was located at Harmon Corner, the shopping and restaurant complex next to Planet Hollywood, at the corner of Harmon and Las Vegas Boulevard. This location has some inherent challenges, including a parking lot that's difficult to find, and once found, can accommodate only about six cars, assuming they're all those adorable little Smart Cars. In addition, Goretorium was located next to Twin Peaks, a restaurant featuring dozens of scantily-clad young women. Someone would walk by Twin Peaks to get to Goretorium, why?

4. Who Is Eli Roth, Again?
Yes, this blog knows who he is, sort of. Eli Roth is a director and writer of horror films. But who is he to normal people? Exactly.

5. "Shat"? Seriously?
The T-shirt below is indicative of the merchandise for sale at Goretorium. Which brings up a fairly obvious question: What was the intended customer base for this place? Prepubescent boys? Are they known for rolling in cash or something? If it's teens, they don't do lounges. We don't get it, and apparently neither did other people.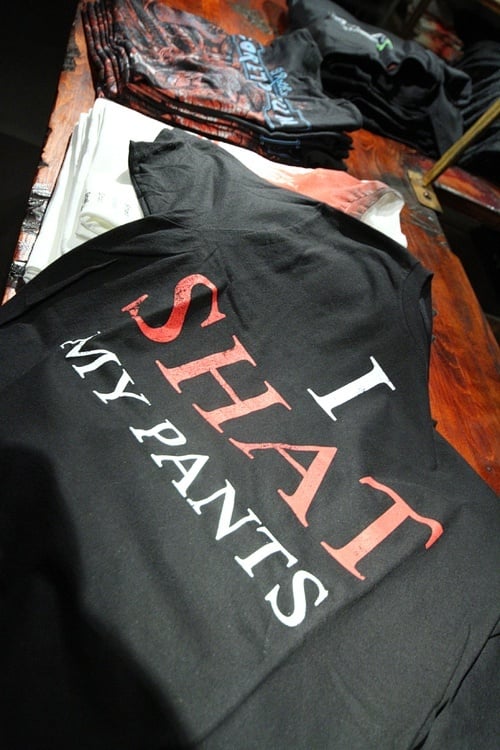 6. Gross Isn't A Year-Round Thing
The biggest reason Eli Roth's Goretorium got the ax? Sorry, but while scares might work in movies year-round, haunted houses don't. There's a reason they crop up in October and disappear just as quickly. Was anyone clamoring for a night spot with blood-spattered tables and chairs, and baby heads on the wall?

Sorry to see you go, Goretorium, and we hope the folks on your payroll (making minimum wage, by the way) can find better gigs soon. Their enthusiasm was one of the few successful aspects of the whole clusterful misadventure.
Enjoy more Goretorium memories, below.
Want to explore more stories? Read about US gambling here:
You can also learn about online gambling in Canada here: