Question Answered: How Can Las Vegas Casinos Pay 6-to-5 for Blackjacks?
It's a question that's long-plagued blackjack players: How can casinos pay 6-to-5 for blackjack?
For many years in Las Vegas casinos, blackjacks paid 3-to-2. It was the standard. That means if you made a $10 bet, a blackjack would pay $15. In a 6-to-5 game, however, that same $10 bet will get you $12 for a blackjack.
Doesn't sound like too much at first glance, right? This simple change in rules gives the house an additional edge of 1.39%. Over time, that seemingly small difference can cost players a lot.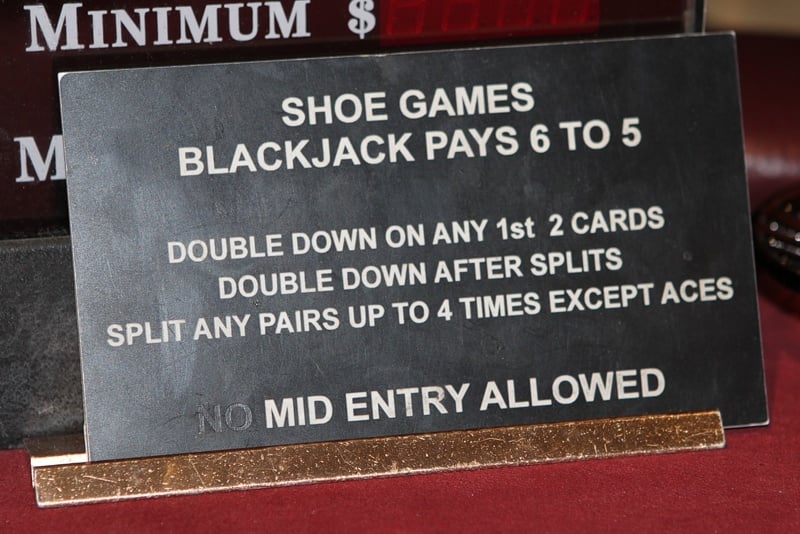 In recent years, insidious 6-to-5 blackjack games have started popping up all over The Strip. In some casinos, it's hard to find a 3-to-2 game at all.
Recently, we tried our hand at blackjack at a downtown casino, and were dismayed to learn, mid-game, that here, too, blackjacks paid 6-to-5. Not downtown! The infection is spreading!
As we do not tend to keep our displeasure to ourself in situations like this, we mentioned our disappointment to a pit boss (a casino floor manager), asking, "How can you pay 6-to-5 for blackjacks?"
We got the most brutally honest answer, ever. The pit boss said, simply, "Because people still play."
As we were picking our jaw up off the new casino carpet, we realized he was absolutely right. Poor game rules aren't something casinos do to players. We do it to ourselves.
We vote with our business. If we refuse to play 6-to-5 blackjack, casinos won't offer it. (Well, it won't offer it as often, because there will always be people who don't particularly care. They want to play where they want to play, and they clearly have money they don't need.)
If we stay at hotels with resort fees, hotels will continue to charge resort fees.
If we attend shows where performers lip-sync, performers will continue to lip-sync.
It's important to remember, though, we decide. So, what kind of Vegas experience will you have?